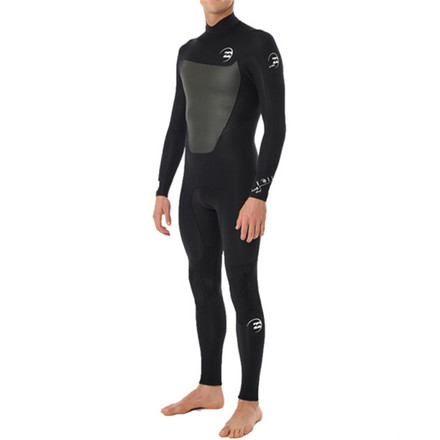 Colors
Description
Warmth and performance for cool-water waves.
Spring is finally here and warmer air temps have surfers flocking to the shore. Unfortunately, the water has yet to warm up, so slip into the Billabong Men's Foil 3/2 Back Zip Long-Sleeve Full Wetsuit for warmth, flexibility, and rugged performance. This 3/2-millimeter wetsuit is ideal for water temperatures ranging from 60 to 66 degrees Fahrenheit. Its Airlite S Flex Superflex neoprene is lightweight and flexible for enhanced mobility and comfort. The heat-trapping Furnace thermal lining on the chest and back keeps you warm when deep water swells pummel you with cooler water temps.
Great for beginner and price-conscious surfers, this 3/2 wetsuit has a back zip for easy entry. Its impact-welded, heat-taped stress points provide maximum durability, while the triple-glued, blind-stitched thermal seams prevent the intrusion of chilly water for added warmth. Additionally, you'll find a contour collar for a comfortable feel without chafing and fused wrist cuffs for a sealed fit.
Temperature rated: 60-66 degrees
3/2mm long-sleeve wetsuit
Airlite S Flex Superflex neoprene
Furnace thermal lining
Triple-glued, blind-stitched thermal seams
Impact-welded, heat-taped stress points
Contour Grip Skin collar
Fused wrist cuffs
3D-molded Supratex knee pads
Pre-bent back knee