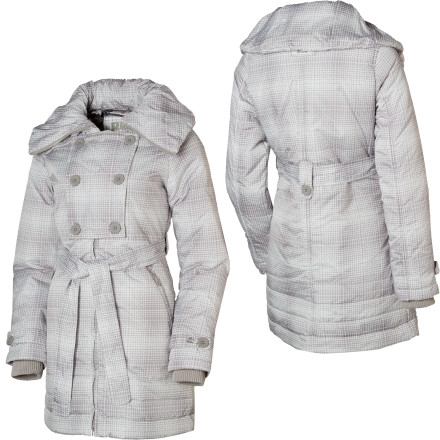 Detail Images

Community Images
Zip up the Billabong Women's Amahlia Coat and step back into the interrogation room to finally find out who's behind the plot to destroy America's junk food empire. The fate of corn chips, donuts, and squeeze cheese all rest in your hands, even though they're tucked away inside the Amahlia's zippered hand pockets. If the perp keeps his mouth shut while you tease it with a cream-filled pastry, use the jacket's belt and intimidating exaggerated collar to bully the information out of him.
No, absolutely not; cool concept - maybe it was just the color I got (Moonshadow) however, the collar looks more like an Elizabethean type clothing from the 16th century. I wanted to like it - but it just is too weird.
Not bad depending on what you want it for.
I moved to Chicago last year from sunny Florida and am still trying to adjust to the harsh weather. I bought a jacket from this site last year and it was super warm, but my demon cat tore it up and it was getting to be that time of year again.

I used the Live Chat for a little bit of help, and the girl I spoke with said this jacket was perfect for me and would keep me super warm when it starts to go down.
It came in the mail today, and it's super thin, pretty much just a wind breaker. It's not going to keep me warm, but other than that it's super cute. Fits true size, the lining is soft, and the inside of the pockets are super warm.
This coat is super cute. It's slim-fitting and keeps your bum warm. The specs say no insulation, but I'm pretty sure there is some light synthetic insulation. You have to unbutton the front flap to zip and unzip the coat, which can get a little tedious if you're going in and out a lot, but it's not a huge deal.