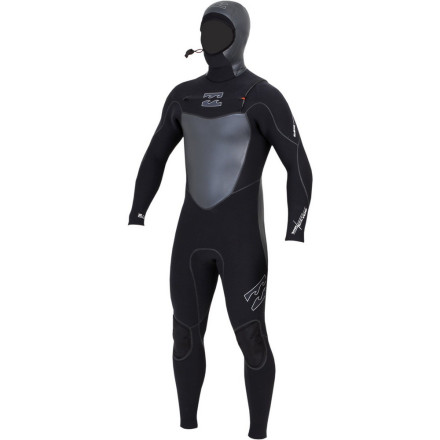 Whether you live on the northeastern or western coasts, the days of summer warmth are short-lived so equip yourself with the Billabong Men's 505 SGX Xero GBS Hooded Chest-Zip Full Wetsuit if you're more than a fair-weather surfer. Billabong packed this baby with 5-millimeters of AX1 Airlite Superflex neoprene throughout for superior stretch and warmth in cool to cold water temperatures. Its Drymax Furnace lining features two-layer heat-retaining fabric with quick-dry technology that wicks water away from the body and drains quickly while providing superb warmth around your chest, kidneys, and back. In addition, Drymax lining also has built-in irrigation channels that enable the suit to dry wicked fast in between surf sessions so you don't pull on a wet suit hours later when you're ready to surf again.

For improved comfort, solar mesh chest and back panels help to retain the body's heat and keep you warm in cold temperatures. Built with Xero seam construction (stitchless welded seams), this wetsuit is stronger, more durable and flexible, and provides a water tight seal. In addition, strategic seam placement throughout the wetsuit supplies a more flexible suit.

To ensure an easy in and out, Billabong designed the 505 SGX with a Xero chest entry system with Contour collar that consists of a horizontal, dislocating chest zip that locks water out without sacrificing the size of the opening. Its hood also combats chilly surfing conditions and helps prevent mind-numbing chills when you duck-dive under crashing surf. Molded Supratex knee pads protect your knees and boost suit durability, while wrist and ankle grippers keep the suit sleeves and legs in place. Basically, the designers at Billabong want to make sure you stay super-comfortable and warm in the water so you can perfect your surf skills even when the water temperatures are less than ideal.
5mm AX1 Airlite superflex neoprene
Ideal for cold water surfing (booties and gloves are recommended)
Drymax Furnace lining
Solar mesh chest and back panels
Xero seam construction (stitchless welded)
Pre-bent and anatomically cut construction
Xero chest entry system
Contour collar
Hood
Molded Supratex knee pads
Wrist and ankle grippers