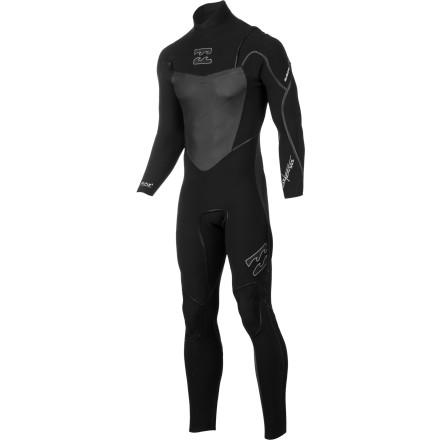 Fight the shivers and stay out longer in cool-water temperatures (roughly high 50s to high 60s degrees Fahrenheit) with the Billabong Men's 302 Solution SG5 Chest-Zip Full Wetsuit. Loaded with high-tech features to deliver tons of bang for your buck, this 3/2-millimeter wetsuit features super-stretchy, flexible AX1 Airlite Superflex neoprene fabric, quick-drying properties, and cozy heat-retaining lining to keep you in the lineup longer.

Its Drymax Furnace lining features two-layer heat-retaining fabric with quick-dry technology that wicks water away from the body and drains quickly while providing superb warmth around your chest, kidneys, and back. In addition, Drymax lining also has built-in irrigation channels that enable the suit to dry wicked fast in between surf sessions so you don't pull on a wet suit hours later when you're ready to surf again.
For improved comfort, solar mesh chest and back panels help to retain the body's heat and keep you warm in cold temperatures. Built with welded internal and external seams and glued and blind-stitched construction, this wetsuit is stronger, more durable and flexible, and provides a water-tight seal. To ensure an easy in and out, Billabong designed the 3/2 Solution SG5 with a horizontal front entry system with Contour collar that locks water out without sacrificing the size of the opening. Molded Supratex knee pads protect your knees and boost suit durability, while wrist and ankle grippers keep the suit sleeves and legs in place and seal out water.
3/2mm AX1 Airlite Superflex neoprene
Cool to warm temperature surfing conditions
Drymax Furnace lining
Solar mesh chest and back panels
Welded external and internal seams with GBS construction
Horizontal front zip entry with Contour collar
Molded Supratex knee pads
Wrist and ankle grippers