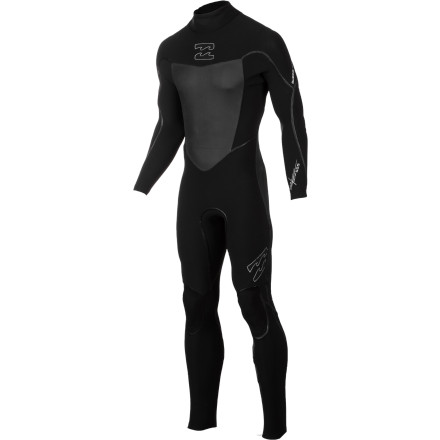 Yeah, it may be a bit cool outside and raining, but the surf is head-high and peeling beautifully. Zip up the Billabong Men's 3/2 Solution SG5 Full Back-Zip Wetsuit, put some cool water wax on your board, and get in the surf. Billabong packed this sweet suit with 3/2-millimeters of AX1 Airlite Superflex neoprene throughout for superior stretch and warmth in cool to warm water temperatures.
Its Drymax Furnace lining features two-layer heat-retaining fabric with quick-dry technology that wicks water away from the body and drains quickly while providing superb warmth around your chest, kidneys, and back. In addition, Drymax lining also has built-in irrigation channels that enable the suit to dry wicked fast in between surf sessions so you don't pull on a wet suit hours later when you're ready to surf again.
For improved comfort, solar mesh chest and back panels help to retain the body's heat and keep you warm in cold temperatures. Built with welded internal and external seams and glued and blind-stitched construction, this wetsuit is stronger, more durable and flexible, and provides a water tight seal.

To ensure an easy in and out, Billabong designed the 3/2 Solution SG5 with a back entry system with Contour collar that locks water out without sacrificing the size of the opening. Molded Supratex knee pads protect your knees and boost suit durability, while wrist and ankle grippers keep the suit sleeves and legs in place and seal out water.
3/2mm AX1 Airlite Superflex neoprene
Cool to warm temperature surfing conditions
Drymax Furnace lining
Solar mesh chest and back panels
Welded external and internal seams with GBS construction
Back zip entry with Contour collar
Molded Supratex knee pads
Wrist and ankle grippers