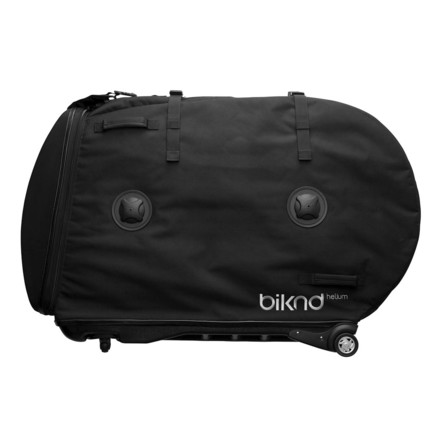 Detail Images

Videos

Community Images
Description
Lightweight, not wimpy.
Unlike most bike cases that rely on foam padding to cushion your frame, the Biknd Helium Air-Cushioned Bike Case is true to its name and uses airbags to protect your steed from the woes of the baggage room.
The bag begins with a tough 900 denier ballistic nylon and 1200 denier polyester Oxford cloth used to construct its shell. Plastic shields are placed on the interior where the wheels' hubs rest so that your bag is never punctured. And unique to this case, it carries two sets of wheels in nylon sleeves. Now you can bring your training and race wheels for the price of one oversized bag. The frame is held secure with a fork mount that is easily accessible when the bag is zipped open. Once the bike and wheels are secure, you simply zip the case and inflate the pneumatic padding to fill the space between the wheels and frame. Your bike won't budge an inch inside the case. It fits bikes up to 64cm, though you may need to remove the rear derailleur on larger frames.
The Helium case weighs a mere 24lbs when empty. It features casters so that you won't be stuck looking for a cart, and several straps and a pull handle make it easy to maneuver.
Great innovative product
Familiarity:

I've used it several times
Good job Bikdn, this case really impressed me. I used many cases since I'm doing competitions and it's the first time I'm not nervous for my Specialized S-works DI2. Also, the 360 degree opening is really usefull and the airbags give a ultimate protection to my bike.

Continue your doing a great job !
Awesome
Familiarity:

I've used it several times
This travel case is just awesome. I used it for the last 2 years for traveling to all the Ironman I participated and each time everything went really well. No scratch on the bike and you can take two pairs of wheels.

As I see the company have really improved the airbags resistance. My friend bought one before me and it seems we don't have the same bladders. (He asked the company and they sent him two free replacement)

I would definitly recommend this case for the durability, the design, the protection and the customer service.

-Ryan

Updated Biknd HELIUM - How to pack your
Bad Product
Familiarity:

I've used it several times
Don't by this case. I have gone through three air bladders. They don't puncture they just leak air at the seams. The bladders are poorly designed. Very unfortunate as this is an extremely expensive bike case and the bladders should have been thoroughly tested. Three flights later and this case is collecting dust. Not sure if Back Country will take it back, guess I should try.



BTW -- the airline bag guys will rip the front pull handle off on your first trip, recommend unbuckling prior to turning the case over to the airline for handling.
Not impressed....twice
Gender:

Female

Familiarity:

I've used it several times
I purchased two of these bags for my husband and myself for travel within the US. On our first trip, my bag lost a caster wheel. I got a replacement from biknd.....then I traveled alone - and one entire caster mechanism was ripped off the bag....where it was riveted on Oh and one of the seams opened....about a 2 inch long area. I was able to take the bag and have the local shoe repair person restitch the seam....but as far as the wheels....useless. Who wants a bag that you can't roll. Very disappointed in the wheel mechanism. The rest of the bag works great - never had a scratch on a frame.
Lost caster wheels while traveling
Familiarity:

I've used it several times
The bag is really nice. However on my second flight I lost a caster wheel. On the third flight I lost the other caster wheel. I think I am going to install my own, something more secure than trying to get a replacement. Otherwise a nice case.
Unanswered Question
Will it fit a medium Salsa Beargrease...
Will it fit a medium Salsa Beargrease fatbike?
Unanswered Question
Does the bag fit to a 29" SCOTT Spark 900...
Does the bag fit to a 29" SCOTT Spark 900 SL Bike size XL?
Hello, I am interested in this Biknd Helium...
Hello, I am interested in this Biknd Helium Bike Travel case. I saw your post at Amazon. From other sellers, I noticed that the case comes in different sizes, such as Small, Medium, Large and XLarge.

I have a road bike that is 55cm in size. Which size would fit?

RE: Shipping

What is the approx shipping cost to Hong Kong? I can be reached at selenat@fbknit.com.hk



Thank you.

Regards,

Selena
The bag is good at only few things:

1. Rolling efficiently through the airport
2. Packing it is fast and simple
3. Light weight
4. Small easy to transport

This is where it goes wrong:

1. Construction quality is poor on seams and exterior nylon is not a hi denier to with stand the abrasion of travel and airports. After one trip the seams were bulging apart, the exterior handles are coming unstitched, the glued interior is coming apart from the edges of the plastic base plate.
2. The air bladders don't actually hold air? What a great idea to have air protect your expensive bike while traveling however, each time I retrieved the bike from the baggage claim it was empty. TSA checks every bike bag and therefore you are not allowed to watch the process. They do not simply open the zipper at the top at look inside. The entire bag comes apart and the air is let out so that it can be zipped together again while deflated.
Upon returning home I inflated the air bladders and within a few hours they had half the amount of air in them while packed with the pressure of a bike contained in the case. Bottom line, no air no protection for your bike.
3. The wheels are placed on the exterior of the air bladder with very little padding to protect from the case being stacked or tossed. This is also something that doesn't seem well designed to expose the wheels to absorb all the pressure and weight while its being tossed around. A pair of race wheels with no padding, not a great plan in the packing method of the case.
4. The rear of the case has zero protection for the rear der hanger or drop outs. Zero, none zero which meant I had to pack the case with more padding and try to protect the rear of the bike. This is absolutely not acceptable. It does not give good piece of mind when you open the case and it has no air the the rear der hanger is bent because the bike case doesn't have padding or a ridged area on the rear of the case for additional protection.
5. The straps have to act as a handle as well. This is not very well thought out. No handle on top means the straps act as the conduit for baggage handlers to throw the bike around. This means poor construction yields seams stressed beyond measure within the first trip.
6. Overall this is a better case than some I have used traveling with my bikes however for the cost and overall condition of the case after use, I would not suggest this case at even half the cost.
This product is an example of good idea with terrible execution. It is easy to get a bike in the bag. The problem is that one does not purchase a bag to simply put a bike in it, but to get it from one place to another. Here are the things that went wrong on one round trip with one layover:
1. The clasps that attach the handle to the rest of the bag tore - the high quality nylon did not year, but the $0.01 cheap thread that is used to fix the nylon to the case did not stand up. Brought it to a cobble who fixed it for $25. He laughed when he saw the quality of the stitching.
2. Air bladder - only works if it holds air. Mine did not hold air on either trip. ON the way back I actually sat there and watched the TSA guys open and close the case to make sure they didn't let the air out . They did not.
3. Lost the wheels one the bottom of the case. Wheels are awesome, so awesome that I am giving this bag another shot. I was so happy wheeling my bike into the airport on the way there. On the way back it was a slog as I had to drag it.
4. The foam pad in the bottom of the case came unglued. The glue job was ridiculous.

Oh yeah, as a result of the bag getting deflated my mountain bike wheel suffered about $80 worth of damage - bent rotor and untrue wheel.

Yes - airlines are rough, but a $600 bag should protect the bike. I will try an exchange. If I have any issues I am sending back and giving a one star review. BKIND, if you read this and would like a video of my expereince, please let me know. Again - like the design, just don't use such cheap materials in critical places - especially the handle!
Air cushions go flat
Gender:

Male

Familiarity:

I've used it several times
Im first biknd case air cushions went flat on the flight to S.A and my rims got bent! I sent the case back to BC and they traded it no questions asked! My second case had the same problem luckily my bike wasn't hurt on this flight! the case is over priced and is not safe to protect your bike!
This was my first bike bag, and I would highly recommend it. I transported my bike from Singapore to Toronto, with 2 sets of wheels. I think it's probably one of the few bags that will allow for 2 sets of wheels. It was very easy to use, and it takes no time to re-assemble the bike. I am not a very good mechanic, and I basically just followed the instructions... and had no problems. I was considering between a hardcase and this, and am glad that I picked this bag instead.
Where can I get replacement air bladders...
Where can I get replacement air bladders ?? They both have holes. :(
Shoot an email to service@biknd.com they should be able to help you out
will this case fit a trek (gary fisher)...
will this case fit a trek (gary fisher) superfly 100 ... 21.5 inch frame ... 29er wheelset
The biknd case can in fact carry 29ers


With this case do the airlines charge an...
With this case do the airlines charge an extra fee due to its size or does it meet the standard requirements for regular baggage fees
Hey Mario,

Everyone is different, check this link out:

http://www.luggageonline.com/about_airlines.cfm
Does this bike case fit a 29er MTB (full...
Does this bike case fit a 29er MTB (full suspension)? Thanks
Bikeradar says they managed to fit a medium full suspension in with room to spare. They also note " through-axles will requires (sic) dropout adapters, and some full-suspension designs will require you to flip the fork around and possibly deflate and compress the rear end."
Just completed my first round trip from Kansas City to Sydney AU. No problems, bike and case traveled well...You do and would expect to get a few strange looks at the airport...My Scott addict is a 61cm, still room for shoes, helmet, and tool kit....Total weight with one set of wheels was 45lbs...United charge $200.00 to Sydney and nothing on the return, got a good counter person on the return..Taking it to Kona in a couple of weeks with no worries...Worth the money...