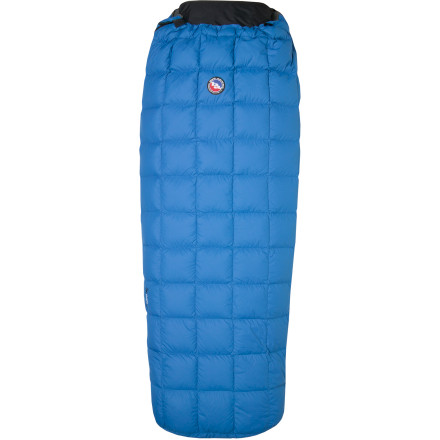 Community Images
Just because you sweat all day doesn't automatically mean you'll be warm at night. The Big Agnes Yampa 45 Degree Down Sleeping Bag comes with 650-fill down insulation to trap in your warmth once the sun goes down and when the front blows through the mountains. Before you turn in, slide your 20-inch-wide sleeping pad (sold separately) inside the Yampa's bottom pad sleeve and rest easy as you dream about happy trails.
Big Agnes bags don't have ground insulation and are meant to be used with a sleeping pad (not included) to be completely insulated
Full-pad sleeve holds any 20-inch-wide sleeping pad and prevents you from rolling off your pad while sleeping
The tough, down-proof outer nylon ripstop shell features a water-repellent treatment to keep the frosty dew out
A soft, breathable, and down-proof lining feels great against your skin and features a stain-resistant finish in case the blister on your heel pops overnight
650-fill down insulation features a high warmth-to-weight ratio to save your shoulders during long days on trail
Semi-rectangular shape gives you more room to stretch out your tired legs
Flow insulation system with a unique baffle design distributes heat evenly through the bag to help eliminate cold spots, eliminate bulk, and keep weight down
Quilted construction means that shell materials are stitched all the way through with the insulation sandwiched between
Vertical Thermal channels enhance uniform distribution of heat over the entire length of the bag for greater warmth and fit
An insulated draft collar around your head and a draft tube covering the zipper provide extra protection to keep you toasty despite the cold
Built-in pillow pocket holds a fleece or pillow for an enhanced night of rest
Interior fabric loops allow you to add a sleeping bag liner during colder nights
A 70-inch YKK #8 zipper down the left or right side of the bag lets you zip it together with a compatible Big Agnes bag (sold separately) for a warm night with a camp companion
Note: sleeping pad not included
Just got back from a two night backpacking trip at Hill Country State Natural Area, Texas. Forecast for each night was upper 30s and low 40s, so I thought that this would be a good test of the lower limits for the bag. Turns out it got down to 32 degrees and that was definitely too cold for this bag. Ended up wearing full length Icebreaker Merino baselayer, thick wool socks, Acrteryx fleece, and a beanie and woke up due to the cold a number of times. I do think this thing would be perfect in the 40s and 50s, but once you hit the 30s you'll need to be prepared to start layering pretty heavily.



I generally run hot when I sleep, and I paired this bag with the 1.5 inch Two Track pad from Big Agnes (0 degree)
If I were to buy 2 of these to zip together...
If I were to buy 2 of these to zip together for my girlfriend and I, do you think it would be warm enough to use down into the low 30s at night?
Best Answer
Hi Sam, my first thought is no, I don't think so. Many additionl factors to consider. Most of what I read about Big Agnes bags is thay do not live up to their temp ratings. (Think 50s for comfort range). You have to heat up the volume of the bag, that's why a mummy is easier to warm up (less interior space) and rectangular cut bags take longer to warm up. Do the two of you generally sleep warm or cold? Plan on wearing clothes to bed? How will you block heat loss around neck/shoulders? Your sleeping pad is hugely important for this bag design. I use an Exped Downmat 7 (superb) because I sleep in a MSR Hubba Hubba usually with no fly (breezy). A fly on the tent should improve warmth in tent. An air mattress has a lower R rating and won't be near as warm. Hope some of this helps.
I run fairly hot at night, and both of us also prefer it colder at night. We dont have a problem keeping the fly on to make it a little warmer.



I ordered the 1.5" Two Track Pad (0 degrees) from Big Agnes with my order, and I think I will have my girlfriend order the 2" version (-25 degrees) to see which one we prefer.



I guess it will be a trial and error process for these zip togethers... but, hey, thats why I buy everything from Backcountry...
I will await your evaluation of those pads, very interested to know. My 57 year old body is sold on the Exped mats (sadly won't tolerate the Thermarest 3/4" pad anymore). I have been backpacking for 40 years and you can only imagine the gear swaps across time. Amazing the weight and gear options available now and being able to dial gear in. Took me a while to embrace the Bid Agnes bag methodology and now find that with some tweaking their products are effective at conserving weight without comfort compromise.
See my initial review of the sleeping bag/pad setup above. The pad worked great! Second night was on very hard and lumpy ground; didn't even notice through the pad. Did a good job insulating my heat; I could feel the warm areas around where my body made contact with the pad, and colder areas near the corners.



Girlfriend didn't attend this trip, so I don't know how it all will work zipped together quite yet.
I have used this bag on two different backpacking trips. Once by itself at 50 degrees and the other as an overbag with my Lost Ranger at 20 degrees. Both times I have been impressed by it's light weight, super small pack size and comfort.
I was somewhat skeptical about the overbag concept but I am sold now as my 2 bags were smaller and lighter than others 0 degree bags and I have never been so comfortable below freezing before.
3 days on the AT- Rock Creek to NOC
really enjoyed this bag, especially with a Big Agnes air mattress tucked into the bottom sleeve. I'm 6'2'' and weigh 245 lbs. so leg and shoulder room are important. This bag was excellent in both these areas and I slept comfortably ( had pack pillow tucked into the pouch at the head of the bag) each evening after really grueling hiking. However, the reason that the bag does not get the fifth star is that it would not fit someone over 6' 3"...i found it just came up to my neck with me feet at the bottom of the bag. That being said, this warm weather bag packs light and will more than meet it's temperature rating.
Does this bag have a sleeping pad sleeve...
Does this bag have a sleeping pad sleeve like other Big Agnes bags?
never mind,says so in the description