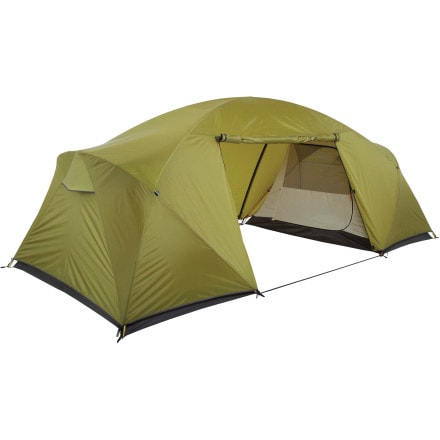 Colors
Description
A tiny tent-city.
To call the Big Agnes Wyoming Trail Tent a four-person ten doesn't really seem fair. It's more like a duplex. The trail 4 is actually two 2-person tents connected by a huge, 49-square foot, 72-inch tall vestibule. Each of the individual tents has one inward-facing door that links to the vestibule for group activities like card games, foul-weather drinking games, and expedition-planning sessions.
Polyester ripstop main tent construction for bombproof durability
Polyester ripstop fly fabric with 1200mm durable water repellent coating for lasting weatherproofness
DAC lightweight aluminum poles for lightweight durability
2 doors and 1 huge central vestibule for lots of living space
Top and door vents on each side
8 interior mesh pockets for lots of organized storage
Share your thoughts
What do you think of the
Big Agnes
Wyoming Trail Tent: 4-Person 3-Season
? Share a...
Can one of the two "bedrooms" be used as a baby'room ?
Will a pack'n'play fit in it ? Thanks.
Responded on
Yes, each of the "rooms" is about as big as a 2 person tent which is plenty big for a pack and play. Or there is plenty of room in the GIANT vestitbule area. I am over six feet and can almost stand up straight in there.

We have a 3 year old who uses the other room. She loves having her own space and it is nice to be able to put her to sleep then not have to climb over her to get in and out of bed if we want to stay up a little longer.

This tent is about as big is a parking space and the sleeping areas are at either end so sometimes it is hard to find a spot that is nice and flat at either end and it is longer than most tent pads are built for so sometimes we've had to set it up in the parking space because it was the best long flat space. Most tent sites are flat in the middle and slope at the sides.

The vestibule is plenty big for bikes coolers etc.
My daughter and I tested the tent in a wicked thunderstorm and stayed totally dry. Cross wind gusts did scrunch it up a bit (which was interesting to watch from the inside) Like all big tents, it is like a giant sail though so use the stakes if you expect wind or bad weather.
Super fun tent. Loads of room for your gear while keeping the dirt out of your sleeping area. I wish the sleeping areas were just a tiny bit bigger but they are just for sleeping and there is so much space in the vesti for changing clothes etc during the day that it is not a problem.
We bought a shoe holder that hangs on a closet rod from Ikea and hang that in the vestibule area which gives us some easy access "shelfs" space for cramming jackets clothes headlamps etc for easy access.

This is a good family tent that can handle the elements and folds up pretty small. The vesti provides a nice area out of the sun or rain which most tents don't.
Posted on
Is this tent a closeout? Will this model...
Is this tent a closeout? Will this model be discontinued?
Responded on
At this time the tent is not discontinued, it's just on sale
Best Answer
Responded on
It's our Semi-Annual sale! Take advantage of this great price while you can!
Responded on
Any chance a picture of this tent can be posted without the vestibule/fly installed? I'd be interested in seeing what the "individual" tents look like without the fly cover.
Responded on
Hi Chris Koffend, seems like the pictures are taking a while to be uploaded on this site. You might want to "google it". It's basicaly two Wyoming Trail tents together. Find more information and pictures on : www.bigagnes.com
Responded on
You should note that it cannot be set up with just the fly if you wanted just a big shelter. You could probably rig some straps up and put grommets in them the same size as the foot print and try it but it doesn't work like that standard. Also, you have to set up both sides of the tent even if you only need one side. not a big deal but worth mentioning.
Fun tent with good space for gear junkies.