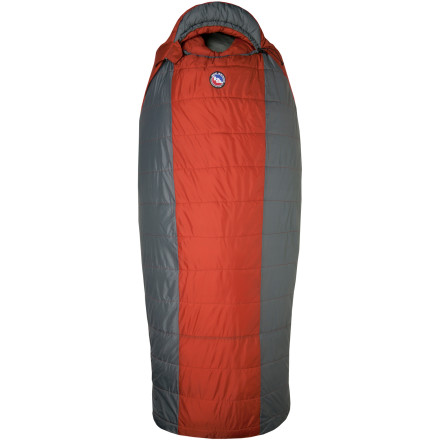 Description
Livin' large all year long.
The Big Agnes Whisky Park Sleeping Bag gives you the warmth for year-round use and the extra room that big campers need to stay comfortable. It can be tough to find an all-season bag when you're 6-feet, 6-inches tall, but the Whisky Park has the dimensions to keep you comfy and comes with a 0-degree rating for warm nights in the campground.
This Big Agnes bag requires a 20-inch-wide sleeping pad (sold separately) for it to be completely insulated, which makes the bag lightweight and more packable
The tough, outer nylon ripstop shell features a water-repellent treatment to keep the frosty dew out
Lightweight, synthetic Thermolite Quallofil keeps you cozy as the temps dive and works even if it gets a little damp
Interior fabric loops to keep your liner in place
Built-in pillow pocket holds a fleece or pillow for an enhanced night of rest
Interior fabric loops allow you to add a sleeping bag liner during colder spring and fall nights
Unanswered Question
I have a Big Anges Whiskey Park 0 degree synthetic sleeping bag, I will use it in the winter, what sleeping pad do you recommend for winter and max warmth ?
What pad sizes work with this sleeping bag?
Pad sizes that work with each sleeping bag size:



Long (Sleeping Bag): 25"x78" or 64cm x 198cm



Anytime you have a Big Agnes question, shoot me an email and I'll make sure to work with you 1-on-1!



Jared D.

Expert Gearhead

801.736.4336

jdowns@backcountry.com
Very fluffy....a little too fluffy.
Familiarity:

I've used it several times
For the price, this is a very warm bag. Kind of hard for me to really squash down to a small enough size that would make it easier to pack, but as car camping bag.....can't complain.
One of our Big Agnes stuff sacks got lost...
One of our Big Agnes stuff sacks got lost on a campout and I wanted to find out if I can purchase a replacement. Are these available?



Thank you,

Garrett Grimes
Best Answer
Hey Garrett,



Garrett here, I suggest hitting up Big Agnes and seeing if they can get you a stuff sack. We sell a variety of stuff sacks but we do not sell the Big Agnes specific ones. I am sure Big Ag will help you out.



Good luck Garrett,

Garrett
Is the thin bottomside an issue? I realize...
Is the thin bottomside an issue? I realize that you must have a sleeping pad, which I do, but the pad is a 1" Therm-a-rest. Also is the extra weight of this bag worth it?
The thin bottom isn't an issue. By putting your weight on the bottom in a standard bag, and crushing down the loft, you're rendering the insulation ineffective. A trick I've always done in simply placing a cheap space blanket between the bag and pad. It's crunchy sounding, but very effective.
My wife and I are in our mid 50's (I say this because you are probably more suitable to the cold then we are). We took the bag down to 9 degrees and were perfectly comfortable and warm. Pad stayed under us at all times. My wife and I had no problems carrying the weight involved. For a zero degree bag it is indeed heavy, but the quality of the bag is supreme and worth it to us.
I thought that the "Park" series from Big...
I thought that the "Park" series from Big Agnes all used 25" x 78" rectanular pads. The specs above say 20" (bullet point #1)
Best Answer
yes this is a mistake . You are correct park series is for a 25X78 inch pad
I have been looking for a bag like this for a long time. I just spent two nights in the Colorado mountains and carried the bag over 20 miles. I flop around like a fish when I sleep so the room in this bag was great. Weight was a bit of an issue as well as compressability but again, for the room inside this bag, it was an anticipated trade-off. The pad sleeve is awesome as well as the built in pillow sleeve. Now I wish I could find someone with a Big Agnes pillow in stock.
gave this one a whirl, but only in the store. i put it back when i realized it weighs 6.3 FREAKING LBS! thats freaking heavy even for a zero degree bag!