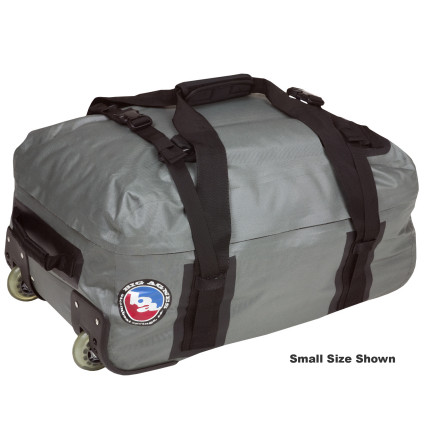 Whether you're rolling it through the airport or satrapping it to the roof of a bus, the Big Agnes Stagecoach Waterproof Rolling Duffel Bag protects your gear from the prolonged abuse of your extended travels. Fully waterproof shell fabric keeps out moisture, and the sturdy aluminum frame provides support for your stuff. Hideaway backpack straps and a telescoping handle and wheels give you a carrying option, and a hidden zippered pocket under the removable interior bottom panel stows your contraband.
Unanswered Question
How collapsilbe is the medium? Thinking...
How collapsilbe is the medium? Thinking of using this, but would have to ship it back home upon arrival and weight + size might make it a bad idea. If it collapses down and can be folded over, it might work.
Big Agnes Stagecoach Waterproof Rolling Duffel Bag
used on one trip so far....single flight across country ...carrying clothes & gear (skateboards)...the "water proof" outer shell already has holes & tears......also not quite as pictures depict......different wheels (no the inline skate wheels shown),...also no water proof flap to cover zipper as shown in photos.....overall you can probably do better than this.
Pretty good bag, bomber zipper is way better than their old one. Large bag great for travels to places where your bags maybe sitting out in the elements for a bit while you sus out your jeep or taxi ride. Rock on Big Agnes and well done...
Holds a lot, but not sure if thisis THE bag
I have a 2008 version of this bag that doesn't have the red stripe. It weighs 11 lbs on my travel scale, not quite as good as the specs say. The other dimensions are right. I took it on one long 3 week trip through Bulgaria and Italy. It's starting to get 2 little holes (size of pencil erasers) at the top where the material goes over the edges of the frame. I only used it on the 1 big trip. I bought it hoping it could be a replacement for my Jansport 36" Wheeled Duffel Pack that was beginning to wear out. Now the Jansport is really worn out. They don't make it any longer. I'll be trying the Big Agnes more now.
Great bag, holds plenty of items...its a big open compartment and with the compression straps, will hold more than enough. In fact you have to watch your weight when you are planning to check this at an airline.

I like the heavy duty zippers and that it truly is waterproof. If you have ever watched handlers tossing luggage around in the rain at airports, you will appreciate this.

Two gripes , one minor, one of some concern. The minor gripe is that it will not stand up on its end when loaded, which can be irritating when waiting in lines at airports. My major concern is that the first time I used it..I went from the midwestern USA to British Columbia and with the one roundtrip..there was already a hole forming at the front top end where the stiff support is. The material is too thin there for that being a key contact point, since the luggage will not stand on its end..and it normally rests on those areas.
Write your question here... How big is...
Write your question here... How big is this bag? length, width, height
Size small: 22"x 14"x11" 5lb 12oz
Size Medium: 29"x14"x15.5" 8lb 7oz
Size large: 35"x16"x18" 9lb 10oz