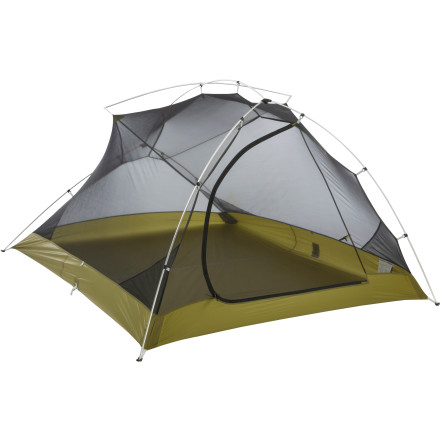 Colors
Description
An ultralight backpacker's dream tent.
The Big Agnes Seedhouse SL3 Tent is one of the lightest 3-person 3-season tents in Backcountry.com's arsenal, and it's the perfect match for any ultralight backpacker out there. Big Agnes made this tent's floor and fly out of a light but tough ripstop and gave them a polyurethane coating and fully taped seams for excellent protection against bad weather. The mesh body provides a thorough amount of airflow on the warm days, and the DAC Featherlite NSL pole system connects three poles with the press fit connectors in order to provide a sufficiently stable, secure, and speedy setup. This tent has just enough space for three people, and the vestibule should be able to store all three utlralight backpacks without a problem. Six mesh pockets help you organize your gear, loops connect with a gear loft (loft sold separately), and Big Agnes also included eleven stakes for setup.

Nylon ripstop fly and floor with polyurethane coatings
Fully taped seams
Mesh body
DAC Featherlite NSL pole system with press fit connectors
One door, one vestibule
3 lb. 9 oz ultralight
Eleven stakes, six mesh pockets, and gear loft loops included
Footprint and gear loft sold separately
It is so good at everything!
Gender:

Male

Familiarity:

I've used it several times
After spending enjoyable hours (my wife says 'days') looking at data and reviews I was expecting this tent to be light, but when I first picked it up it astonished me how truly light it is. I've had a Sierra Designs Clip flashlight which I never really looked forward to sleeping in and would often pass it up in my gear closet and grab something bigger and heavier because the extra weight always subjectively seemed worth it. (awkward entry, navy blue dreary darkness that absorbs heat, that rocky area underground on your last corner preventing you from getting the critical stakes in so it will stay freestanding...) NONE of those issues are here with the Big Agnes Seedhouse. I love being in it, putting it up and simply looking at it. It's ridiculous how much pleasure I take from simply owning this tent as I will fondly think about it sitting in my closet. When I first got it, the family would take turns holding it and passing it around while eyebrows went up remarking about it's petiteness and lightness like some welcomed new baby.
It feels delicate, but reliable with intelligent use and for some reason my cats (don't judge me I live in the prairie and need mouse slayers) seem to be irresistibly attracted to scratching it so I haven't had many nights in it. I didn't realize that I liked the color (blend with nature, stealthy, unnoticed) so much until I realized that it's basically a slightly heavier "Fly Creek" but isn't look-at-me! orange/yellow/red, etc. I like being able to step off a trail a bit and disappear.
The fast pack footprint is silly expensive and makes trips to the hardware store for tyvek worth it for almost anyone, but I think losing the mesh that keeps me separate from mosquitos or snakes/spiders/ticks/cockroaches crawling over my face isn't worth the weight savings. (If it was that important I'd just bivy sack it.)
The stakes are really good and very impressively light. I'm tempted to drill holes to lighten them but they already weigh nothing and don't have holes filling with dirt. Unlike shepherd hooks, though, these V shaped stakes are basically like metal punji sticks so treat them with fear if you're a flip flop fan.
The tent space is very useable, and I'd echo that it's a snug 3 or spacious 2, especially if you're just sleeping and not spending multiple rainy days cooking and playing cards, but really if you're upset about not having an airy ambiance in an ultralight tent one has bigger problems. I've only had it in light rain and it didn't get stuffy or humid at all, but I prefer big ventilation over the cheater 'warmth' you get from bad ventilation and water dripping and condensing on everything. The mesh is a bit delicate in that if it gets poked or rubbed hard the pattern bunches (not damaged, per se, I just don't want to find out how far I can take it and feel a need to baby it.)
In short, I love looking at, setting up, sleeping in and especially carrying this the Big Agnes Seedhouse SL3 tent.
Great two man tent
Familiarity:

I've used it several times
I love this as a 2 man tent. My cousin and I have climbed regularly in the alpine this summer and we usually are cramped in a 2 man tent as both of us are over 6'2. I bought this tent and love it. There is enough room so things DONT get weird. Also when the mosquitos were heinous we had enough room to comfortably sort out the rack inside the tent. That and the tent is as light as most 2 man tents anyway, so its great. As a three man tent its annoying to have one door between 3 people, So I call this a 2+ tent.
What is the difference between Packaged Weight, Trail Weight and Fast Pitch Weight (Fast Fly Weight as Big Agnes calls it).



Also what does the footprint weigh?
Here is how Big Agnes defines the different weights for their tents:



Packed weight:

This is the heaviest you can expect your tent to weigh, straight out of the box or from the store. This weight refers to all packaging, hang tags, as well as the stuff sacks, fly, body, stakes, poles, and guy lines.



Trail weight:

This is the lightest you can expect your tent to weigh, stripped of everything but the essentials. This number reflects the weight of just the fly (no guy lines), body, and poles.



Fast-fly weight:

This is the weight of your fly, footprint and poleset only.



Seedhouse SL3 info:



Packed Weight - 4lb 0 oz (64 oz) or 1810grams

Trail Weight - 3lb 9 oz (57 oz) or 1620grams

Fast Fly Weight - 2lb 12 oz (44oz) or 1250grams

Footprint Weight - 7 oz or 198grams



Anytime you have a Big Agnes question, shoot me an email and I'll make sure to work with you 1-on-1!



Jared D.

Expert Gearhead

801.736.4336

jdowns@backcountry.com
Hi, is this the 2014 model? There is another...
Hi, is this the 2014 model? There is another Seedhouse SL 3 on the site which is a bit cheaper and I can't tell the difference! The key question is which footprint do I need to go with this tent. Thanks.
Hey Jon130230915,

This is the 2014 model, the other model is a 2013. The only difference between the two is the material of the mesh. The 2014 version has a lighter material so it shaved off some weight. Other than that the dimensions of the two tents are the same. So the footprint will work on both tents. Let us know if you have further questions or concerns!