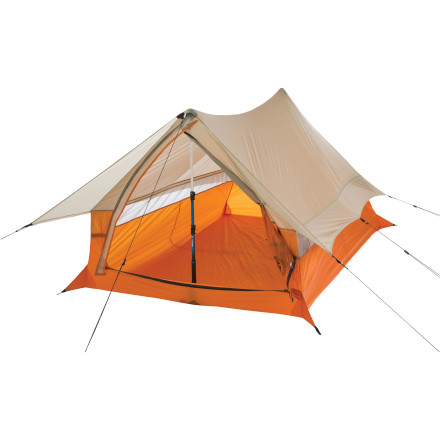 Colors

Videos

Community Images
Description
Drop the poles, drop the weight.
The Big Agnes Scout 2-Person 3-Season Tent puts your trekking poles on double duty to cut your weight by removing the need to pack tent poles. The ultra-light design reduces your weight carried per step which can add up to a massive amount of energy saved when you're taking on long-distance through hikes like the Appalachian Trail of the Pacific Crest.
Fully taped, single-wall silicone-treated nylon ripstop with a PU water-resistant coating is sturdy enough to shelter you from intense conditions without adding much weight
Trekking-pole set-up system relies on two trekking poles (sold separately) to support the tent's structure so you can shave the tent poles off your carry weight
54-inch width offers just enough room for two sleepers
Trail weight is well under two pounds so you aren't weighed down on long through hikes
Polyester mesh eve and rear vent system helps stale air escape
Reflective guy lines and corner webbing makes after-dark set up easier and leads you back to your bed after late-night bathroom visits
Super-light aluminum J-stakes combine low weight with sturdy construction
Extra-large stake loops speed up setup time
Two internal storage bins stash your essentials, and integrated gear loft loops secure your Fits Wall gear loft (sold separately)
I will tell you where the typo in the product description in trade for one of these tents!
"eve" should be "eave".

I want one, too!
What is the difference between Packaged Weight, Trail Weight and Fast Pitch Weight (Fast Fly Weight as Big Agnes calls it).



Also what does the footprint weigh?
Here is how Big Agnes defines the different weights for their tents:



Packed weight:

This is the heaviest you can expect your tent to weigh, straight out of the box or from the store. This weight refers to all packaging, hang tags, as well as the stuff sacks, fly, body, stakes, poles, and guy lines.



Trail weight:

This is the lightest you can expect your tent to weigh, stripped of everything but the essentials. This number reflects the weight of just the fly (no guy lines), body, and poles.



Fast-fly weight:

This is the weight of your fly, footprint and poleset only.



Scout UL2 info:



Packed Weight - 2lb 0 oz (32 oz) or 907grams

Trail Weight - 1lb 9 oz (25 oz) or 709grams

Fast Fly Weight - not at option

Footprint Weight - 5 oz or 142grams



Anytime you have a Big Agnes question, shoot me an email and I'll make sure to work with you 1-on-1!



Jared D.

Expert Gearhead

801.736.4336

jdowns@backcountry.com
Great tent saves weight.
Familiarity:

I've used it several times
I purchased my scout about 2 years ago. Love the size and weight. I would not recommend it or anyone much bigger than six foot. I live in western North Carolina and it rains a lot and have had only minimal condensation . Which you would expect in a single wall tent. Big agnes got it right . Just wish they came out with the scout plus ul 2 one year sooner. Would like a vestibule for those rainy days for cooking.


Hello Is this tent waterproof under a...
Hello

Is this tent waterproof under a big rainy thunderstorm and does this impermeability last for a long time.

Thanks for your help


Yes, it's waterproof. This tent is so new nobody knows exactly how long the waterproofing will last, but it seems every bit as good as any other tent I've had.
I'm curious about how this tent would...
I'm curious about how this tent would perform on different types of terrain. So far, I've only found review videos and pics that look like a woodsy landscape where the soil is optimal for steaking out tension. Any experiences with dry, brittle ground or sand?
Best Answer
Hey Aim,



Big Agnes makes pretty solid tents - I take my smaller version desert camping in southern Utah for weeks on end all the time with no troubles, though I would suggest bringing some extra paracord so you can elongate the stake loops if you're on particularly hard terrain. I would also spring for the ground tarp, I've wound up on top of some cacti spines occasionally and the tarp does a great job of keeping though out of your main flooring.
So far, so good
Familiarity:

I've used it several times
I have only had a few nights out with this tent, but so far the hype is real! I am 6'3 and tend to move around a bit during the night. I got tired of waking up with my down bag wet around my feet and or my head wet. I don't think that will ever be an issue with this tent. It's plenty large enough for me and my gear by my feet.



Additionally, I really wanted to have a solo tent that could double up if the wife wants to join me. There is more than enough room for her and most of our gear.



I don't find the pole inside worth it so i always pitch both outside.

Not having a vestibule is a bummer, also wish it had a bug screen on the entry..



But all together I still give it a 5/5 for size/weight alone.
How tall do the poles have to be? (mine...
How tall do the poles have to be? (mine are fixed length 110s: I'm 5'1 so works for me)
I find 125-135 to work well. If you stake out further you might be able to get by with 110. Or just prop up your poles with your shoes
Love it!
Familiarity:

I've used it several times
As I had a hard time finding many reviews of the Scout before I purchased mine, I thought maybe I should write one now. To read my review with photos, follow this link. http://arielcsblog.blogspot.com/2013/08/big-agnus-scout-ul2-review.html I can't post the photos or all the content on here.



To give you a bit of background, I live in Jackson, WY and spend most of my free time in the summer hiking and backpacking. (50ish days and almost 500 miles last summer.) For years now I've used and loved Sierra Designs Lightyear. I have both the one and two person versions and it's a solid, simple, and inexpensive tent. I've had it out in high winds, sand, hail, you name it. I would highly recommend it. But, as I've worked to reduce my pack's base weight, I started looking for a lighter option.



I didn't like using a tarp due to water splashing when it rains, the ability to accidentally knock gear out from under the tarp, having to find good tie offs at all the perfect angles, and the lack of bug-proofing. Mosquitos can be really annoying and I have an irrational fear of spiders. But when I saw the Scout which is much like a tarp but self contained and bug proof, I thought I'd give it a try.



I have used the Scout for an overnight in Yellowstone, an overnight in the Tetons, and a six day Wind River Range trip. It's now been in the wind, multiple rain storms, and two hail storms. And I like the tent a lot.
Great video on Alternate Pitches
Prolite gear's video on alternate pitches for the BA Scout UL2
Checkout What Bill Gamber Has to Say
Looking at the pole furthest from the door,...
Looking at the pole furthest from the door, it appears into the tent a little rather than at the wall. I have a big agnes double sleeping bag, so we don't have the option of a pole between us. will the scout work for us?
There is both an internal and external pitching option to set up this tent. Obviously if you use the external option to set this tent up your pole will not right in the middle of the tent and your double sleeping bag should fit fine.
I know the door pole you can put inside or outside, but what about the second pole?
Best Answer
You can pitch it on the outside. Prolitegear.com did a great video on alternative pitches on this tent. Here's the link. I'll also post the video directly on the page.



http://www.youtube.com/watch?v=-fWS8jX6JUo
You can also skip the last pole and just tie off to a tree