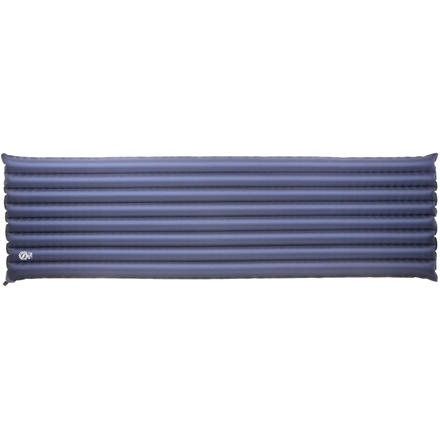 Rest easy on your Big Agnes Dual Core Rectangular Sleeping Pad. This inflatable sleeping pad offers insulation from the cold ground, yet it's lightweight enough to carry backpacking. Big Agnes stuffed the Dual Core with PrimaLoft eco synthetic insulation and high-density foam to help keep you warm, even when you camp in winter. At 2.5 inches thick, this pad is luxurious to lie on, yet it compresses nicely for easy carrying in your backpack. Use the Dual Core with your Big Agnes sleeping bag for a cozy backcountry bed.
Large packed size
Familiarity:

I returned this product before using it
I can only talk about the overall packed size of this product, as I never actually used it. I ordered this along with the Big Agnes Q-Core (large) and the Downmat UL 7. Upon arrival, I disqualified this mat due to it's packed size, which was substantially larger than both of the others. If packed size and weight are not an issue for you, my review won't help you much. If you will use this mat for backpacking, or light/ultralite camping, I can tell you this mat is at least 20% bulkier than the Downmat UL 7, which I eventually went with after testing it and the Q-Core in-home.
I ordered 2 of these at the same time to go with Big A's double bag

Sadly one had an air leak right at the valve.

A little glue patched the leak and all was well.

over all this is a decent pad i had a bit of a hard time getting the firmness just right .

I prefer Exped pads,but for the price these aren't bad.
This pad is amazing! Seriously more comfy than my bed! Super warm and packs down pretty small. A little pricey but well worth it in the long run.
Weekend campers dream
Gender:

Male

Familiarity:

I've used it several times
I took 2 of these on a 3 night trip to Yellowstone at 2 different campsites. All I have to say is you better hope to have a pump to inflate the thing with you, or that you're not camping above 10,000 feet your your'll suck up all the oxogen before it's fully inflated. The night temps were around 34F. I staid nice and warm all night long and the pad remained tight every night.

I will note that I had an issue with one of the valves where part of it came off. Once I got it on again and tight, I didn't have any problem.

If the valve problem prissiest I'll return the pad but just to get another.
For some reason it's important to have a...
For some reason it's important to have a sleeping pad that I can use as a floaty in a river or a lake. My friend told me I have to go with a straight air-core sleeping pad for that, but I was wondering if this would work as well because I don't want to have to buy separate summer+winter pads.
It will float. but you have to dry it well! after use in the river!
I've used this pad a dozen times, and every time I can actually fall asleep, unlike pretty much every other pad I've owned. That means more energy for the day. It's super light, easy to pack away and set up. I have not used this pad in cold weather yet, but can't wait. Everyone I have let sample the ultra-cush of this pad is jealous, and that's as it should be.
This pad is absolutely amazing! So comfortable and warm. I took it to southern Utah last week and it was below freezing at night and this pad had no problem keeping me up off the ground and warm. Super comfortable, and due to its construction it seemed pretty hard to slip off of it like some pads tend to do. Would recommend this pad to anyone!
The one I've been looking for
I've been looking for a do anything sleeping pad and this seems to be it. It's not as small and lightweight as the ultra light pads, but I can't sleep on those anyway. I went with the dual core to get the extra R value for cold weather camping and this delivered. I did an early October backpack through the White Mountains on the AT and found this pad to be a lifesaver on a cold-cold night in Imp Shelter. The low was below freezing (I'm guessing high 20's). Sleeping on the dual core, I barely noticed the cold, but when my knees and elbows ventured off the pad, I could really feel the change. The insulating value of this pad is remarkable. Pair it with a good sleeping bag and you're all set. It packs small (not nalgene small, but close) and 2-2.5lbs it's worth it's weight.
My only complaint - it does suck to blow it up, especially when you're cold and tired.
I bought this pad hoping for good things. It's a tad heavy, but at the time I was backpacking during the winter and wanted some insulation. I have used this pad on 2 different trips, one a 4 day outing and one a 3 day. I have never had a night with it that I didn't have to wake up in the middle of the night to re-inflate the thing a couple times. I am not sure if it is because of the air condensing after cooling down, or if it leaks, but I always end up on the ground in this thing. It doesn't make for a restful night. I am 6'2", about 210 lbs. I bought the wide/long. I haven't checked it for a leak yet with some soapy water, but I will. I finally ended up getting a therm-a-rest trail lite. It stays tight as a drum all night.
Great for side sleeping. Bulky and heavy but well worth a good nights sleep. Takes quite a while to inflate. Almost passed out at altitude trying to get this thing blown up. A perfect match for my oversized Whiskey Park bag. Good night! ZZZZZZ...
Big Agnes Dual Core Sleeping Pad
I just used this for the first time in my new tent & sleeping bag in my backyard. I'm amazed at the comfort & warmth of this pad. The only issue I had was when on my back with my arms to the sides, then I could feel the cold on them. If I folded my arms across my stomach, not a problem. It might be the fact that the down in my bag is thinner at that point, too. Regardless, very comfortable & warm otherwise.
does this pad come with its own bag?
does this pad come with its own bag?
Best Answer
It should come in a small stuff sack
Yes, as Mitch posted it comes with a nylon stuff sack. I hardly ever use the stuff sack and leave the pad rolled up in my sleeping bag.
I haven't used this pad a whole lot, but the times I did I found it to be very well insulated and plenty thick, even for a side sleeper like me. It's a little on the heavy side, but when you need warmth a you expect to carry a little extra weight.
This is one of the warmest pads you will find with a R value of 5. It inflates to 2.5" to get you off the cold ground and keep you warm. It is a little heavier at almost 2 1/2 pounds but a good warm sleep is worth it. This is especially true with Big Agnes bags that do not have insulation in the bottom. I leave this pad in my Lost Ranger bag and roll them up together. The only downside is it takes about 5 minutes to inflate this portable bed.
Awesome. This Pad is absolutely Awesome. After using the Thermarest stuff for as long as i could remember, I desided to switch it up this year, when i needed to replace my pad. I Stumbled across this pad at the Big Agnes Store here in town. I couldnt pass it up, and have Love it since. Its nearly TWICE as thick as the Thickest Thermarest pad! and WAY WARMER! I cant say enough good Things about the Big Agnes Products. I have slowly been replacing camping and backpacking stuff over the years with Big Agnes stuff, and have yet to be disappointed. Every Item Has been great, and very Durable, The pad included. I will never go back to a Thermarest!
, ☃bcs_badge_alumni_label☃
Cush
Easy to blow up without hyperventilating, the Dual Core Sleeping Pad makes any night's (cold or warm) sleep pure bliss. For how comfy this pad is, it does have a decently lightweight profile and pack size.
I weigh in at about 240. Sleeping on my...
I weigh in at about 240. Sleeping on my side I have a real problem with my hip joints killing me. Can this mattress eliminate this problem,,,if not could you recommend another air mattress? Thank you.
Best Answer
This is a pretty comfortable pad 2.5 inches thick it will be the most comfortable. you may also adjust the air to make it more or less firm. Thsi may work for you well.
I am a side sleeper and have tried numerous pads. This is the most comfortable pad that I have found and I finally get a good nights sleep.
I'm about 20 lbs. shy of you and I did a night on this with no hip pain. 2.5 inches is too thick to have a problem.

based on one night sleep on hardwood at a shelter.
I bought this after spending a cold night on the standard insulated pad. While larger and heavier, it was still better than the other option of carrying a closed cell foam pad to supplement. I bungee'd it down on top of a front bike pannier and it travelled fine.