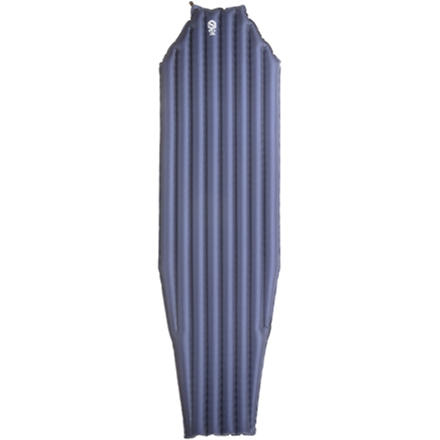 Slide the Dual Core Mummy Sleeping Pad into your mummy-shaped Big Agnes sleeping bag, and you're in for a warm, comfortable night of sleep in the mountains. With 2.5 inches of loft and extremely warm PrimaLoft eco to insulate you in freezing temps, The lightweight, compact Dual Core is an ideal sleeping pad for winter camping and mountaineering. I-Beam construction makes for quick inflation and deflation as well as reduces cold spots. Just a couple puffs of air into the E-Z-Flate valve, and you're ready to turn in for a warm, comfortable night of sleep.
Not for Summer!
Gender:

Male

Familiarity:

I've used it several times
Works great for use with a mummy bag. Tried to use it on a summer trip through Zion Narrows with just a fleeece bag, I kept sliding off all night long.
I have used my Dual Core sleeping pad numerous times and not once have I been uncomfortable sleeping on it. The only thing I have noticed is that sometimes my sleeping bag pulls to one side in which the pad shifts underneath me. Definitely recommend based on comfort and keeping the cold ground away.
What temperature is an R value of 5 good...
What temperature is an R value of 5 good to?
5 would be sufficient for winter use. There really is no temperature rating because there are too many factors. I.E are you in a tent, what kinda sleeping bag do you have, are you on snow, are you on dirt. If you are using it in the summer you will be just fine. Only in super cold below 0 would you have any problems
It should get right down to 0 to about -5* Fahrenheit. Pair this with a quality sleeping bag and you're in business. Add a tent and you can probably get by as low as -10/-15. Though that would depend on what kind of sleeper you are, inclusion of liner, etc. Assuming you are a motionless sleeper, (since this is a mummy formation) you'll be very comfortable in this in about any condition.
I originally bought this for my girlfriend for a 4 day backpacking trip in Peru. I have personally always used thermorest pads, but after sleeping on this pad for one night I gave all my thermorest pads to a buddy and immediately purchased the Big Agnus pad. You can actually put this pad on a bed of rocks and still sleep great. The only minor drawback is it takes a lot longer to blow up then my old thermorest pads. Considering the comfort of this pad I really didn't care it took me about 4 minutes to inflate. I highly reccomend it for backcountry camping. It's the closes thing I've slept on that feels like my bed.
I led winter trips in Maine for 10 years and always had to carry 2 sleeping pads- foam and thermares- because at -20F the cold just seemed to seep through everything. I had this pad out for a full season and never once found a cold spot or noticed a rough patch of ground. It may be heavier than a three quarter length ultra-light pad, but it is lighter than any two pad combo. Two drawbacks that I noticed... you are WAY up in the air. Compared to a standard thermarest, you feel like you're doing a highwire act. If you're sleeping outside the height is nice to avoid snow/water, but if you're afraid of heights or your girl wants to cuddle from her "short" pad you might have issues. Also, in a BA bag, this pad is so tall that it cuts into some of your snuggle room. With the Pomer Hoit, which is supposed to be snug, I feel a bit claustrophobic, but warm... and sleeping 20 or more days outside at -20, well warm is good.
Great fit for the Big Agnes Hahn sleeping bag. It held up well in the cold! Material seems to be quite durable. I liked the little repair kit that they threw in with the stuff sack. Stuff sack is of good quality. It protected the pad from abrasion pretty well when come down the mountains on rocks.Just a side note: It takes a lot more than a couple of puffs.
Big Agness Dual Core is THE sleeping pad
I LOVE this sleeping pad! It is blissfully comfortable, especially with the sleeping giant memory foam for car camping trips... and warm. I typically am freezing cold so decided to go for the extra weight with the dual core. Really happy I did. I camped out in the San Rafael Swell and woke up to frost in the morning. I was toasty warm (except for my toes which I believe are made of perma-ice and my nose). This is THE only way to go.
I have the insulated air core sleeping pad...
I have the insulated air core sleeping pad by BA and love it. It is rated down to 15 deg. So, does anyone know what temp this pad is rated too, and does it really make that much of a difference compared to the insulated air core?
Best Answer
Temperature ratings on pads is an unproven science. The best way to determine the insulative qualities of a mattress is through R-Value. Insulation rather than a temperature rating is the only true method of determining a pads ability to keep the cold from making it to your body. Temperature ratings on pads is a misnomer because it gives people the false impression that I'm going to be warm at 15 degrees (for instance) if I use this pad. The reality is if you have a 30 degree sleeping bag, a 15 degree pad isn't going to keep you warm...

The biggest problem I have with temperature ratings on pads is that there is no conclusive science to back it up. It's a best guess estimate. It's the same idea as a sleeping bag company putting a temperature rating on a bag based on the weight of fill inside. Most know this is bogus...

I would suspect this pad has around a 5 R-Value which is more than adequate for sleeping in cold conditions if you have the right sleeping bag. Obviously this is the most important consideration if you want to stay warm.

The combination of foam and Primaloft insulation gives this pad adequate insulation for most winter trips. The biggest disadvantage to this pad, I can see, is it's weight. However if R-Value is the most important item on your list of needs for a pad, this isn't a bad option. At roughly a 1/2 lb. difference for an increase of 1 R-Value when comparing the Insulated Air Core vs. the Dual Core doesn't seem to be a great trade-off.

My only reason for writing this was to let the user know that a temperature rating is a poor way of determining the kind of pad you need. It's not like a sleeping bag. It can be really confusing and everyone needs to understand these numbers so they are truly prepared and are not caught with the wrong product in bad conditions...
Brent,

Big Agnes gives this pad an R-value rating of 5, and an estimated temperature range of 0F. If you find the Insualted Air Core works well for you down to 15 degrees, you can probably trust the 0F rating for this pad.

More importantly, if you want to extend the range of your current Insualted Air Core Pad, you can combine with a closed-cell foam pad underneath to get more mileage. Experiment a bit with the closed-cell and IAC and sleeping bag to determine how cold you can go with that set up. Most people find combing an IAC and closed cell foam pad can handle most winter camping conditions.

Hope this helps!
Both these people are right - Jason has the science right and the whole temperature thing really is BS science at best. Sorta like sleeping bags. However, common sense would make this bag a good choice if you want to use it at 0 degrees. Furthermore, Steve's solution to use a closed cell foam pad has been used quite often by many people (including myself) and it works perfectly and is quite cost effective. Good luck on making your choice. Also - lets all keep in mind that Jason (Thermarest rep or not) never even mentions this in answering your question. Kuddos.
Warm and very comfy; more than thick enough for a side-sleeper. Packs down delightfully small and very light.
Got this pad about a month ago and was getting used to it by sleeping on it at home. Last night I realized I had a leak in the valve. Nothing I did would fix it. Returning this item. I am a bit wary of buying another after this issue. I have had Therma-Rests for years that never leaked in the least. I will probably give them one more chance...
I never used a sleeping pad, I bought The...
I never used a sleeping pad, I bought The North Face Dark Star, and I am looking for a pad that keep me confortable and warm.
My question is:
Do the pads go inside the sleeping bag? I always thought that they go outside, under the sleeping bag. But after reading the first review, I understand that it goes inside. Could you confirm?, I am 1.90 meters tall, and my Sleep bag, is size long. Thank you.
Best Answer
I can understand your confusion. You are correct; typically, sleeping pads do go *under* the sleeping bag. However, Big Agnes (the maker of this pad) has a system where the underside of their sleeping bags have a separate sleeve into which you slip the pad (you don't actually put the pad into the main compartment of the bag). With this system, you don't roll off of your pad. Also, since the pad is attached to the bag when slipped in the sleeve, they don't put insulation on the underside of the bag, decreasing the weight and packed size of the bag. However, this pad will also work with/under regular sleeping bags, although the mummy shape could be a little narrow for some people. In this pad (for you) I would definitely get the long if you were going to buy one.
Write your question here...I can't find...
Write your question here...I can't find my brochure and I have forgotten which side of my air core has the insulation, the label or the other side?

Jim
Best Answer
The logo side has the insulation.
I bought the Big Agnes Dual Core, after I spent a very cold night in a snow cave while sleeping on a Thermarest. I needed something that was light yet comfortable and could insulate. The second trip out I had the Dual Core, there was no comparison. I woke up warm and felt well rested. The difference was amazing. I'm 6'3" so it was a little short and narrow but at my size you have to sometimes make do. Overall I would recommend this pad to anyone who is winter camping.
I led trips in Northern Maine for the past 10 years and was constantly searching for a sleeping pad that could handle the extreme cold, -30F, that we suffered through up there. Before this pad I had to carry a thermarest and a ridgerest- otherwise you could feel the cold seep through. With this pad, I have never felt the cold. It literally adds a few degrees to your bags comfort rating. I don't roll around much, so I can't really comment on how easy it is to stay on... you're pretty high up with the pad fully inflated. Using the pad with a regular sleeping bag worked great- using it with a Big Agnes bag I found the pad so big that there was hardly room left for me... and I'm only 5'8" 160lbs... a friend borrowed my gear and literally couldn't zip the bag shut. If your a small individual, Big Agnes also stands for BA gear... it performs well and is super durable. Considering that I could only carry one pad, this system saved weight. For summer or fall travel, it's overkill and heavy.
So so comfortable. Now I now that is not a full sentence, but that is what I sound like when I am lying on this pad, incoherent! I got this for Christmas and can't wait to try it out in the real world. I was a bit worried about rolling off the mat, but was able to fix the problem by letting out a bit of the air. If you are sick of waking up with sore hips when you are camping (especially the gals out there), get this pad!!
Do all Big Agnes sleeping pads fit their...
Do all Big Agnes sleeping pads fit their sleeping bags (excluding kids sizes). I own a B.A. sleeping bag and am look for a recommendation on which pad to buy. Thanks.
Best Answer
Yes but they make several sizes and pads to fit so make sure you get the right one. Check out BA's website to make sure what you are looking at is the right size and shape for your bag.
It keeps you warm, is light weight, and fits perfectly into the sleeve of many Big Agnes bags. Packs small.