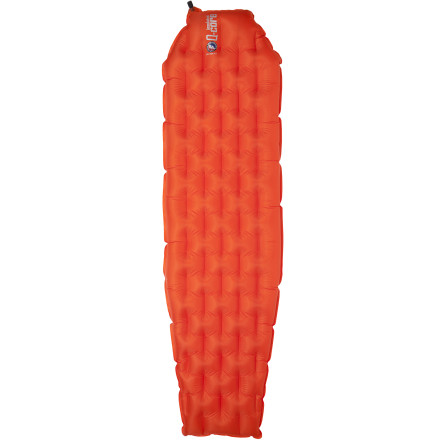 Colors

Community Images
Description
Lounge.
Arguably the most comfortable sleeping pad on the planet, the Big Agnes Q-Core Sleeping Pad is loaded with all kinds of comfort-enhancing technologies to make three quarters of your life more enjoyable.
Lightweight, compact, three-season pad designed to keep you cool in the summer and warm in winter
X-Static synthetic insulation with silver filaments for anti-odor and anti-microbial protection
Alternating I-Beam construction for a smoother, more comfortable feel
Nylon Ripstop top and bottom for added durability
Big Agnes nails it again
Familiarity:

I've used it several times
I have had a Big Agnes sleeping bag for years and finally invested in a Big Agnes pad. I have tried a handful of different pads over the years, all with "meh" to " never again" feelings towards them. Before the purchase of this sleeping pad I had just accepted that sleeping pads will never really live up to my expectations. This one was different. Three days after the initial inflating the pad was still comfortable. After a week of sleeping on it I still didn't have complaints. Based on my prior history with sleeping pads, that time frame was pretty amazing. I have yet to try this pad in colder weather, but at 50 degree nights it was still very comfortable. I'm on the short side, so the pad was a bit long. I didn't notice any of the narrowness that others had reported. The pad rolls up nicely ( with out any origami skills) and fits in a fairly small bag. The material feels durable and I didn't immediately panic when the dog stomped on it. I can't wait to try this pad out once the temperatures drop!
My New Fave
Familiarity:

I've put it through the wringer
So, heres the honest to goodness low down on this pad (Q core SL Mummy - Long) and the Big Agnes company.



This pad is cush. Some people manage to get by with their gigantic thermarest pro-lites, tiny squishy-feel-every-twig-underneath you foam pads, or hyperlite uninsulated air balls.



I mock them as I sleep like an old cat on my big aggy. Not only that, it packs down to fit in my skimpy 40L climbing pack, its tiny. And while my friends shiver on their hyper-lite air pads, i sleep in warm bliss even as the temperature dips to 20 degrees.



But shes not a perfect lady. Shes a bit skinny for my tastes - probably the reason for her invisible weight. Arms can kinda hang off when im layen on top of er, and im a thin dude myself. Also, if your above 6', get the long. Its worth it.



I have slept on a therm-a-rest neoair xtherm, and xlite. X lite packs smaller, and is decently lighter. Not as warm though. Bout the same, comfort wise, and is made of tissue paper. X-Therm packs smaller, lighter, and is warmer. I am also kind of nervous for its durability, though i hear its pretty tough. They both kinda crinkle when you sleep on em, not a problem you will have with the qcore sl.



Big Agnes - probably the best company ever. My pad - put it through the wringer does not begin to describe. After I had just beaten,destroyed, and mutilated this pore chunk of sleeping equipment it, sprung a leak. A tiny, micro leak that I just couldn't find. I did a crappy in field patch job that left gunk and residue, and then sent it in to Big Agnes. Four days later, they sent me an email saying they would send me a brand new pad. No charge, no questions, no receipt even though I didn't by it direct from BA. Talk about standing behind their product.
Great pads, pick the correct size.
Here's a pick of 3 pads and 3 different sizes just to give you some definition. Q core insulated mummy, Q core insulated sleeping pad in 2 sizes.
Narrower than Spec'd
Familiarity:

I returned this product before using it
I was very excited about this pad when it came out, and was looking to use it as a significant upgrade to my backpacking sleep system. I was willing to trade some weight for the promised thickness and get a better night's sleep in the backcountry. Unfortunately, it's not wide enough. Mine measured just under 17 inches when inflated, not the spec'd 20. Not good for a guy with wide shoulders. It weighed in slightly heavier than advertised by an ounce or so. I also wasn't a huge fan of the surface when inflated. That being said, it was fairly comfortable and easy enough to inflate.



I ended up returning and going with a NeoAir Xtherm. Never looked back.
The Best.
Familiarity:

I've put it through the wringer
Maybe one of the best pads I've ever used. Good thickness, not the smallest package ever but worth the added size. Wont leave home without it again.
Hey Mapes,



The weights for the two sizes available here are:



Regular: 1lb 2oz

Long: 1lb 3oz



The other sizes that BA makes are the petite and the long-wide:



Petite: 1lb

Long-Wide: 1lb 7oz



All sizes have an R-value of 4.5




The Q-Core SL is a light weight, warm, and comfortable. When looking for a new pad I compared this to the Therm-a-Rest NeoAir XLite. This pad felt more comfortable, probably attributed to it being an inch thicker. I like to winter camp so warmth was a big factor in my decision and this hasn't disappointed. The pad claims to be a three season pad, but it performs well on snow and keeps me warm.



The downsides I have noticed are that it feels narrow. I'm 5'11, 185 lbs and my shoulders are a little wider than the pad is, so if you sleep on your back, your arms might get cold. I'm a side sleeper usually, and since the pad is thick enough I haven't had that issue. Also, if you've had a tough day the pad might be a bit of a pain to inflate since usually takes about 2-3 minutes of lung effort as it is not auto-inflating.