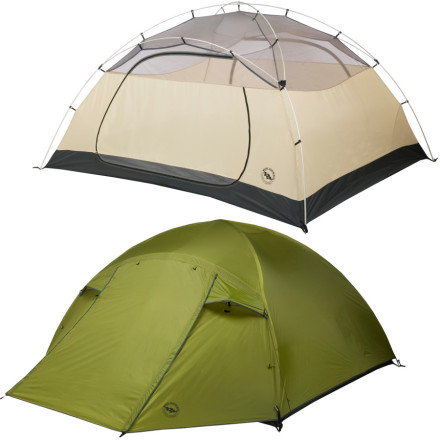 Community Images
Thanks to the Lynx Pass 4-Person 3-Season Tent, there's no reason to leave anyone behind for this year's camping trips because the Lynx actually fits four rather than three and change. Two extra-large oval doors make moonlight bathroom breaks less of a group effort.
Polyurethane-coated floor and fly help rain bead off instead of soaking you and your gear inside
Floor and fly seams are taped without using solvents (PVC or VOC) for a cleaner environment
Covered vestibule protects your gear and provides extra shade when staked with trekking poles
Pole system features DAC aluminum poles, connectors, and clips that are easy to assemble day or night, rain or shine
All Big Agnes tents feature poles made with DAC's Green Anodizing process, which eliminates the chemical polishing stage, reduces the need for hazardous chemicals, and recycles water throughout the rinsing process
Interior mesh pockets organize odds and ends and stow tent body doors
Fast Fly pitching option lets you carry just the poles, fly, and footprint (footprint sold separately)
Gear loft (sold separately) provides extra storage space
Good price, not very diverse.
I'll make this nice and easy and then you can decide:

PROS: Great price, light weight, very roomy, local Colorado company (for me)!

CONS: Zippers don't glide easily and get stuck often, especially on the flap with the 2 vertical zippers; this flap is very awkward to get in and out of and comes unstaked easily. We were camping in Winter Park, CO and like Colorado weather does, it started to rain, then snow. There is so much open mesh on the top that even with 2 people, 2 dogs and an air mattress, we were still FREEZING!! There was a bit of leakage after hour 10 of rain and snow, but I guess you can't be too pissed about that.

CONCLUSION: When this tent says 3-seasons, it means warm, dry and sunny. I wouldn't recommend it for anything else.
I know this particular tent is out of...
I know this particular tent is out of style, but can you buy a smaller fly for it? I was out camping this past weekend and most people had the one that just covered the top and didn't cover everything, so you got some breeze... anyway - just wanted to ask.
Big Agnes doesn't make that style of fly and a smaller tent's fly will not fit or attach properly to yours. It's a poor solution that cheap tent manufacturers use to save money on materials.
Big Agnes Lynx Pass 4, The mother of comfort AND quality.
As a 20 year old, graduated eagle scout, now in college at Rugters, I was devastated when my trusty Mountain hardware Lightpath three snapped a pole. I had had that tent for ~5 years (it was the older, blue one) and the main pole snapped about 4 months ago. After the initial sadness, the funeral, and the month of mourning that followed this tragic incident, I finally was desperate enough to get back outside. MH wanted $97 for a new pole, just because it had a fancy bend in it. I decided to go with a new tent, instead of fixing the old one.

I had three problems with my beloved lightpath. It was not free standing, and would occasionally fall over… yeah… It was not a tall tent, and therefore very difficult to get changed in. and in all honesty, unless you have really small friends (or one sleeps in the vestibule) there is no way you are actually going to fit three people.

However, all these problems and more were solved by the Lynx Pass 4, and I am forever grateful.

While up one night perusing many an online outdoors store I stumbled upon this beauty, and fell in love. It was the answer to all my problems. I found two comparable tents, and after putting them head to head, the Lynx came out on top with more vestibule space, headroom, square footage, and a similar (within a couple ounces) weight.

I waited for a sale on backcountry, and then ordered. It arrived on a Friday, so my girlfriend and I decided to take it for a short hike up to the AT near the Delaware Water gap for the weekend…. and it poured, with a total of about an inch of rain. We remained dry, and I will cover more on that later.
Here are the basics:

1. The tent sets up SUPER easily, with two people for the first time in around ten minutes. All you do is assemble the poles. Stake down the ground cloth (which I recommend) and tent, then mount the poles, and clip up the body. Put the fly over, and clip it down, then stake out the vestibule.

2. Construction is superb, second to none, made with quality and craftsmanship. No cheap fabric, plastic, or metal to be found, anywhere. The fly never touches the tent body (which helps with the waterproofing). The tent holds heat really well the trip we just took it was 26 outside at night, but got up to 55 in the tent, this time with four people, and we had the vents open.

3. The tent has lots of little "Added features" one vestibule door can be extended with trekking poles, and while this is kind of gimmicky, because in any kind of wind they fall over, the rest are actually thoughtful, for instance, the inside doors can be balled up and stuffed in to pockets in the celling. There are eight pockets, and enough vestibule space to keep everything BEYOND organized.

4. The walls are near vertical, and the 6'4" me can kneel inside with only minor head ducking, and it is easy to get changed. The dimensions in the inside floor are very respectable. Sleep with your head and feet both next to a door, and you can just about fit four Big Agnes Air Core 20x78 long air pads.

5. This tent is not only waterproof, but bombproof. When all guyed out (It looks really cool with all the reflective trim and guy lines) it would be fine in 45-55 mph winds. Because the tent fly never touches the tent (when pitched correctly) no water seeps through, and with the vents open there is no condensation. 10/10 in the waterproofness category.

6. Like I said before, I backpack with tent. Sure it is an 8 lb tent, but I can cary 40 pounds normally anyway. If you are strong, and feel like backpacking with it, it is doable, but not suggested for someone not in good physical condition. However, I like the room, and when with either my girlfriend or buddies, it has its advantages over a hammock.

Ratings

Design: 10/10; I am, truly impressed.

Waterproofness :11/10; yes it is just that good

Ascetics: 8/10; Ehh… the green is growing on me

Weight: 7/10; there are lighter four person tents, but they are smaller and built with less durable material.

Durability: 9.5/10; the bag it comes in is already looking pretty roached, but I already ordered a stuff sack, and I had to do the exact same thing with my MH tent, so that does not concern me, the tent is rock solid.

Final rating 9.5/10; it is a little heavy, but its totally a fair price
Yes, I would recommend this to a friend.

I put up several Guru pictures, check em' out
Anyone have any of their own pictures of...
Anyone have any of their own pictures of this tent they could upload? Maybe some interior shots of it and the vestibules? Can't find anything online and it would really help me out a lot. Would like to see the inside before I make my purchase. Thanks for any and all help.
I'm uploading some now. I didnt think to do interior shots, but think you can get a good idea.
I purchased this tent last year, after practicing setting it up at home it was extremely easy and fast to set up at the campsite. Recommend buying the optional ground cloth which fits perfectly to the tent foot print. I had some reservation about the high price initially, but when I actually started to use the tent realized that the tent quality make up for the difference in price. My wife and I with our 3 year son had plenty of space inside the tent. If you use the tent fly like we typically due for privacy, the various ventilation flaps due to the design of the tent provide adequate ventilation in this configuration.
In addition, don't underestimate Backcountry's excellent customer service which I feel is very important when purchasing high dollar camping equipment. The Backcountry sales representatives that assisted me for my purchase were very knowledgeable and helpful without trying to pressure me to purchase.
Bought this at REI where the actually set it up in the store to see if me and my three boys would fit in it. We did!!! Took it out in the backyard for a test run before I took it out in the field. I happened to pick one of the stormiest nights of the year. High winds and rain all night long and it held up great! This is the biggest. lightest, most reasonably priced tent I've found on the market (and I have done my homework). I would absolutely recommend this tent!!!