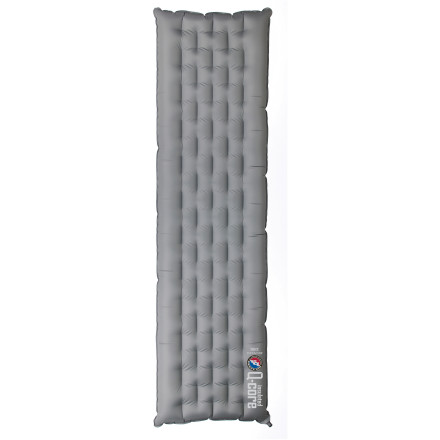 Colors

Videos

Community Images
The Big Agnes Insulated Q-Core Sleeping Pad's lightweight, packable, and durable design makes it ideal for three-season use in just about any terrain imaginable.

Ripstop outer fabric resists damage for seasons of use
X-Static® synthetic insulation provides superior warmth and comfort, and has antimicrobial properties that help keep odors at bay and enhance thermal regulation
Seam-welded pad provides consistent airflow for stability, support and smooth feel
Airtight, nonbreakable brass valve with plastic coated mouthpiece offers durability
Comes with a stuff sack and a repair kit
Comfy and Warm!
Familiarity:

I've used it several times
I love this pad for the size and weight along with the comfort you would ever want. The pad is super easy to inflate and I haven't had to inflate it in the middle of the night like some old pads I've used. This is a great pad for those campers who get cold easily.. If you need anything, contact me directly and I would love to help you get the best prices/gear advice. My direct email is skdavis@backcountry.com. Feel free to hit me up anytime.
Comfy but leaky
Gender:

Female

Familiarity:

I've put it through the wringer
I bought this pad about a year ago. It's the lightest, smallest, most comfortable pad I've owned. I'm an AT thru hiker, so I use this pad every night. The quilt design makes this pad quite comfortable. It also packs small. I have the short model and I'm 5'1. The size fits, but if I were one or two inches shorter, it wouldn't.

After 2 months on the trail, my pad started deflating. I did everything I could to find the hole, but it still leaked. Big Agnes customer service was amazing and they gave me a free replacement. 2 months into owning my second pad, it started leaking again. I'm very careful in finding flat tent spots and never put my pad on anything that could poke a hole in it, so it seems unacceptable to me that I've gone through 2 leaky pads in less than 4 months. For this reason, I cannot recommend this pad.
Perfecto.
Familiarity:

I've used it several times
This pad is the shit.

I slept on it for two weeks in my room to initially test it out and only have one complaint. I wish they made it a little wider. At 6'3 and 195 pounds the long size was a must. If I'm on my back my arms both rest on the floor not on the pad. I had to learn to sleep with my hands in my pockets or crossed over my chest like a child in a harsh catholic school.

It's also really good for side sleeping.
I took it out to Zion's NP and Glacier NP and i must say with the insulated pad it keeps you pretty toasty in 90+ heat.
In cooler temperatures it's amazing.

My only other complaint other than the width is it takes awhile to deflate.
Awesome!
Familiarity:

I've put it through the wringer
I recently was charged with outfitting my group (wife, sister, brother-in-law, brother, sister-in-law) with gear for a week long trip in southern utah canyon country. We got tents, sleeping bags, stoves, backpacks, the whole run. All of our gear held up and served us well.
The Big Agnes Insulated Pad was like heaven to fall into every night.
Best pad I've ever owned
Familiarity:

I've put it through the wringer
My sleeping pad has been the most commonly evolving piece of my kit. I've gone the route of the tried and true Thermarest mattresses experimented with Klymit pads, and so on. Ultimately finding each pad, while fully functional, to be lacking in some capacity. It's worth noting that I'm an outdoorsman with a bad back who's too stubborn to ever admit that maybe going miles over rough terrain with 40 pounds strapped to my back is an not an ideal pursuit. That said backpacking is my passion.. finding a sleep system that allowed my back the best chance to recuperate before the next days trek was paramount! This pad is wonderfully thought out and incredibly comfortable. It's been a complete game changer for me. It's comfortable and packs down small which is the best of both worlds when it comes to sleeping pads in my opinion. It takes more than a few breaths to get fully inflated but really can be done relatively quickly. We own two and inside of 5 minutes they're fully deployed and sleep ready. I may suggest paying attention to the fashion in which it was packed into its stuff sack. I actually took photos upon unboxing to ensure I folded it in a similar fashion. It really does offer you the best likelihood of getting it back to its original packaged size. Some may say that folding it the same way time and again will shorten its life span but this is some pretty stout material and it comes with a handy lifetime manufacturer warranty. The ripstop Nylon shell does give you a bit of confidence that you wont wake up one night on a rapidly deflating pad. Store the pad deflated and unpacked and this should last you for years to come. It is insulated and quilted making it perfect for Late fall and winter camping. Also while great with any bag I feel nothing pairs better with the Sierra Designs Backcountry bed than the Big Agnes Q-core sleeping pad.
too slippery
Familiarity:

I've used it once or twice and have initial impressions
everything about this pad is great, except it is just too slippery, i had to spend the night on a bit of an incline and i have never spent so much time climbing back up my pad, my girlfriend also bought this pad and same problem. for a backpacking pad i would expect to not always be able to find perfectly flat camp spots. if they made the next design with some texture or something then perfect but for now i'm returning it. that one problem is a big one for me
What pad do you need for Agnes double bag
two regular width pads will fit inside the attached retention pouch.
is there anything like this in a wider width?,say 30inch
Unforunately Big Agnes' widest pads max out at 25"
Will the Q-Core Sleeping Pad be comfortable still for summer camping (as high as 70s on Texas nights)? I understand the pad is insulated and would this feature make it uncomfortable for summer camping?
Preston,



For the warmer nights, what you can do is flip the pad over. The insulation is on the top surface. So by flipping it over, the insulation is now on the ground for the warmer nights.



Anytime you have a Big Agnes question, shoot me an email and I'll make sure to work with you 1-on-1!



Jared D.

Expert Gearhead

801.736.4336

jdowns@backcountry.com
Comfort and warmth to the core!
Familiarity:

I've used it several times
I broke this bad boy in hard hiking the Alpine #7 thought the Swan Mountains last September. Temps reached a chilly 30° but I would have never known. The Q-Core in combination with my BA Encampment bag kept me warm and toasty the whole trip. This sleeping pad is not only warm but very, very comfortable.
Great pad for all seasons
Familiarity:

I've put it through the wringer
I've owned this pad for 4 years. I am an avid backpacker, spend at least 50 + nights on the trail a year. Both a Grand Canyon hiking and river guide as well as PCT and Utah hiker. I am around thorns and sharp rocks constantly and only once have I had to patch a hole and that was when I was hit by a tornado at night and thrown 15 ft into a mesquite bush. I repaired my pad and I'm still using it a year later.
probably my favorite pad I've had so far. Comfy, relatively light for the size, and lets me sleep on either shoulder or my back just fine
Performed As Expected
Familiarity:

I've used it once or twice and have initial impressions
Although taken aback by sticker shock when I first priced this pad, I decided to invest in what appeared to be a quality sleeping pad. Since much of its intended usage is in the 15?-20? range for fall camping/fishing trips, I field tested it last night with a temperature forecast of 10?, which proved to be accurate.



The pad was both comfortable in terms of support and padding and its advertised feature of X-Static? synthetic insulation did seem to work because I did not feel the cold seeping up to me from the snow covered ground. The integrated feature between my Big Agnes sleeping bag and the sleeping pad worked perfectly too for I did not roll off the pad as I have been known to do with other sleeping pads.



Based upon a one time usage in cold weather I am very pleased with the Big Agnes Insulated Q-Core Sleeping Pad.


are the stated sizes correct for the standard q-cores? I know that the superlights left the factory undersizes by about 2 inches in width and length, wondering if the same holds true for the standard.


Hello...i have a Big Agnes Insulated Q-Core Sleeping Pad -can i use a Therm-a-Rest NeoAir Mini Pump to inflate this pad?
It does! It works fantastically. I had a q-core the entire PCT and while the pad is amazing after a 35 mile day blowing it up kind of sucks. I didn't know about the pump until after I returned home but I bought it instantly and I have been super happy with it. The pump does seem kind of flimsy and I don't expect it to last more than a season or two but it is a lifesaver. It gets it within 5 breaths of full.

Hope that helps!
Backcountry plush
Familiarity:

I've put it through the wringer
Bought this on a recommendation from my brotherinlaw. Have had air pads in the past (to include big agnes)and never impressed. Just finished 7 days in the Colorado mtns. Nights in the 30s. This pad made all the difference. I'm 6'4, 200lbs. Pad worked great. None of the slipping and sliding of previous pads. Never got cold. Yes I had to reinflate a little every night. I've never owned a pad that didn't lose a little air. Well worth the money and extra weight. Ordering one for my wife.
Look No Further
Familiarity:

I've used it once or twice and have initial impressions
So far two trips and six comfortable nights on the Insulated Q Core this September. Everything has been @ 10,000 ft in Colorado. Temps have ranged from low to mid 30's. I am 5-9, 188lbs. I found that if you inflate it to firm then lie down on it and slowly let the air out, you will find that perfect body contour point and still be able to sleep on your side, back, stomach or whatever. It also keeps you very insulated from the ground. I've used others but I am sticking with this one. I'm no spring chicken anymore so I have my aches and pains and this pad is almost as comfortable as home.
Excellent pad, side sleeper
Familiarity:

I've used it several times
I bought the Q-core 20"x66". My other pads are Thermarest Prolite 3 20"x42" and Thermarest Trail Lite 22"x42". I like the shorter pads to save space and weight.



Comfort: the Prolite 3 is is the thinnest and provides very little in terms of comfort, I wake up with hip and shoulder soreness. The Trail Lite is double the thickness of the Prolite 3 and causes less soreness on the hip and shoulder. With both Thermarests, torso alignment feels unnatural because there's little thickness to conform to one's body contour. The Q-core is much thicker than the other two and it conforms to body contours better so there's no soreness whether on back or side.



Warmth: The Q-core is warmer than the Thermarests by a large margin.



Material: the Prolite and Trail Lite have similar top materials. The Prolite uses a thinner more crunchy sounding material on bottom and it seems more fragile. The Q-core has a rugged material on top and bottom but it's smooth (not slippery). The Thermarests feel like sandpaper compared to the Q-core. The Prolite is the noisiest of the three and Trail Lite is the quietest.



Packed size: the Prolite is the smallest, about the size of a Nalgene bottle. The Q-core is almost the same size but slightly bigger in diameter. The Trail Lite is double the diameter of the Prolite.



Weight: the Prolite is lightest but the Q-core isn't bad considering it's 24" longer and double the R value. It feels only slightly heavier. The Trail Lite is much heavier than the other two.



Patches and stuff sack were included with the Q-core. Thermarest did not include either.



The valves on the Thermarests are soft plastic and air flows freely in and out of the pads. The Q-core's valve is much better plastic but flow is slightly less. All seal well.



The Q-core is a substantially better pad. It takes a little longer to inflate/deflate but what else do you have to do in the wilderness. It's weight is a good trade off for durability, length, warmth and packed size.