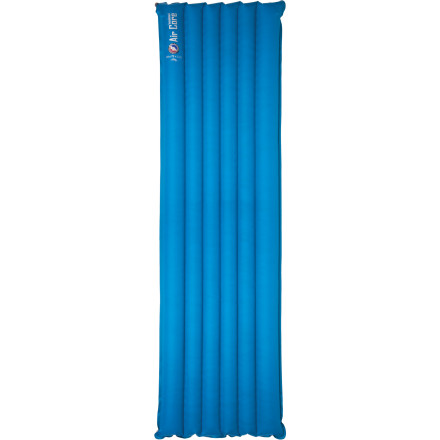 Colors

Videos

Community Images
Description
Light, compact three-season pads
To ensure ultimate comfort while you car camp or backpack in chilly temperatures, use the Big Agnes Insulated Air Core Sleeping Bag. Designed with PrimaLoft Synergy synthetic insulation, the Insulated Air Core keeps you toasty on chilly nights and easily rolls down to fit compactly in your pack or car when not in use.

Durable, lightweight cover fabric stands up to your rough car camping or backpacking ways
PrimaLoft Synergy synthetic insulation form tiny air pockets that trap body heat and keep the cold out
PrimaLoft Synergy fibers are engineered for permanent water resistance and create tight surface tension the resists moisture penetration
I-beam construction eliminates welded seams to reduce cold spots and ensures quick inflation/deflation, consistent air flow, and stability
Durable inflation valve supplies years of use
Includes stuff sack and repair kit (repair kit housed in small pocket in stuff sack)
Pad complements any of Big Agnes' cold-weather bags
gets the job done
Familiarity:

I've used it several times
not the best but FAR from the worst. solid performer all around but not exceptional
Garbage, stay away!
Familiarity:

I've used it several times
Used 3 times in a very clean/new tent and it developed holes. Leaked, made for very uncomfortable nights on the cold ground, whats worse?...this isnt cheap. Save your money, sleep on the cold ground first and ask yourself how comfy are ya, then if you are comfy you can buy this, cuz thats what will happen. Made of cheap non durable material. Waste of money! I hate my purchase.
Small and comfortable
Familiarity:

I've used it once or twice and have initial impressions
I asked to borrow this for a backpacking trip when I saw a fellow co-worker pull this out of her pack. Holy cow this thing packs small, a huge (or small) upgrade from my super old pad.

Some observations I have to share:

Pros:
- It packs small and is extremely light.
- Very comfortable, I was noticeably less stiff sleeping on this pad.
- Deflating this pad was really fast.

Cons:
- This pad takes a lot of air making the inflation process seem like it takes forever. Blowing this up takes significantly longer than other pads I have used, I was light-headed after doing so.
- Questionable durability- The pad is pretty thick, I'd be afraid the material might not hold up as well making it pop easier. However, this is just an observation.

I'd be willing to give the pad another shot. I have multiple co-workers who own this, and I trust their judgement!
Comfy Pad - Terrible Quality
Familiarity:

I've put it through the wringer
I purchased my first BA Insulated Air Core Pad about 5 years ago (discontinued purple color), and really put it through the wringer. Took it on every backpacking and car camping trip and it held up wonderfully. About 3 months ago however, it blew out one of the seams, and would no longer hold air for any amount of time. Tried and failed to glue/patch the seam using included kit and other glues.

Since I had really enjoyed the pad, I purchased another with the same specs. I have used it a grand total of 2 times, both times in a tent on soft surfaces. The second night, I woke up to it completely deflated after only about 2 hours. When I got home, I tracked down the leak (soapy water) and again, it was a small blowout on the seam close to the foot. As you can see from many other reviews on this same product, it is comfy while it lasts, but there seem to be some serious quality control issues. Save your money and buy another pad.


Comfortable Pad w/ Questionable Quality
Purchased this pad for the wife and used side-by-side to my Therm-a-Rest Neo for ~12 months across the PNW and Patagonia. While it was extremely comfortable, the durability is questionable.

Unfortunately the pad blew a gasket at some point in time and won't hold air any more. After using every trick in the book to locate the air leak without any success, I'm about to buy another Therm-a-rest pad and consider this wasted money.
Best Nights Sleep I've Gotten
Familiarity:

I've put it through the wringer
I've used a whole bunch of sleeping pads from Stoic, Therm-A-Rest, etc but almost always wake up not feeling great or light I got a good nights sleep. Which is normally a problem because I've previously put in a long day of hiking and have another big one ahead of me.

Quality Night Sleep:
But this is the sleeping pad I've gotten my best nights sleep on while backpacking. I used this last weekend in the Uintas on a 26+ mile hike and slept great. Early in June I used it for a full week on a climbing trip through Colorado and slept great up at elevation there.

Length:
I'm just under 6'0'' tall and have the Regular (72") length pad. Either my feet or my head would hang over or be on the edge the whole time. This wasn't a huge issue because I knew I needed the 78" pad for comfort but opted for the 72" for some weight savings.

Packability:
Once completely deflated, this packs down super small which was a huge help in allowing me to hit a 25 liter pack for a 2-night/2-day 26+ mile trip in the Uintas.

Inflating:
This takes a little bit. Most folks get frustrated by this, but I'd say just break it up into 2-3 sessions of inflating it. For me it takes about 20-25 full breathes and it fully inflates. Then I lay on it and let air out until it's at my desired comfort.

Insulation:
So the insulation is along the"top" or one side. I find it to be plenty insulation on cold nights. But on the warmer nights I flip the pad over because the other side of the pad does not have any insulation. This helps me run cooler on the warm nights because I tend to sleep real warm.

Quality:
Overall I think it is a great sleeping pad and have really enjoyed it.

Shoot me an email anytime you have questions about Big Agnes, this sleeping pad or any other gear!

Jared D.
Expert Gearhead
801.736.4336
jdowns@backcountry.com
I used this pad twice, the first time on a 3 night pack rafting trip, then on a trip to NZ. on both occasions it was inside a tent. It started deflating on me in NZ, and I had to wake up every 2 hours to re-inflate it. Obviously it had a hole in it, and on checking it in the bath tub I found that it had that many holes in it that it looked like a cactus had been rolled up in it... For the money, what a rubbish product.
Good pads
Familiarity:

I've used it several times
I've used these with the Dream Island big agnes bag.. they fit snug and easily and give the right amount of comfort. Easily compacts to put away for storing if you're conserving space.
Micro Leaks!
Familiarity:

I've put it through the wringer
I absolutely cannot recommend this air pad. My first one lasted approximately 20 nights mostly sleeping in my tent and on the rare occasion I used it in a AT shelter I had a ground cloth under it. The 2nd Air Core might have lasted 5 nights in my tent before it failed with micro leaks. I spent hours in camp 2 nights soaping it down and looking for leaks with no success as each night every 1-2 hours I had to re inflate.
1 year later with 2 pads
Familiarity:

I've put it through the wringer
We do plenty of camping, generally no less than two weekends a month and sometimes 3 overnights in a week as we live really close to some prime spots. I've used a few different pads in the past from CCF (Closed Cell Foam) to some cheap self-inflators that never measured up. These things have been awesome so far. No leaks, tears, discoloration, etc. If I pulled them out right now you couldn't tell them from new. Coupled with a thermarest inflator (2 AA batteries that last about 6 months filling 2 air pads) and they are even better.
The only reason I gave them four stars instead of five is my friend recently picked up the Big Agnes Q-Core insulated version. It's cross-hatch design sleeps even more comfortably than the tube-style. If I ever manage to puncture one of these I know which one I'm moving up to. :)
Good Pad
Familiarity:

I've used it once or twice and have initial impressions
I purchased several of these as part of a gear rental program I am running. I used it just this past weekend on a quick two-nighter in Indiana paired with the Big Agnes Lost Ranger. I am a restless sleeper who tosses and turns from 'front, back and side-to-side'. The pad provided great support and insulation. I am very pleased with it and am sure my customers will be also.
Air Core Saves the Day
Familiarity:

I've used it once or twice and have initial impressions
I've always had extremely bad luck with sleeping pads deflating halfway through the night UNTIL I snagged this beauty. Only used it once so far but really impressed with the comfort, insulation and durability of this pad. I'm a side sleeper and this pad definitely allowed me to shift comfortably throughout the night. It also packs down really nicely and is quick to inflate.
I love this pad
Gender:

Male

Familiarity:

I've put it through the wringer
I use this pad every weekend for way over a year. I never take out my sleeping pad from my bag until I am ready to blow it up...So far no issues of air loss. This pad works great with my Lost Ranger down bag. With these air pads you have to treat them like babies: to keep from getting holes in them. Its the only downside to them. For comfort they cannot be beaten.
COMFY!
Familiarity:

I've used it several times
The best sleep in a tent by far. It's easily packed, super light-weight and ready to be used quickly and easily. You can't ask much more than that when roughing it!
light, space-saving, slept like a baby
Familiarity:

I've used it several times
this is the 2nd big agnes I've purchased. I bought this one for my wife at the beginning of the spring camping season. It's be well used in MT, WY, and CO With no holes or problems.
Great pad. Warm, compact . No issues.
Gender:

Male

Familiarity:

I've put it through the wringer
Check out my video review I posted here to get a better overview of the Insulated Air Core Sleeping pad. My YT channel also has reviews for other Big Agnes products and other outdoor gear.



Ive used the IAC for over a year and have zero problems. I like that is almost half the length of a thermarest when packed.



Im 6'4". If you over 6ft get the long. Reg is 72*20 Long is 78*20



The sides are 3.25 inches, the middle is 3 inches. Bc of this the pad helps keep you centered and cradles you and have less of a chance of falling off your pad.



15 degree rating (make sure you sleep on the blue side) It does really help keep you warm. And its nice to be 3 inches off the ground at night.



Comes with bag, no stuff sack (buy a Granite Gear stuff sack for it)



Packed weight is 26 oz ( for the long version). Heavier than other sleep pads, but I dont mind the added weight, bc after a long day outdoors, I want to be comfortable and get a good night of sleep.



I use it with my BA Lost Ranger 15 and BA Cross Mtn. 45 sleeping bags. The great part of the BA sleep system is the pad slides underneath the bag via a slit. This keeps you and your pad connected and you cant slide off you pad at night.



Bonus: It can be used as an inflatable raft to lay on in the summer to catch some rays on the water.



Great pad, buy it.



Caw!
My review...Big Agnes Insulated Air Core
Big Agnes Insulated Air Core 3 inch Sleeping Pad. Comfortable, warm and lightweight. Goes great the Lost Ranger 15 and Cross Mountain 45 sleeping bags.