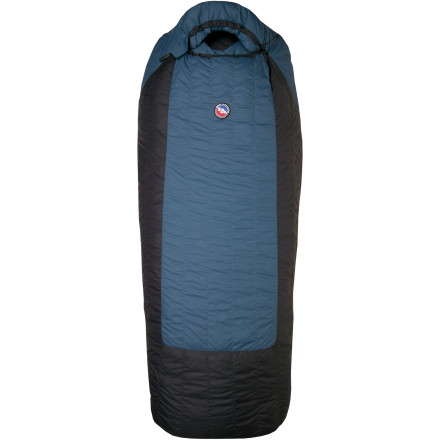 For camping comfort and the extra room you need to get a good night's sleep, check out the Big Agnes Hogan Park 0-Degree Down Sleeping Bag. The Hogan accommodates extra-large campers—up to 6-feet, 6-inches tall—and features 600-fill goose down to keep cold-sleepers comfortable.
Big Agnes bags don't have ground insulation and are meant to be used with a sleeping pad (not included) to be completely insulated
Full-pad sleeve holds any 25-inch sleeping pad and prevents you from rolling off your pad while sleeping
Flow insulation system with a unique baffle design distributes heat evenly through the bag to help eliminate cold spots, eliminate bulk, and keep weight down
No-draft zipper tube, collar seals, and wedge between the bag and pad virtually eliminates areas of cold-air leak
Built-in pillow pocket keeps your pillow in place
Interior fabric loops to keep your liner (not included) in place
Left- and right-zip Big Agnes bags with the same zipper size can be mated to create one large sleeping space for couples
Note: compatible sleeping pad sold separately
Terrific Bag
Gender:

Male

Familiarity:

I've used it several times
I tend to move around a lot when I sleep, and I love this bag when it is possible for me to focus more on comfort than size and weight. If I am counting ounces, I go with the Mummy, but it really doesn't give me near the same comfort level. The Hogan Park stuffs into a large compression sack and fits easily into the lower sleeping bag compartment of my pack. Also, the sleeping bag sleeve on the bottom of these bags is key! No more sliding off my bag at night or having to install velcro/snaps on my air mattress.
When I bought this bag, I intended to use...
When I bought this bag, I intended to use it when car camping. However, I am considering taking it hiking. Does anyone have a recommendation for a compression sack that would accommodate this large bag? Thanks!
Hmmmm - NOW they change the name to Hogan Park. Mine says HOG Park on it. An unfortunate name but call it like it is. I am a BIG guy and I hate traditional mummies. The Hog/Hogan/whatever Park bag allows me to roll over, curl up in a fetal position, toss, turn, and stay comfortable and warm. I pair this bag with a 25x77 NeoAir (the bottom insulation in a Big Agnes comes from a pad - you must have a pad - and it's like being at the Hilton. The bag is well made. I have spent over 30 nights in it and have nothing to complain about. It is a 15 degree rated bag which I have used with the NeoAir down to 27 degrees. It was quite comfortable. I feel certain that if I wanted to zip up like you are supposed to and dress like you are supposed to the bag would be comfortable down to 15 degrees. Personally, I prefer to just avoid sub-freezing camping on a regular basis!

Downside - this ain't going to stuff into the sleeping bag compartment on most packs. Big is big. The synthetic fill compresses more than goose down, and is easier to dry out when damp, but this is still a big bag. It is going to end up on top of the pack, or under the pack. Which is great - because that allows my full size pillow and NeoAir to stuff into the sleeping bag compartment. Forget buying Big Agnes a bra (that's what they call it) and you will NEVER get it back in the original stuff bag. I use a Sea to Summit XL waterproof compression bag. With a little elbow grease it stuffs into that nicely, then you have just enough room to compress the air out and get three wraps on the top. You will need to give it some oomph to make this happen - but if you are a Hog/Hogan Park kind of camper you have plenty of oomph to spare - right?

Basic laws of physics - big and comfortable is not going to be small and light. But - if sleep ranks right up there with dry, fed, and happy on campouts - get the Big Agnes and be happy.
I have a Therm-a-rest measuring 25 x 76....
I have a Therm-a-rest measuring 25 x 76. Can this Big Agnes handle 76 inches of Therm-a-rest?
yes it can you will be just 2" short as the bag is 78" long .