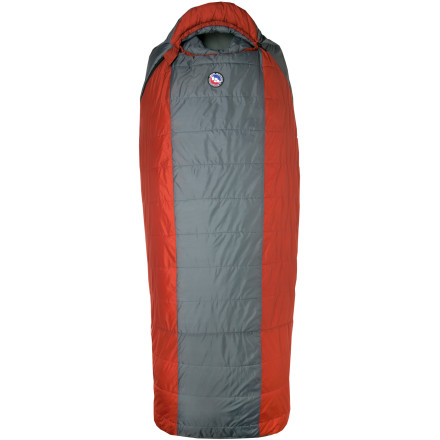 Description
Put an end to claustrophobic nights in the wild.
Big Agnes designed the Hog Park Sleeping Bag for folks who like an extra-roomy bag during three-season camping trips. This synthetic bag's rectangular shape provides the extra elbow and foot room so you can find the perfect position for a good night's sleep in the backcountry.
Big Agnes sleeping bags leave out the bottom insulation in order to save weight and also because insulation compressed by your body weight loses most of its insulating value
Note: bag requires a 25-inch-wide rectangular sleeping pad to be fully insulated (sleeping pad available separately)
Thermolite Quallofil insulation insulates even when wet
Built-in pillow pocket keeps your pillow in place
Interior fabric loops to keep your liner in place
No Draft collar, wedge, and zipper system keep drafts to a minimum
Nylon stuff sack included
I know this bag says it has a 10 x 21 in stuff sack. But can this bag be compressed with a compression bag and if so how small can it realistically go?

Derren,



Stuff size: 10" x 21"



Compressed Size: 10" x 12"



Shoot me an email anytime you have questions!



Jared D.

Expert Gearhead

801.736.4336

jdowns@backcountry.com
How would this bag fair when used on top of a larger queen size air mattress, rather then using the mattress sleeve.?
You would do OK insulation wise, I suppose, but would be missing out on the biggest feature of these "System" bags, by having the sleeve for the sleeping pad integrated into the bag, these bags give a truly solid feeling and you won't slide around. So a queen air mattress might work but would not give the full benefit compared to a proper insulated pad.
There ok Im a big guy 5'11 325 lbs so my options were not plentiful. I found the bag to be spacious but during summer camping I unzip it and use it as a quilt. It works ok but because the bottom is not insulated its not like you have a full comforter.
Just what I wanted and expected
Familiarity:

I've used it several times
I am a fairly small guy at about 5'9" and 145lbs so this bag is really big. However, I roll around a lot and sleep best on my side. This bag gives me just the right amount of room to do just that. It does a great job of keeping the cold out too. The first time I used it the temps dropped well into the 30's, which is not all that cold, but I had not problem staying warm and did not feel any significant cold spots as I moved around. Another nice feature is the interior which is more like a sheet fabric than polyester/nylon. This makes the bag more comfortable from the get go as it does not feel as cold as other materials. All in all just what I wanted and exactly what I expected. Not to mention it was less than a 140.00 dollars with free shipping!
What pad sizes work with this sleeping bag?
Pad sizes that work with each sleeping bag size:



Long (Sleeping Bag): 25"x78" or 64cm x 198cm



Anytime you have a Big Agnes question, shoot me an email and I'll make sure to work with you 1-on-1!



Jared D.

Expert Gearhead

801.736.4336

jdowns@backcountry.com
what size is the pillow pocket on this...
what size is the pillow pocket on this bag?
Big Bag But No Insulation In Bottom Of Bag!
There is NO Insulation in the bottom of the sleeping bag!

Instead there is a compartment for a sleeping Pad. Their idea is that this is going to provide the warmth for the bottom of the sleeping bag. I found that even with an Insulated sleeping pad - I still FROZE! The Insulated pad seemed to provide NO WARMING QUALITY!

The sleeping bag is good in size - good size and comfortable for a broad shouldered person.

On the Top of the sleeping bag where there is the Quallofil Insulation - it is warm, however on the bottom where there is NO Insulation - VERY COLD!

Even though the sleeping bag is of good size, I still rate it LOW because of NOT having Insulation in the bottom of the sleeping bag - it causes a COLD AND MISERABLE NIGHT OF SLEEPING!
You don't really have to be a hefty critter (pardon the expression) to enjoy the benefits of Big Agnes's park series sleeping bags. I would classify myself as a pretty average sized guy with a slightly stocky athletic build. I fit just fine inside my Mountain Hardwear ultralamina and North Face Hightail mummy bags but never managed to get a full nights sleep in these bags because I'm a restless sleeper. I like to sprawl out a little and sleep on my side, something you can't really do in most mummy bags, so when I found the Hog Park, I decided to give it a shot. My expectations were pretty low mainly for the fact that all that extra room in the bag would normally create cold air pockets, especially since there's no insulation on the bottom of the bag. I was actually pretty surprised however at just how warm I stayed even when the temps were in the lower 20's (I am a very warm sleeper though). Of equal importance was the satisfaction I obtained from a great nights sleep, the spacious bag gave me the freedom to sleep on my side and sprawl out a bit, especially in the foot box where I need it most. The hood, draft collar, and drawstring work great to trap all that body heat in and fill those voids in the bag as well. I love the liner on the inside of the bag as well, feels more like bedsheets than plastic. Keep in mind though that you will probably want a pad of some kind if the temps are low though since there's no insulation on the bottom. As far as the weight and stuff size go, it's a double-edged sword. Is the bag heavy? yes, is it bulky? sort of, but that's a trade off you'll have to decide on for yourself. Personally, I'm always willing to sacrifice a little bit for a great night's sleep in a comfortable bag. Loved it so much I bought the 40 degree buffalo park for warmer weather as well!
The best sleep system.... Ever!
I got the 25" pad last year, and love it, but always had to have a blanket on it for when I rolled out of my sleeping bag, and didn't want to lie directly on the pad. Then I found this bag and Bang! problems solved, and the best night of sleep in a tent was born. I know this bag is heavy. This bag, combined with the 78" x 25" x 2.5" pad weighs in collectively at 9 lbs. But it is the most comfortable sleep system you can find, and for around $200 right now for both, it's a no brainer, especially if you are looking for a car/ river camping setup. I did find that although the bag is still fairly large in the stuff sack, It was easy to compress it to fit in my backpack. I just used this system for a 2 night trip in the Uintas. We hiked 6 miles in on a fairly rocky trail gaining about 1000 feet, 1/2 of that in the last 1.5 miles. When dinner was done and I snuggled into this 9 pound setup, it was heavenly. I could stretch my legs out, roll around all I wanted, without rolling off of the pad, and was toasty all night sleeping in shorts and a t-shirt when it got to near freezing outside. I might look into getting one of their down bags with the sleeve for my pad to lighten things up a bit in the future, but right now the weight to comfort ratio weighs in heavy on the side of comfort.
I'm 6'4" about 220lbs, I got a Savory SL,...
I'm 6'4" about 220lbs, I got a Savory SL, and feel like I can't even turn over in it(Too Confining), this bags seems heavy for backpacking, but will it be roomy enough for a guy my size???
If you get the long size, you should be golden..

I am 6 ft about 175 to 185, and my regular fits me perfectly, but if I was any taller, my feet would be straining the bottom

Don't forget the inflatable pad. It is needed, there is nothing but a sleeve on the back.. No Insulation to stuffing, just nylon. All ba bags are like this