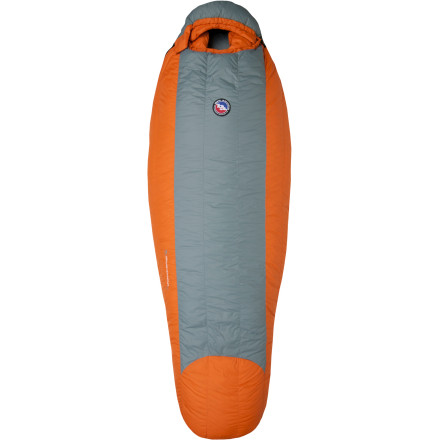 The Big Agnes Grouse Mountain 15-Degree Sleeping Bag uses 600-fill goose down and a unique baffle design to keep you toasty from spring to fall. Smart design features keep your padding where you want it so you get a good night's rest, even if you have that terrifying dream in which you're being chased through the woods by a doughnut.
Rated down to 15F, this bag is best suited for cold, sheltered nights in the mountains and winter nights in milder climates
Big Agnes sleeping bags leave out the bottom insulation, both to save weight and because down compressed by your body weight loses most of its insulating value
Note: bag requires a 20-inch-wide rectangular- or mummy-shaped sleeping pad to be fully insulated (sleeping pad available separately)
Tough nylon ripstop outer shell provides durable protection
Warm, 600-fill down compresses and rebounds well and features a high warmth-to-weight ratio
Insotect Flow construction eliminates potential cold spots, and its vertical baffles allow for a more uniform body heat distribution
Built-in pillow pocket keeps your pillow in place
Interior fabric loops to keep your liner in place
Overall Good Bag!
Familiarity:

I've used it several times
I have really liked this bag. I have used it on some car camping trips, backpacking trips, and one winter camping trip. Overall, this has been a really good bag so far. I love its weight, size, and overall comfort. There are only a couple things I wish I could change: (1) I wish they would just put down in the entire bag, I used it in 30 to 20 degree weather and stayed warm but my back started to get cold where there wasn't down even though I had a insulated air mattress. In the future, in colder temps I will just lay down my down jacket to provide the needed insulation. (2) I am starting to have some feathers come out of the bag. This is a little disappointing given that I haven't used it a ton. It is my first down bag so I am not sure how typical that is though.
Unanswered Question
Does anyone know the compressions sack...
Does anyone know the compressions sack size this can get down to?
Good bag, not the best for side sleeper
Gender:

Male

Familiarity:

I've put it through the wringer
I owned this bag for two years now. Overall this is a good bag; fairly light and compressible, roomy as long as you are a back sleeper.

The problem with this bag, as a side sleeper, is that only one side of the bag has down insulation, the bottom is a nylon pocket for the pad. If you roll "with" the bag to your side, you will expose the un-insulated underside (if you don't insert the pad). If you do insert the pad, it is still awkward as you will force the bag to fold a little. The only way this system will work is you roll "within" the bag, then it doesn't matter as much. But I don't think about how I roll when I'm asleep so sometimes I will wake-up from a cold back. This problem only occurs when you push towards the limit of the bag, to me it is in the range of 20-30 degrees.
Good for Summer alpine
Gender:

Male

Familiarity:

I've used it once or twice and have initial impressions
Nice construction , design and pack size....but not warm enough for cool, damp,Canadian Fall nights .
There have been some bad reviews about this bag, but i decided to purchase anyways. Man, am I glad that i did! I love the bag, it is definitely roomy inside and my feet feel less cramped in this bags' footbox than I did in my previous mountain hardwear bag. it is really warm, packs down fairly small, and isnt too heavy. While this is a 15 degree bag, please be aware of how companies rate sleeping bags. A 15 degree bag will keep you alive in 15 degree temperatures, but will not be a comfortable sleep by any means. This bag performs best at 25-40 degrees. I camped in the bottom of the Grand Canyon with 70-75 degree nights and the bag was great to just throw over my body like a blanket while in the hammock.The bag is an awesome 3-season bag that is extremely versatile.
Best Bag I Have Ever Owned!
I am amazed that someone even rated this bag poorly. Have had this bag out on 2 trips thus far since purchasing and have been extremely warm and comfortable at 23 and 36 degrees Fahrenheit. Big Agnes is definitely the way to go! Sleeping pad and bag are both very light and compact and barely make a dent in my pack.
I have been on so many backpack trips and have only one other bag come close to this one and it was a down army bag for soldiers. It locked onto my pad, I could turn all night, the zipper was sturdy and smooth, the bag was warm while the others on our scout trip were very cold, I had the best night I ever had on a backpack trip. The bag is light, compact, warm, durable, its my baby now and I am lovin it.
A Poor choice, especially for the money
I bought this bag/pad based on the previous review and a desire for a compact set up for ADV motorcycle trips. I didn't find it very warm at 30F in Colorado and it was sticky on my back in the warmer climate of the desert due to the pad only being separated from my skin by a layer of nylon. My BA mummy pad is insulated and stays put but the bag has very tight dimensions and was claustrophic. My regular bag is too short and I am only 5'10". The constriction is poor. I have feathers coming out and the zipper jams every time. It has the look and feel of a chain store cheapie. I am going back to my old bag.
PS it is quite compact and light, just not warm, comfortable or well made.
For Guys who like a little wiggle room
I've used this bag in various climates and on countless trips to the back country. If you like a little wiggle room, are a side or stomach sleeper, or if you toss and turn a lot then this bag is for you. I usually use a second summer bag inside this one like the never winter by marmot on those sub zero nights and find that with both, I still have plenty of room, very warm, and it's like sleeping with an extra blanket inside the bag. Make sure to have a good R rated pad to go along with this bag and you are set. I've never slipped off the pad at night due the way the pad is secured to the sleeping bag itself. It might not be the lightest set up I've seen or used, but I'll sacrifice a little weight for a good comfortable nights sleep after a grueling climb or 20+ mile day.