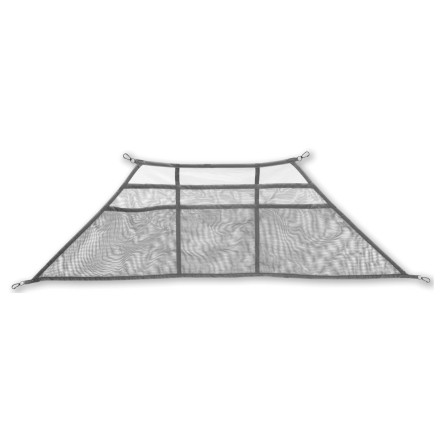 Big Agnes Gear Loft-Wall: Fits Royal Flush 3, Emerald Mountain SL, Jack Rabbit SL & Copper Spur UL Tents
View Larger Image
The Big Agnes Wall Gear Loft attaches to your tent's included inner loops and provides storage for your headlamp, water bottle, and book. This loft is compatible with Big Agnes' Royal Flush 3, Emerald Mountain SL, and Copper Spur UL tent models.
Completely Disagree with the naysayers
I have been using this in my Gore Pass 2 tent. (Yes, it fits that tent too) and it has done everything I need a loft for and it does not take up any head room. Watch, head lamp, flashlight, pocket content, magazine, water bottle and phone holder. It is not a second backpack but it does what I need it to do
Perfect for the Copper Spur UL2
I'm really not seeing what these other reviewers see as an issue with this item. This loft attaches to the head end of the Copper Spur UL2 and stretches fully from side to side. The other reviewers main complaint seemed to be that they felt the loft was too small. After looking at the pictures and figuring out that there is no way it could be as small as they stated, I decided to take a chance and buy this.

The actual measurements are as follows: Across the bottom seam 24 inches. Across the top seam 14 inches. From top to bottom is 10 inches. The two center pockets are 8 inches across. They are large enough to hold a magazine, a Kindle, or any size of paperback book along with headlamps and whatever other pocket junk you might need. The four side pockets (two on each side) are irregularly shaped but still plenty large to put anything in them that you might bring into a tent such as stuffsacks, etc.

So anyway, this loft is well made, the seams are tight and it fits the Copper Spur UL2 perfectly. I really don't know what the other reviewers are seeing. What do they want to put in the loft? Cooking gear? A pair of boots? It's actually big enough to put my wife's camping sandals in, but that's kinda silly. If this was made any bigger then it wouldn't fit the wall it was designed to clip on to. My wife and I really like it and would recommend it for anyone who wants to add a little organization to the random chaos that is normally found on the floor of a tent.

The pic shows it compared to the obligatory Nalgene bottle along with my Kindle in one of the center pockets.
Definitely not worth it. I bought this to go with my Royal Flush 3, but it's basically useless. The tent has a lot of pockets as it is, but I thought another large wall loft would be nice for the toiletries. It's not much larger than a foot in length, and maybe 8 inches high. It was a disappointing buy from big agnes..
Straight up Sucks for sure this loft does not fit the tent it is a funky shape and has small pockets. do not buy this loft it is worthless.
Straight up Sucks for sure this loft does not fit the tent it is a funky shape and has small pockets. do not buy this loft it is worthless.
Big Agnes Gear Loft - Wall
I bought this gear loft for the wall of my Copper Spur tent and was shocked by how small it is. If I recall correctly it's about a foot and a half across the bottom. The pockets are so small that you can barely fit the stuff sack for your sleeping bag or sleeping pad into them. They are sized more appropriately for smaller items like your headlamp, but how many small items are you carrying around while backpacking? I think three or four larger pockets would be much more useful. The loft itself seems well made, and while you wouldn't want too much weight in it, such a small pocket size makes it almost useless.