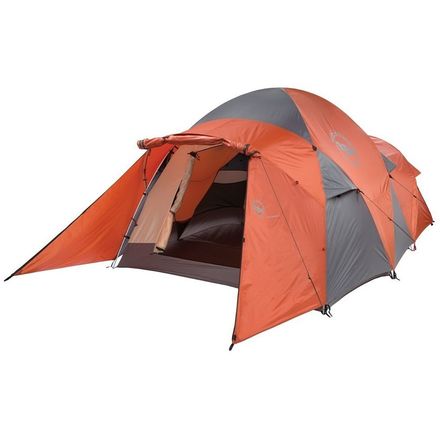 Detail Images

Community Images
Description
Big and burly.
The Big Agnes Flying Diamond 8 Tent provides the room you need to sleep eight people or serves as a meeting and meal room for the entire expedition. Full-on winter-ready construction handles nasty mountain storms with high winds and lots of snow, so you don't have stuff flying away or a tent turning into a kite. This Big Agnes tent gives you enough room to stand up in the middle and includes a spacious vestibule so you can get in and out without soaking everything.
Polyurethane-coated fly and floor keep you and your gear dry when the rains come
Tent's floor and fly seams are taped to help eliminate rain penetration during spring and summer storms
High ceiling (72 inches) and double door design provide lots of room for you and your three companions
One large front vestibule and one smaller rear vestibule store packs, boots, and pets while you bed down inside
Vestibules can be closed down completely, rolled up, or pitched out to use as a shaded porch
DAC aluminum poles, press-fit connectors, and clips make this tent easy to assemble day or night, rain or shine
All Big Agnes tents feature poles made with DAC's Green Anodizing process, which eliminates the chemical polishing stage, reduces the need for hazardous chemicals, and recycles water throughout the rinsing process
Breathable mesh and ripstop polyester walls fight condensation
Mesh storage pockets hold your headlamp and a map after you and your companion finish planning the next day's trail assault
Reflective guy line makes it easier to find your tent after late-night bathroom trips
Mesh storage pockets hold your headlamp and a map after you finish planning the next day's hike to the summit
RSM Fly Fishing
Familiarity:

I've used it once or twice and have initial impressions
I am a full time fly fishing guide and act as a host for various destinations in and out of country. Have always been an avid backpacker, but those days are over. Now I set up a base camp, get out fishing for the day to return to tent that is hopefully still standing. This year I lost a tent to a tornado. While it was still standing the zippers were blown. The tent will be used as a drive in or stock pack in to destinations in Montana, New York, Michigan and Pennsylvania.
The tent went up easily and with the vents open eliminated the frost from condensation inside the tent. The ventilation is superb. There is more than enough room in this tent for gear and 4 to six people although I plan on 4 people so that it is client comfortable. Our first and only use so far was in 20 degree over night temps. In the morning the tent was covered in frost then snow which was no issue at all. No condensation ice inside either. I believe this tent will stand up to the expected 80 mph winds. It is solid. Anyone needing room and a good sturdy tent that will be spending time in below freezing temps this is a great tent. We'll have to wait and see how it handles heavy snows. I have no doubt that it will handle all day rains and high winds.
Suggestions:
1. Get the footprint
2. If you are going to use it in really severe weather get the more sturdy stakes.
3. Put it up in your yard first. The directions that come with the tent do not help much. Color coding is off and useless, but still not bad to put up. We filmed the process, and may put up video sometime. It comes down really easy and stores away in it's sack easier than other tents I have used.

As of now my only concern is the zippers may present some problems. I would have thought that Big Agnes would have installed a more substantial zipper on this great tent.
Does this tent get stuffy or keep a lot of warmth in? We'd be using it to camp in New England in the summer, day time temps in the 80's, night time in the 60's. I'm worried it may be too hot, but I really want a bomb-proof tent that can survive big thunderstorms.
Hey, Lauren. We're just home from a late October trip at about 7,000 ft. in the Angeles Crest near L.A. The one day it was in the 80s, it was a *sauna* inside the Big Agnes 8 with all the vents and windows open and fly on. I won't camp in hot weather under only a few trees again.



That being said, this was out first trip with this tent and we LOVE it. It's HUGE. It's easy to set up (once you get the hang of it). It's a beautiful place to spend your days in the wild. When you take the fly off, the views of your surroundings and sky are great.


big
Familiarity:

I've put it through the wringer
this is the perfect family tent for car camping.
So much space for a family of 4.
Easy to set up and plenty of space.
keeps us dry too.
Great for families of 5-6
Gender:

Male

Familiarity:

I've put it through the wringer
I have used this tent on a number of occasions. With a family of five, 2 adults and 3 growing kids, this tent provides a few options that are great to have where space is at a premium. For one, the floor can fit 2 queen size air mattresses easily. No kidding. This is true, with or without the interior room divider in use. Second, there is plenty of standing room. I'm 6'1" and love being able to stand up and look around, especially when we are packing up, changing clothes, or rearranging the air mattresses. Third, the kids love the spaciousness and arch of the roof, with the additional benefit of a screened view of the sky (sans full tent cover). In addition to the space inside, the ease of access adds a special benefit. The main entry is wide enough for tons of gear while the rear door allows for ease of passage from the back room (given the interior divider is used). Additionally, the air circulation is adequate. There are plenty of window vents along the top of the tent which can remain open even during rain. I do suggest opting for the footprint as most big blue tarps will curl up and make cleanup after a heavy rain miserable. The footprint attaches directly to the tent and keeps the tent dry as a bone with no fear of puddling (as a big blue trap would incur). My girls are 2, 3, and 11 and are bound to grow with this tent. The family loves the complete protection it has provided over the season and I have no fear of this tent letting us down. Compared to other brand 6-8 person tents, this one stands tall and dry. It is no fun waking up to interior puddles. Not an issue in this tent. One last note, the setup is a breeze. I have been setting this up solo and within 20 minutes or less, the footprint is down, the tent is up and the sleeping pads are in place. Two people could speed this up on a windy day, but it is quite reasonable for one person of some height to get this done with ease.
What's the zipper size on this tent? I do a lot of river bar fishing, windy, blowing sand, nothing blows a zipper apart like sand.
Mark,



My good friends over at Big Agnes let me know that they're using a #8 zipper on the Flying Diamond 8 tent.



Anytime you have a Big Agnes question, shoot me an email and I'll make sure to work with you 1-on-1!



Jared D.

Expert Gearhead

801.736.4336

jdowns@backcountry.com
I am debating between the 6 and 8 person version of this tent. It will be used for family camping, 2-3 adults and 3-4 kids, depending on the trip. Is the 8 overkill? I would rather error on the little too big side than too small. Thanks in advance for your input!
If you are car camping, bigger is better. No downside except the cost...
Good point. This would definitely just be for car camping. I have a Big Agnes FlyCreek UL2 and a Copper Spur UL3 for backpacking. Love them both! My only concern with the Flying Diamond 8 vs the 6 is fitting it on the tent pad in some of the smaller campsites.
I would like to know if the wall separating the two rooms in the Big Agnes Flying Diamond 8 Tent can be rolled and tied back to create one large room?
Barabara,



You can roll the fabric wall away to open it into one big space.



See the attached photo that shows the divider wall rolled against on wall.



Anytime you have a Big Agnes question, shoot me an email and I'll make sure to work with you 1-on-1!



Jared D.

Expert Gearhead

801.736.4336

jdowns@backcountry.com
My first impression are that this tent is easy to set up. Has of plenty of room. I like how the rain fly clips to the tent and can be pulled tight. Also, the vestibule can be tied up and doesn't need to be staked out. I find this to be convenient when the weather is nice. Everything seems to be quality made. I had an REI Base camp 6 and it didn't do as well in the wind as I was hoping for. This temp seems like it should hold up. I can't wait to test it out in some more severe weather
Does this tent hold up in high winds?
Does this tent hold up in high winds?
Best Answer
Micheal L below said "50+ mph winds (all day & night) in Death Valley N.P., and it never flinched."
Does the vestibule have it's own door or can yo only access it from inside the main tent?
Yes. It does have it's own door.
Brilliant family tent
Gender:

Male

Familiarity:

I've used it once or twice and have initial impressions
I've just come back from using this tent for the first time and felt I should enter a review given I use 'review' information so much. This tent is sensational. We survived raining nights without a leak. The tent went up in less than 15 min with the 2 of us and was hugely comfortable for myself, wife and 2 daughters. The Large Vestibule at the front is fantastic and with a ground sheet at the front, the tent stayed dry and clean inside while it was raining. The tent is so well constructed with the poles all slightly bent to ensure correct 'dome' shapeness and the venting on it meant we could regulate the breeze going through it. My kids loved the closed off section at the back of the tent too. Highly recommend this tent for groups of 3 - 6. It would probably start getting cramped with 7-8 people. (unless you are midgets)
We used this tent on four trips. We loved it. Then the main zipper broke and the others weren't far behind. We were very disappointed. Nothing ruins a tent like bad zippers.
Big Agnes Flying Diamond 8 Tent
It is everything we where looking for in a tent, roomy and tall. (This is one large tent.) We will be using it on a 3+ week long car camping trip from MI. to Cal. in all kinds of conditions, starting next week. Will be staying in N.P. along the way. My son who is a die hard backpacker and minimalist even liked it. It took us less then 10 minuets to set it up in the family room. He said the quality looked good. After our trip I will up date how it went.
on http://www.buzzillions.com/reviews/bi...
on http://www.buzzillions.com/reviews/big-agnes-flying-diamond-8-tent-reviews and a few spots on your webpage it says there is a 20% off sale on this tent for $479.99 but when I click on the page it has it listed as the original price.
Hey Brandon, get with 24/7 live "chat now" folks and ask them...
I know this is currently out of stock but...
I know this is currently out of stock but what is the approximate cost of this tent?
I originally "cut my camping teeth" on The North Face backpacking tents (VE-23 & VE-25), so I've come to expect my tents to be beyond dependable, and hold up to some pretty "hairy" unexpected weather conditions like driving rain, high winds, sleet, hail and snow (or any combinations of the above). Normal camping for us ranges between 4,000' to 8,400', and at this point in our life, the backpacking tents are "history" (we want room, comfort, and bigger doors). I love the Flying Diamond 6's aluminum poles, and they do form an exceptionally strong geodesic structure, evidenced by our 2nd trip out with it …..50+ mph winds (all day & night) in Death Valley N.P., and it never flinched. (For the first time in my life, I'm looking forward to some really nasty weather conditions on a camping trip. I'm dying to take this thing out for a real "test drive"!) It's very roomy, evidenced by the wife & I sleeping in the main room with gear, while the back room is occupied by our 8 month old, 76 pound German Shepherd puppy inside her large kennel (she gets the back room), and we still had room to spare. The ventilation is great with the 2 doors and the air vents built into the fly. It's great for sleeping without the fly on….there's nothing like a celestial light show to lull you to sleep at night. There's lots of mesh pockets, and the gear loft tabs in the roof provide spots to hang LED lights for interior lighting. With the reflective guy lines, I'm no longer tripping over them in the dark…..great feature! The only drawback I found was in the front door zipper….it takes a little patience to get it around the bottom corner. We love this tent. We've definitely become Big Agnes fans, and in my opinion, structurally Big Agnes rivals The North Face, but without the heavy duty, industrial strength pricing.
This is not a 4 season tent.
We'd previously owned one of the cheaper 6-man family tents. The quality was so-so (it started leaking/falling apart a bit after just a few seasons of light use) and was missing some features (no vestibule/area for muddy shoes, etc.).

I used this recently on a daddy-daughter campout. It exceeded my expectations! The quality is bomb-proof, the features highlighted below are great and there was more than enough room for everyone. I was also able to set it up by myself (I'm 5' 11") with just a bit of help from my 2 young daughters.

Great features:
Vestibule - it is VERY roomy and absolutely perfect
2 Doors - really like the secondary entry at the back
Lots of pockets, etc.
Nice vents to keep airflow moving

I spent the extra money this time to purchase a tent that will last our family for many years and I'm confident it was the right choice!
Just ordered this tent, stoked to get it...
Just ordered this tent, stoked to get it - question is: how do the stakes hold up? And does it come with enough stakes to guy out the fly?

thanks!
Best Answer
It is free standing and you get enough heavy duty aluminum stakes for all but a high wind fly guy out. You'd max out with four more stakes.
One person commented that this is not truly...
One person commented that this is not truly a 4 season tent. I'm looking for an 8 person (or larger) tent that will serve as home for a few months during potentially harsh Maine/Canadian winters. Anyone have experience with long term use of this tent in the middle of winter?
Best Answer
Since this tent does have some mesh panels, it's not as hard core a 4 season tent like some of the expedition tents but it will endure all but severe winter conditions. Since you are going to spend a few months in it, be prepared for bouts of claustrophobia & boredom while sharing the premises with others.
I like the 2 meter North Face 4 season tent. I spent 2 months in Jan an Feb in Rangley Maine. Pricy but worth it.
I agree with you Mike Miller,that it's not a hardcore 4 season tent. I wouldn't want to depend on it like my North Face VE-25 (which has been used in expeditions in the Artic and Antartica), but the Flying Diamond will hold up very well, and hold in heat, in the unexpected snow/sleet/hail storms that I've faced in Tuolumne Meadows in Yosemite (that was a nightime, 6 inch snow storm over a Memorial Day weekend), or the snow/sleet/hail storm I faced in Yellowstone last August (photo attached), or the snow storm/blizzard on the North Rim of the Grand Canyon year before last in early Oct., at 8,300'. Structurally it'll hold up, but there's too much uncoverable mesh in the tent to hold in body heat at temperatures below 10 degrees F., but I can attest that it's done very well at 25 degrees. I haven't tried it at temps near 10 degrees F yet (and I don't intend to), so that part is just my opinion.
Answer is late, but I spent a lot of time in large car-camping tents. The best winter-performer I've found is called the Alaskan Guide tent made by another outfitter, and there is an 8-man version even though 8 men would be a tight fit. It's bomber, and it's geodesic. It's no Mountain Hardwear Stronghold, but it's easier on the wallet.