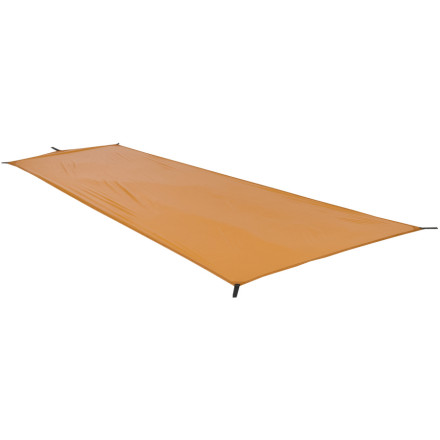 The Big Agnes Fly Creek UL 2 Footprint extends the life of your tent floor and lets you shack up an ultralight shelter with just your poles and fly. Weighing only five ounces, this polyurethane-coated nylon footprint stuffs easily into your pack and provides extra protection during wet camping nights.
Great addition for durability
Familiarity:

I've used it several times
It may ad 5 oz to your pack but it will also add 5 years to your floor. This is great added protection for pretty much any type of ground. It helps keep rocks, twigs or anything else on the ground they may puncture your floor one more layer away. You will need the footprint for fast pitch options.
simple and light! stores right along with the tent inside the stuff sack. Love the quick pitch option with the rain fly.
Absolutely Essential Complement to Tent
The tent is super light but the floor is very thin and takes extra care. That is the cost of the weight savings I guess. The footprint is made of the same fabric as the tent. I don't worry about the tent while using this footprint. What your paying for is tent tent insurance in the form of floor protection and a fast and light pitch option. Well worth the price in my opinion.
is this waterproof? i have it, it came...
is this waterproof? i have it, it came with the tent from the website i bought it from ($300 for tent and footprint = steal). just wondering if it's waterproof enough to serve as a temporary shelter for cooking in the rain/stopping off the trail during a stormy downpour.
You'd be just fine using it for that.
This seems to be made out of the same material as the tent, which is really lightweight. For a footprint, I was looking for something a little more sturdy to protect the bottom of my tent. $54 is too much for a sheet of material, but it's probably a good idea to get it anyways.
As others have stated, this simply does its job. I like having the flexibility of using it as a standard footprint - or in fast-fly. Rating it a little lower as it is fairly expensive for a footprint. It's the nice, lightweight material that tent is made of - but at only $5 less than my huge footprint for the Big Agnes Flying Diamond 8, seems a little high.
Adds an extra layer between you and the wet ground but also adds a bit of protection for the tent itself. The fast fly option (footprint, poles and fly) is another option for warmer weather and so long as the mosquitoes stay away. Nice and light and compact - it just slips into the tent bag.
I bought it, I like it. Buy a piece of Tyvek... cheaper, lighter, it's going to get trashed anyways.

Edit: After writing this I forgot about the fast fly setup which is a cool weight saving feature. If you only need a groundsheet for protecting your tent, tyvek. There, all better now.
Weighs only 5oz, fits perfectly with the tent floor, and takes up no space. You can fit the footprint into the bag with the tent body. Have not used it in the rain yet. Super easy and light if you are going to just pitch it with just the fly.
Does what its meant to do.
Clips in with the tent poles and stake slots for a perfect fit. After a few nights out with this, seems to hold up like a champ. Made out of the same material as the tent. Also its very easy to use with just the fly and poles.