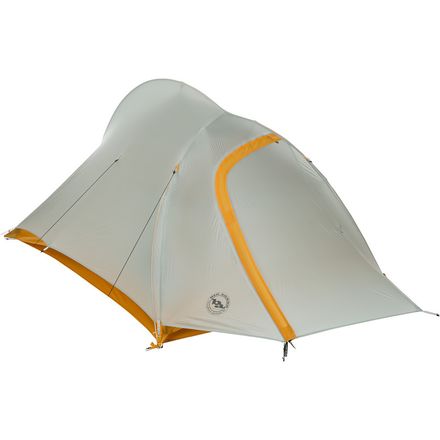 Colors

Detail Images

Videos

Community Images
Description
Light and durable shelter for covering serious ground.
Solo backpacking can be a hell of a time, but it's also nice to head out on the trail with a partner. Bringing someone else along doesn't mean you have to pack extra weight though; the Big Agnes Fly Creek UL2 2-Person 3-Season Tent is an ultralight beauty that's got plenty of room for two and weighs less than most one-man shelters on the market. With a trail weight of under two pounds and a super-simple single-pole hub design, it's no wonder that the Fly Creek has won awards from Outdoor Gear Lab and Backpacker Magazine. Its mesh walls work with the lightweight but durable rain fly to keep moisture and condensation out of your tent, and the front vestibule stores your packs and boots so you don't have to bring them in the tent or leave them in the rain.

All the Fly Creek's guylines and external webbing points are reflective (if you've ever tripped over your tent at night you know how awesome this is), and the vestibule's zipper is covered with a storm flap for extra weather protection. Three mesh pockets hold headlamps and small gear. If all this weight gets overwhelming somehow, you can even leave the tent body behind and bring the fly, pole, and footprint (sold separately) for a quick and easy shelter-style setup that weighs under 1.5lbs, which is almost certainly less than the hiking boots you're wearing.

Ultralight design with nylon/polyester mesh body
DAC Featherlite hub pole system
One door and vestibule
Fully-taped seams and storm flap
Three mesh pockets
Reflective guylines and webbing
Gear loft and footprint sold separately
Great Tent
Familiarity:

I've put it through the wringer
Great UL tent, however I do find that I often get condensation on the side walls. However, I just avoid it by sleeping in the middle and making sure my gear doesn't touch the sides. That is the only reason I'm giving it a 4 star instead of 5.
Durable, Lightweight but a tad Small
Familiarity:

I've used it several times
I have to say I really like this tent and I'd purchase it again. But there are certainly pro's & and con's to it, so let me enlighten you.



Pro's

- Its super lightweight, very compact and works GREAT for backpacking and takes up no room for car camping!

-Set up it fool-proof, the connected poles and easy set up, means you go from stuff sack to tent in 2 minutes flat.

- Its a Big Agnes which means it is made of high quality material



Con's

- It is small, I wouldn't call this a 2 person tent but its a perfect size for a solo camper. And I suppose you could fit 2 smaller people in it no problem (as long as you like each other).

-The footprint is always sold out. This isn't a huge deal considering the material is high quality but it would be nice to have it on those extra rocky sites.



All-in-all I've taken this bad boy from desert to high mountains with no issues at all. I'm sold, it will always be a part of my backpacking setup!
Its a fair weather hiker tent
Gender:

Male

Familiarity:

I've put it through the wringer
I thru hiked the AT in 2014. I carried this tent the second half of the trail. Its very light weight and works great as a shelter, but is not that great in the rain. You'll stay dry if you stay right in the middle, but the rest of the tent will be soaked. The tent I used prior to this was bomb proof. I felt very comfortable riding out the heaviest of downpours, while in this tent everything would get wet. For the weight of this tent, you will have a trade off. Personally, I prefer to carry a true freestanding tent that weights 1lbs more and keeps me completely dry.
No good in wet weather
Familiarity:

I've used it several times
I took this on a maiden voyage through the Sierra with my wife for five days. In the world of ultra light this tent is top of the charts. A couple things to note when buying this tent: first, be selective of the person you sleep with. Anyone larger than 6'0 may want a different tent if sharing with a partner. Secondly, and my biggest gripe, when it started pouring buckets, the vent at the foot of the tent was so low to the ground that rain shed off of the fly and splashed back into the tent causing excessive moisture and minor puddling inside the tent. Over five days I tried synching the fly down as best I could but every afternoon when the rain came, same sad story. Thirdly, the rain fly is too small for two bags. I get it. Ultra light. But it is a two person tent and should accommodate two packs.

One final alteration that would greatly improve the living area in the tent is to add another 8 inches of mesh material on the top of the tent, so that you could put a pair of pants on without having to turn sideways. The high point in the fly allows for this clearance, but the tent is tapered downward, I'm sure to save .062 ounces. So there you go. A very light well built tent. Sadly, I will be returning mine.
Great Tent!
Familiarity:

I've used it several times
I love to backpack. I have been on quite a few trips and have always regretted the times when I decided not to take a tent. Those are the times that it always seems to rain the hardest. If you are into backpacking or just want a small tent then this is the tent for you.



When I first pulled it out my wife almost walked away and hiked back for a hotel and a hot shower. This tent looks quite small from the outside. It has a single pole that connects to the tent at three points on the ground. I feel that this significantly cuts the weight while preserving room inside the tent. The tent is constructed well and has great mesh windows and is extremely easy to set up. We set it up in 20 MPH winds and had no problems.



The fly is constructed well and has enough lines coming away from it to make a very stable tent in strong winds. (We staked it down with MSR Groundhog stakes to hold it a little better than the factory standard stakes.) I was a little worried at first that it would tear when stronger winds came up but it held its own.



Inside, the tent is actually quite roomy. I am 6' 1" and I could sit up near the door. When I laid down There was still about a foot above my head and room on both sides of my wife and me. The vestibule allowed room for our shoes and a small bag but most of the gear remained out in front of the tent. It has three mesh pockets inside suitable for headlamps, cell phones, and other small essentials.



The biggest drawback to this tent is the breathability. Without fail, we would wake up in the morning with the fly interior soaking wet. One night it got so bad that it started raining inside of the tent. It is also difficult to keep the tent walls away from the fly so it comes in if you move at night. It would be great if Big Agnes would put some sort of small opening available on the top of the fly to lessen this problem. It was easy to let the sun dry everything out but just slightly inconvenient.



Overall, this tent performed great and I would recommend it for all who want a solid 3-season backpacking tent. It does exactly what it is designed for. Hope you have fun on your next adventure.



Click here to go to the Big Agnes site and see more about the tent.



Head to cruxologylife.com for more gear reviews.
What is the difference between Packaged Weight, Trail Weight and Fast Pitch Weight (Fast Fly Weight as Big Agnes calls it).



Also what does the footprint weigh?
Best Answer
Here is how Big Agnes defines the different weights for their tents:



Packed weight:

This is the heaviest you can expect your tent to weigh, straight out of the box or from the store. This weight refers to all packaging, hang tags, as well as the stuff sacks, fly, body, stakes, poles, and guy lines.



Trail weight:

This is the lightest you can expect your tent to weigh, stripped of everything but the essentials. This number reflects the weight of just the fly (no guy lines), body, and poles.



Fast-fly weight:

This is the weight of your fly, footprint and poleset only.



Fly Creek UL2 info:



Packed Weight - 2lbs 5 oz (37 oz) or 1050grams

Trail Weight - 1lb 15 oz (31 oz) or 879grams

Fast Fly Weight - 1lb 7 oz (23oz) or 652grams

Footprint Weight - 5 oz or 142grams



Anytime you have a Big Agnes question, shoot me an email and I'll make sure to work with you 1-on-1!



Jared D.

Expert Gearhead

801.736.4336

jdowns@backcountry.com
Ultralightweight!
Familiarity:

I've put it through the wringer
Great tent for a great price at a superb weight! I have used the tent extensively for all types of camping - car camping, bike camping, and backpacking. It is easy to set-up and take down. The unique A-frame and guide line system keeps the fly and body highly taught. It stands up well in the strongest mountain winds or coastal deluges. The gear loft is a nice feature, the mesh ventilates well - which is a huge bonus when you have two people in the tent. While perfectly sized for one person and gear it still manages to fit nicely for two adults with sleeping bags and pads. My wife and I frequently use this tent to get away from the kids in our larger family sized Vaude tent. On a 10 day road trip through the Alps in Austria, Italy, and Germany we slept in it every night and had plenty of room. Otherwise I have used it repeatedly as a solo tent and the weight makes the extra room well worth the investment.
Great all around tent
Familiarity:

I've put it through the wringer
This is a fantastic tent for backpacking! We've used one for about 3 years now and it hasn't let us down yet. If you prioritize weight, definitely pick one of these up. On our review of all backpacking tents, it scores near the top (beat only by The Big Agnes Scout) and is a great all around tent.



If you're interested here's our detailed review of it: http://backcountrygeareview.com/2015/04/03/big-agnes-fly-creek/



And our comparison putting it up against other backpacking tents: http://backcountrygeareview.com/2015/03/23/backpacking-tent-review/
Very Light
Familiarity:

I've put it through the wringer
Lightweight, weighs as much as a bivy. Tight for two, just right for one plus gear and dog(s). Broke two stakes in frozen ground, but hey, it only claims to be three season...
Snug as a Bug on a Rug
Familiarity:

I've put it through the wringer
I've put years of abuse to this tent and it has definitely held its own. If you correctly stake it out, it holds up to high winds pretty well. It has a very compact design and is on the small side for a 2-person. I'd say two average sized guys will have to be pretty close buddies for it to not be awkward in this tent. I love the sleek design and never have a hard time finding a spot to post up when space is limited. It might be on the expensive side, but if you're looking for a super light with a quality design, give it a shot!
Seeing doubles
Familiarity:

I've put it through the wringer
This tent is light. Never mind that is wrong, this tent is UltraLight!

I was trying to figure out whether I should get a bivy or a light 2-man tent and when I saw this tent's spec it made up my mind. Why purchase a bivy that weight the same as a 2-man tent with less room? Every time I pull this tent out I am impressed how light it is. I really like that when I am backpacking with my kids I can carry the whole tent without sacrificing a lot of room or taking on a lot of extra weight in my pack, even better if I can split it with someone else.

On a multiday backpacking trip a buddy of mine and I fit nicely into this tent. There wasn't a lot of extra room but we did not hit each other at night. I am 6'2" 190lbs and my buddy is similar. I would fully recommend this tent to any backpacker looking to go lighter. Also I would get a footprint, why not? It is already super light what a few more oz.?


Super super light, a couple drawbacks
Familiarity:

I've put it through the wringer
This is a great tent, for sure. Unbelievably light, stays dry, can stand up to moderate winds. Ridiculously light. Did I mention how light it is?



Here are some cons:

-I would put an asterisk next to free standing. It needs to be guyed out for the tent body to take its full shape.

-There are 11(!) points to be staked out, 6 necessary, 5 less so.

-The anchor lines are not adjustable (the guy lines are). This is a dumb oversight in my opinion. If there happens to be a rock or root or something in the spot where you need to put a stake, too bad.

-The tensioning mechanism on the guy lines is a little awkward.

-If you want to use just the tent body without the fly, you will have to rig up a new set of guy lines.

-It is very snug for two people.

-The vestibule is a bit on the small side.

-The zipper on the vestibule is prone to getting snagged on the flap that covers it. They should have gone with a waterproof zipper instead.



All that said, this is a great tent.
Worth it
Familiarity:

I've put it through the wringer
This tent held up in a hail and rain storm. It kept me dry and all my gear. The vestibule will fit a medium sized pack but it wi still get wet around the edge at the bottom. I use the 2man tent even tho it's only me. I like to keep my gear inside with me. It would def be snug for 2 people. I like that it's light weight. I have not had a problem with condensation on the tent but the fly has had condensation. I also have the footprint which I recommend you get. The material seems thin but is tough. I like having the extra protection and if I'm gonna spend that much money on a tent, then I want it to last. Hands down it's the best tent I have owned.
Fly Creek UL Series Tents
Holds up in rough weather
Familiarity:

I've used it once or twice and have initial impressions
I took this tent backpacking on Mt. Whitney. My initial impression was what an amazingly light tent coming in under 2 lbs. Setup is quick, with staking and guy tying the tent, it maybe took ten minutes. The material does seem thin and I will probably buy the footprint for the extra protection. While backpacking Whitney a thunderstorm rolled in while I was away from camp. The wind picked up and the storm dropped hail, snow, and heavy rain. When I returned to camp I found the tent holding up strong. I got in it and everything was dry and in good shape. Condensation wasn't a problem, with two people inside the tent and all the moisture in the air I saw no condensation forming. After everything it packed up well and survived the trip with flying colors. I will take it out again even if I suspect weather because this light tent will hold up to the elements.
Rain, fine, Wind, not so fine
Familiarity:

I've put it through the wringer
I had this tent in the Arctic National Wildlife Refuge. Kept the skeeter out and plent of room for gear. Cessna 180 pilot loved the weight of my stuff. Backpacked with this tent at 12,000 feet in South San Juan Wilderness. Big rain with some hail. Water under the tent. I stayed perfectly dry. I did bring my boots in from the Vestibule- good call. Recently used this tent on a 16 day paddle on the Yukon River in Alaska. Some significant rain- no problem. Some significant wind- a problem. The single pole running to the back of the tent is pushed over by a side or quartering wind. I put two guys on the pole abut 2/3 of the way back but the fly prevents an adequate angle to solve the problem. It is a trade off. I'm a fairly small 63 year old women. I can take a 5 pound bomb shelter and hike maybe 5 miles a day or I can take this and hike 12.