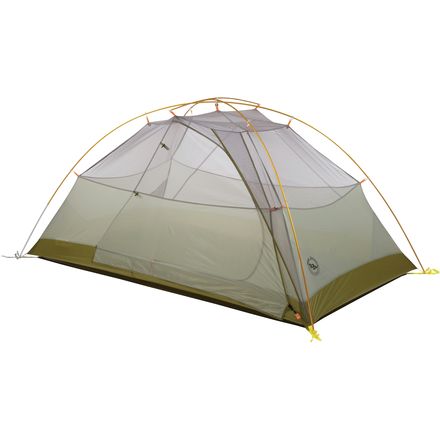 Detail Images
The Big Agnes Fishhook UL 2-Person 3-Season Tent is a versatile, super-light shelter that will shield you from rain, wind, sun, and even the occasional snow storm. It's a smart combination of lightweight construction and pure burly toughness that will see you through week-long backpacking trips for many seasons to come.
Fully taped silicone-treated nylon ripstop with a PU water-resistant coating is sturdy enough to shelter you from intense weather even though it is lightweight
DAC Featherlite NSL pole system offers sturdy, flexible support at a low weight
Six square feet of vestibule space keep your packs dry and secure
Zipperless door means less total weight and eliminates zipper-snag scares
57-inch width offers just enough room for two sleepers
Polyester mesh body vents stale air and helps moisture escape before it can turn into condensation
Reflective guy lines and corner webbing makes after-dark set up easier and leads you back to your bed after late-night bathroom visits
Nine super-light aluminum J-stakes combine low weight with sturdy construction
Extra-large stake loops speed up setup time
Two internal storage bins stash your essentials, and integrated gear loft loops secure your Big Agnes Square gear loft (sold separately)
Share your thoughts
What do you think of the
Big Agnes
Fishhook UL Tent: 2-Person 3-Season
? Share a...
The perfect tent?
Familiarity:

I've used it several times
I used my tent for 5 nights and 6 days in Canyonlands and at the Havasupai Falls. I hiked over 50 miles in 6 days with the tent. Setting up the tent was a breeze. Without the rain fly I could see the stars at night and had plenty of air flow. The storage in the tent is incredible. 8 pockets to stuff away head lamps, bags, whatever gear you don't want floating around the tent. The material is thin but durable. (what you would expect from an UL tent) The best part in my opinion is the zipper-less feature. I find it so annoying when my tent mate has to get up in the middle of the night and I am awoken by the sound of a zipper. The zipper-less feature is easy to use and secures the bugs outside while keeping us cozy on the inside. We had a few crawling bugs find their way into the tent, but anything with wings was kept outside. I'm looking forward to more nights under the stars.
Unanswered Question
is it a photo of Big Agnes Fishhook UL Tent: 1-Person?
Didn't use yet but put it up in house.
Familiarity:

I've used it once or twice and have initial impressions
From my first opinion of putting it together in my living room it was super simple and fast to put together, the only negative I can see right away is that the bottom of the door doesn't seem that secure and I feel like it would be pretty easy for bugs and critters to find a way into the tent. That said I don't keep food in the tent so small animal's shouldn't have much of a reason to come into my tent anyways, and if a mosquito or two gets into the tent its no big deal. Letting a few bugs in shouldn't be an issue, after all if you cant put up with a few bugs then your interests are in the wrong hobby!
Is the tent pictured really the correct tent

No, The picture with the rainfly is the correct tent, but the one without it is the ul1, I don't know how they could have mixed up the pictures, the pole structure is not even similar!
I know this because I just bought one and put it together myself!
No I just unboxed mine and the poles cross like a X
Good Value
Familiarity:

I've used it several times
I did quite a bit of research before deciding on the Big Agnes Fishhook UL Tent: 2 Person 3 Season.
I actually like the fact that it doesn't have zippers . If you secure the tent as directed you won't have bugs or other critters.
Heck even in my old tent I would get bugs inside it.
This tent has lots of room, excellent quality, good backpacking tent.
I am very happy with my purchase and would highly recommend it to others.
Owned this for 2 years
Familiarity:

I've used it several times
Very light, compact, easy to put up. I don't like the zipper less door at all. Bugs come in and it doesn't close up tight. Wish I bought another tent.
Two questions:
1). What is the difference...
Two questions:
1). What is the difference between packed weight and trail weight?

2). What is a zipper-less entry? I've never heard of it. How do you keep out no-seeums?
Best Answer
Hey Firefly,

Question 1:

Trail weight is sort of an ambiguous, disingenuous term that varies somewhat between manufacturers, but it's generally the minimum weight of fly, shell and poles- what it takes to pitch the tent, without stakes. Packed weight is the whole shebang. Here's how Big Agnes measures their respective weights:

- Packed weight: This is the heaviest you can expect your tent to weigh, straight out of the box or from the store. This weight refers to all packaging, hang tags, as well as the stuff sacks, fly, body, stakes, poles, and guy lines.

- Trail weight: This is the lightest you can expect your tent to weigh, stripped of everything but the essentials. This number reflects the weight of just the fly (no guy lines), body, and poles.

- Fast-fly weight: This is the weight of your fly, footprint and poleset only.

Question 2:

BA uses d-rings, hooks and overlapping mesh for the zipperless ("fish hook") system. Zach Parrott's video from BA below gives a good overview of how it works. That should also shed some light on the no-see-um part of your question.

Hope this helps.
How does this system hold up to intense...
How does this system hold up to intense mosquito / fly pressure? Also, is there any comparable tent that I should be looking at - in the same price / size / weight range? I'm a bit concerned that there are no reviews, almost anywhere on the web. Is there a specific weak point I'm missing / does this tent not sell very well?
Best Answer
Hey,

I don't know what to say about the lack of reviews, but Big Agnes makes great tents. Being an ultra light tent means that it has some sacrifices structurally, although you shouldn't have any problems under normal use conditions. As far as the mesh goes- BA uses no-see-um mesh ( at least 625 squares per square inch), which is pretty standard for most heavily meshed tents made by anyone. Comparable tents from BA would be something like the Fly Creek, the Seedhouse or the Copper Spur. In the same price, performance and weight range, The North Face makes the Mica FL2, and MSR makes the Hubba Hubba. All would be excellent choices. Hope this helps.
Hi.
I'm trying to decide between this and...
Hi.
I'm trying to decide between this and the Hilleberg Rogen http://www.hilleberg.com/home/products/rogen/rogen.php

My problem is that I live in Norway and the weather can be quite harsh and unforgiving. Will the Big Agnes be able to withstand that kind of weather in the shoulder season?
Hey Runar,
While I love Big Agnes tents I'd have to say that the Hilleberg is going to be stronger. The criss-cross tent pole structure design is going to be stronger than the single ridge pole with two hubs. One is stronger, one is easier and faster to set up. The other thing is, Hillebergs are legendary tentmakers and unfortunately aren't offered on Backcountry. But you also have to consider that you're comparing a $400 to an $800 one, so the comparison is not really fair.

I'm not sure what you mean by shoulder season, however if you're truly worried about unforgiving weather, a solid four season tent should be what you're looking for. While they are heavier and more difficult to set up than a three season tent, shelter is NEVER something you want to compromise on and risk failing in inclement weather. Hope this helps in your decision.
Best Answer
Hi Runar,

I would have to agree with Alex. This BA tent will definitely handle the shoulder seasons in most cases, for about half the price, but there is no fair comparison of Hillebergs to much of anything except other mountaineering tents...maybe. If you're going to put out the money for the Hilleberg, and often get caught in bad conditions, I might suggest looking more towards their red label tents like the Annak or the Jannu.

Alex- Shoulder seasons mean transitions in the weather that don't always fall into the patterns and norms that you might usually expect for the time of year. Typically, that means May-June in the Spring, and September-October in the Fall. Mostly Spring or Fall conditions, but with maybe just enough Winter to matter and keep you on your toes and guessing. You can plan for something and usually expect the weather to cooperate and do what it's forecast to do, but then there's that blizzard during the last week of June that was only predicted with a 20% chance that suddenly goes to 100% and screws you up. Real gear selection hell kind of stuff. It's the point at which 3-season tents either handle it or not.
Fishhook UL Zipperless Tent