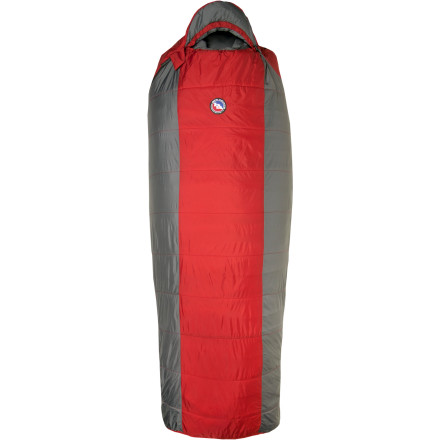 Description
Have three full seasons of comfortable camping instead of shivering through the first and last trips of the year.
Spring and fall camping can reward you with colorful vistas that you didn't know existed, but without the Big Agnes Encampment 15-Degree Synthetic Sleeping Bag to keep you warm at night, you would miss out on experiencing your favorite time of the year. Instead of staying home, you'll enjoy an empty campsite and the most brilliant natural showcase of color.
Big Agnes sleeping bags leave out the bottom insulation both to save weight and because insulation compressed by your body weight loses most of its insulating value
Note: bag requires a 20-inch-wide rectangular sleeping pad to be fully insulated (sleeping pad available separately)
The tough, outer nylon ripstop shell features a water-repellent treatment to keep the dew out
Lightweight, synthetic insulation (made from 97% recycled materials) keeps you cozy as the temps dive and works after it gets a little damp
Two levels of insulation—one as a base next to your body and the other to add loft—mean that the bag traps more heat
An insulated draft collar around your head and a draft tube covering the zipper provide extra protection to keep you toasty despite the cold
Built-in pillow pocket holds a fleece or pillow for an enhanced night of rest
Interior fabric loops allow you to add a sleeping bag liner during colder spring or fall nights
A 70-inch YKK #8 zipper (small size has a 60-inch zipper) down the left or right side of the bag lets you zip it together with a compatible Big Agnes bag (sold separately) for a warm night with a camp companion
Share your thoughts
What do you think of the
Big Agnes
Encampment Sleeping Bag: 15 Degree Synthetic
? Share a...
NOT WARM!
Familiarity:

I've put it through the wringer
This bag is most definitely a middle of the summer month only bag. Took to Yellowstone and almost froze to death the whole week I was there! Took to Moab and loved it, Is nice quality but not insulated enough for a 6 foot 1 160 pounder... The nylon on the inside against the skin seems like it would take forever to get warm and when rolling around at night the built in pillow thing kept wrapping around my neck and giving me claustrophobia. Not an issue for me in most bags. Dont hate it but dont love it either. Wouldnt recommend
not warm enough for me
Familiarity:

I've used it once or twice and have initial impressions
I usually love big agnes and have multiples -- battle mountain for winter camping, a lighter down for spring and fall -- i needed an inbetween synthetic bag for wet climate camping. I went for the 15 degree bag as I hate to be cold, but I was cold in this bag at 40-45 degrees even using the recommended sleeping pad. And although I thought i wanted wide and open, i am going back to a mummy version. This would work for simple warm weather summer camping, but is not enough protection for me.
Cold at 40 degrees too...
I was cold in this bag at around 40 -45 degrees too. I absolutely love this bag though and would buy it again without a doubt. I just wouldn't want to sleep in it if it was colder than say 35 out. I'm going to be looking for a 0 degree bag now for colder temps. This bag is extremely nice and very high quality, you can tell. I give 4 stars only because I don't feel like it's really good down to 15 degrees.
Surprised with some of these reviews
Familiarity:

I've used it several times
I could not have asked for a better sleeping bag. The very first time I used it was in 15-20 degree weather, and even without a pad I slept great. Granted, I have been compared to a furnace, but if it's really cold in 40 degree weather (since when was that cold?) then you're doing something awfully wrong. Like one of the reviewers, I'm a 6'2 170 lbs skinny guy, and I love the room, I hate the feeling of being locked in one position. To each their own, but I highly recommend this bag
Great bag
Familiarity:

I've used it once or twice and have initial impressions
This is a great sleeping bag, Doesn't feel like a cocoon. Room for your feet and head and shoulders. Easy to roll around in. Plenty warm for summer camping. Bought the BA insulated air core pad and it is a great combo. Can roll over without rolling off and cant feel the pebbles that turn into boulders at 2a. Stayed plenty warm unzipped until just before sunrise, then zipped up and slept great. Seems to be really good construction. I am 5'10" and 210 lbs. So it is nice to wake up with your bag in the same position as when you went to sleep, not all wrapped around you and not half on the pad.
Not great
Gender:

Male

Familiarity:

I've used it once or twice and have initial impressions
I'm 6ft 165lbs. I used this in conjunction with the Air Core Pad. There was way too much room in the bag, and I felt like it would lose heat in colder temps. Also, you can't wrap this bag close to your body unless you happen to fill the whole thing up - I think this might work for a larger person, but not for a skinny person like me. In addition, there is no insulation at the bottom of the bag, so you're relying on the insulation of the pad, which I think confuses a lot of customers who complain that the bag is too cold. It also doesn't feel natural - very slippery - kind of like sleeping on a mattress with no mattress pad.
I've used the Encampment 15 in the warmest weather and down to single digits using the dual core inflatable pad and a nylon bag liner. I have never been cold sleeping in this bag. I'm a wimp when it comes to cold and the issue I have with this bag is being overheated. Sometimes I'm in my liner only on top of the bag!
Not Overly Warm
Gender:

Male

Familiarity:

I've used it several times
I don't understand all the negativity based on the warmth of this bag. I used it this weekend in temps in the single digits. I wasn't overly warm but the BA sleeping system makes for a comfortable night even if you end up a little bit chilly on the cold ones.
Great Intermediate Bag
Gender:

Male

Familiarity:

I've put it through the wringer
This is a great bag for someone who will be doing a little more car camping than backpacking. I've used it for both in the time I have owned it and it works either way. It requires a sleeping pad for insulation on the back (has sleeve for holding pad). That is why I would say it leans more towards car camping. A make shift pine bed instead of a pad isn't going to keep your back too warm with this bag. Although, if combined with a Big Angus Insulated Air Core sleeping pad this baby rocks. It's important to remember 15 degree rating doesn't mean nice and toasty in your undies. It means you won't die of hypothermia at that temp. The bag compresses down pretty good. I would say middle of the row for bags with the same temp rating. With a weight of 3lbs 4oz it's not a rock but it's not a feather. For the price it's a pretty good bag that will last a long time. Combine it with a sleeping pad with an R-Value around 4 and you have a great sleeping system. I own 2 Encampments and 2 Insulated Air Core sleeping pads. I have a right and a left zip so I can connect them for a nice cozy night with the girlfriend. Works great and most importantly she likes it.
The best feature of the bag is its roominess. Otherwise it was a disappointing experience. Took this bag camping several times were temps dropped into only the low 40's at night and was cold all night long. Even when using it in a cabin that was off the ground, needed to put layers of clothing on in the middle of the night to stay warm while temperatures where only in the 40's at night. The matching big agnes pad did not provide the needed insulation either. Unfortunately will have to return both-bag and pad.
I camped in 30-40 degree Patagonia weather, and I was very cold in this bag. The Big Agnes sleeping pad also did not withstand the elements. It had a hole in it (that I could never find!) only after using it on a handful of trips.

The wind in Patagonia was powerful; however, I do not believe the wind contributed to my coldness in this bag because I slept in a great, new 3-season tent (Big Agnes Lynx Pass - I do recommend this Big Agnes tent).

Unfortunately, I'm returning this sleeping bag and the pad.
When zipped together, are the zippers in...
When zipped together, are the zippers in the middle or on the sides?
The zippers would be in the middle.
how much does this sleeping bag weigh is...
how much does this sleeping bag weigh is it packable
Short: 2 lbs. 15 oz; Regular: 3 lbs. 4 oz; Tall: 3 lbs. 9 oz. The sleeping bag comes with a stuff sack that allows it to be packable. We do carry more industrial stuff sacks if you would like to compress it a little more than what the stuff sack that comes with the Big Agnes does.
Unanswered Question
what does it weigh and is it packable
what does it weigh and is it packable
This bag sleeps cold -- very cold. Mated to the Big Agnes insulated air mattress, I felt like I was in a sleeping bag rated for 50 degrees. The feel of a single layer of nylon cloth between my skin and the air mattress was also less than appealing. On the plus side, it has plenty of room. I ended up returning the bag and purchasing one with a conventional design.
So i take out my new BA Encampment for its first hoorah. Day 1 of hike pouring rain nonstop all day. Everything got slightly moist (even though the nylon stuff sack did keep bag dry initially) but it kept me warm all night (it was only about 45 deg) bag is nice and roomy so i can roll over and sleep on side or back (and im not small) and the best part is the integrated pad setup. I actually woke up on my sleeping pad! i went with the inflatable mummy it didnt deflate on me, I weigh about 225 lbs. If it it did deflate it would really suck because the is no insulation on the bottom where the pad goes (but it comes with a patch kit) the pack size is OK its a little on the big side, but i do like that i could put the small inflatable pad inside my pack .
I like it, check it out!
really nice for the price kept me warm below 15 degrees, good product I really like the pad sleeve so I don't roll off my sleeping pad.