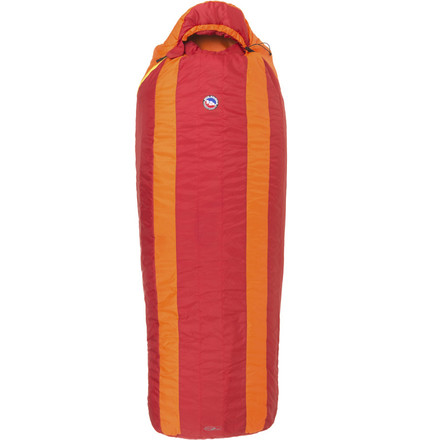 Detail Images
Description
Three-season camping comfort.
Spring, fall, and mild winter camping can reward you with colorful vistas that you didn't know existed, but without the Big Agnes Encampment 15-Degree Synthetic Sleeping Bag to keep you warm at night, you might be too busy shivering and cursing the cold to pay them any attention. Luckily, the Encampment is packed full of 97% recycled Integrity synthetic insulation to keep you warm, and has an integrated pad sleeve and insulating wedge so the cold from the ground doesn't seep into your bag and turn you into a snoozy popsicle. To reduce the size and weight of the bag, Big Agnes eliminated insulation on the bottom (it only packs down under your weight anyway), instead requiring a compatible sleeping pad to insulate you from the ground. Bonus: you won't roll off onto the ground anymore.

The Encampment is designed with Insotect Tubic baffle construction, which is a tongue-tying way of saying that the high-loft baffles run vertically, conforming to your body for maximum heat retention and comfort, while keeping the insulation where it belongs. You don't have to worry about your pillow running away at night, as Big Agnes gave this bag a built-in pillow pocket, nor do you have to stress drafts, since there is a no-draft collar and zipper to keep sneaky cold air where it belongs. If you have two left-zip and right-zip Encampments, you can even mate them together to create a double-wide bag, so you don't have to be sad about sleeping alone.

Integrity synthetic insulation
Insotect Tubic vertical baffle construction
No ground insulation; 20" pad required
Integrated sleeping pad sleeve
Roomy rectangular shape
No-draft collar and zipper
Pillow pocket
Left- and right-zip bags mate together
I love waking up on my sleeping pad
Familiarity:

I've used it several times
Great weight to warmth ratio, and the sleeping pad pocket means I can turn over in my bag without sliding off my pad. Ditto for the pillow pocket. An insulated pad is must in the shoulder seasons, as there is no other insulation in the back.
Can a 25 inch pad work? Specifically an Exped Synmat 9 ULW?
The pad sleeve will only fit a 20" rectangular pad.
The Big Agnes Hog Park is a comparable bag that will take a 25" wide pad.



Eric Watford

Expert Gearhead

801-736-6397

ewatford@backcountry.com
Can I zip together a right handed zippered lulu and a left handed zippered encampment?
Noa,



They'll be the same size zippers (teeth size) but the length will be different. So the Lule bag will be situated down further when zipped with the encampment. In other wards, her head may be near your stomach but not head to head.



Shoot me an email anytime you have questions!



Jared D.

Expert Gearhead

801.736.4336

jdowns@backcountry.com
If I was to get a left zipper bag and a right zipper bag can I zip them together?
Best Answer
Hey Noa!



Yes! That is the best part about having a left and right zip bag!
Awesome sleeping bag
Familiarity:

I've used it several times
I have loved and slept on the Big Agnes sleep pads for several years now and have loved them. The Big Agnes Encampment completes the picture. The Encampment keeps me both warm and comfortable and I don't have to worry about sliding off of the sleeping pad. I love the built in pillow retaining system, the neck baffle and the hood. I really have not found a problem with the comfort and use of the bag in the half dozen times that I have used it now. I would highly recommend this sleeping bag.
What pad sizes work with this sleeping bag?
PPad sizes that work with each sleeping bag size:



Regular (Sleeping Bag): 20"x72" or 64cm x 183cm



Long (Sleeping Bag): 20"x78" or 64cm x 198cm



Anytime you have a Big Agnes question, shoot me an email and I'll make sure to work with you 1-on-1!



Jared D.

Expert Gearhead

801.736.4336

jdowns@backcountry.com
Hi Jared,

I am looking to possibly buy this bag. I have a neo air insulated 25x78, will that work? And is the temp rating in Farenheight or Celcius?
Temperature rating is F but unfortunately it won't work with a 25" wide pad.



The widest pad I've been able to stuff into a Big Agnes sleeve is a 23.5" pad and the sleeve tacos the pad big time.



Jared D.

Expert Gearhead

801.736.4336

jdowns@backcountry.com
what is sleeping pad sleeve size?
20"x72" / rectangular (regular) 20"x78" / rectangular(long)
Solid bag
Familiarity:

I've used it several times
Good solid sleeping bag that keeps you warm on those cold nights. Works perfect with the 20" Big Agnes pad I have (imagine that). Slides right into the sleeve, and makes it a nice warm contained unit.



It doesn't really pack down that fantastic, but for a 15 its not that bad. One thing I did notice is that for similarly styled bags, this one has a bit more room. Which is really nice to be able to roll on your side, or move around with the pad connected. Others I have used that have integrated pad sleeves really constrict your ability to move around within the bag.



All and all, keeps ya warm, lets ya move, but takes up a good bit of space in your pack.



If you have any questions, feel free to give me a ring:

1.800.550.2639 ext: 4686