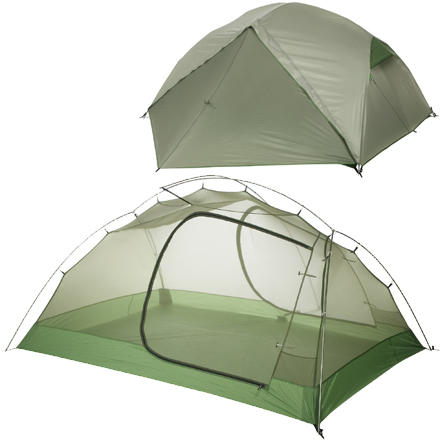 Community Images
Emerald SL3
Gender:

Male

Familiarity:

I've put it through the wringer
I have used this tent for about 4 years now. For the most part, I have been very satisfied with it. Having the extra large vestibule and 2 doors is nice. The last camp trip we went on, we had a nasty fall storm in Colorado that came though following 30+ mph winds, lightning, heavy rain, and hail. The BA held up great! But then the temperature dropped. I am changing my camping style now. I want something larger that I can put a wood burning stove in for longer term, all season, family use.
So I have been comparing two different BA tents. One the BA Emerald Mt and the other the Copper Spur. I am looking for a good 3 season tent to go onto the AT (mid March south-north). I find that I am more inclined towards the no-see-um factor of the Emerald, but I am worried about weight, weather, wind etc. I feel like the Copper spur might have more to offer in the practicality department, but not gonna lie it is a bit, well out of my price range so I need to know if the difference is really worth the extra money. Thanks for your replies :)
Set-up=Super easy! First use in field I had 60lbs of gear in it. No wind, no weather so I thought no stakes needed...oops. Left the area for a few hours while a storm came out of no where with torrential rain and 60 mph winds. Came back to find tent down the hill about 30 yards from where I set it up and laying UPSIDE DOWN with gear scattered down to where the tent laid. Zipper partially open so I feared the worst for my gear. COMPLETELY DRY GEAR!!! Even downpour and upside down... not a drop of water got inside!!! I was super relieved and can't say enough good things. I'm 6'3" 200lbs and wouldn't say it's a 3 person... 2 guys is plenty cozy with the gear. Super compact, easiest set-up of any tent I've owned and extremely light wt. AMAZING TENT!
Is the mesh 'no-see-um-proof? and has it...
Is the mesh 'no-see-um-proof? and has it proved to be durable? Also, are there any seams running along the bottom of the floor of the tent? Thanks!!
Best Answer
Yes, the mesh is no-see-um proof. Yes, there is a seam running across the floor, but it's sealed and has never been an issue. Still, get and use the footprint. Four years, moderate to heavy use, a little worse for wear, but all in all, durable. We've got 3 BA tents. If I wasn't happy, we would have stopped at one.
Nothing gets through the screen. The floor is "tub walled" and of course I have set it up, in what seemed to be a great area, till the creek formed underneath, stayed perfectly dry. You will want a footprint, adds years to its life
What is the deal with the vestibule size?...
What is the deal with the vestibule size? There is a youtube video showing one vestibule as smaller than the other and incredibly inconvenient but I can find no pictures of this. Are the two vestibules different sizes? I am referring to the ones that come stock with the product and not the extra large one you can buy. I am very interested in this tent as an upgrade to my rei quarter dome t2, but am unsure about the vestibule situation, thank you to anyone that can help, pictures would be amazing if possible.
Best Answer
Yep, one is smaller than the other. Two doors need two vestibules, but one is larger for gear storage, and the other is primarily for getting in and out, and small things like boots. The smaller second vestibule also saves some weight.
What is the customer service like for Big...
What is the customer service like for Big Agnes? has anyone had any problems at all?
Best Answer
They're a warm and helpful group of people who are great to deal with. Never a bad experience or unsatisfactory solution throughout all the years I've been using their products.
I had to replace the fly on mine cause it came with a small tear. They replaced it within a week with no problems.
Got the BA Em Mtn 3SL on SAC, exceptional deal. Finally had it out for it's 3rd time - and this time put 3 people in it for a trail night. I was really happy that we weren't overlapping / on top of each other. This is what a 3 person tent should be! As others have noted, the doors are low, but smaller zippers help keep the overall weight down. It's a compromise I'm happy to take. I use a min. of 8 stakes on basic set up (4 corners, 2 vestibules + 2 end walls) even in good weather to make sure the fly doesn't touch the tent. Tent is pulled taught with that. Add the additional 4 guy line stakes and it easily withstood moderate winds. We were warm on a 32 degree snowy desert night, and did not see the 15-20 mph gusts affecting the tent structure.
A light tent, that is a great summer tent
This tent is solid, and will hold up to a lot of natures punishment. One thing it does not do well, is keep out wind, when the vestibule is in use. You have to remove the nylon door to zip on vestibule, and you are left with just screen. I could not stop the wind from chilling me at night.

Other than that flaw, a super easy tent to construct, and with it's tub wall floor, keeps it super dry in there. Packed it is super small and light. I would recommend this tent for warmer weather use
I've got nothing but good things to say about this tent. I've taken it out on several trips but i think the biggest test was last year around new years. Winds in excess of 30 miles per hour, with this thing guyed out it's bomb shelter. I've only used it with one other person, so i've never filled to capacity, however quite obvious even with 3 people, you're not going to be on top of each other. The footprint adds another pound or so, but between two people, and especially three; you're gonna be fine. I don't mind the extra pound (especially split between 2-3 people) over the Copper Spur because the fabric is more durable. Good job BA.
I used this tent last summer for a week-long backpacking trip with two friends. We were looking for a tent that could genuinely fit 3 of us (all pretty tall), and this one definitely worked well without feeling like we were overlapping when we slept. The tent sets up easily (a practice set up before I left helped). The two vestibules were great and provided enough room to store poles and packs and protect them from salt-seeking deer. It is a very light tent - definitely lighter than the 2 person tent I usually take backpacking.

It rained almost every night of our trip and was generally damp enough that there was condensation on the tent every morning, but during the day we spread out the tent to dry whenever we had a chance and it was dry in no time. The tent did get a little chewed by a marmot, but this is more a reflection of the marmot's tastes than the tent's quality, and the small pieces of duct tape on the screen are a memento of a fantastic trip. Highly recommended - a very good deal for the price!
Used this for the first time last week; we were camped around 10,600' just below treeline. Held up to sustained 20+mph winds and rain, and everything inside the tent/vestibules stayed dry. Also, no condensation on the inside which was nice, but I did use the guy lines to make it extra taut.

Tent is very roomy on the inside, plenty of space for the wife, me, our 80lb dog and some gear.
Packaged weight: 5lbs-13oz
Fly, Mesh, poles: 5lbs-4oz
Stakes in sack with splint: 5oz
Inside demensions: 86"x65"
Inside Area: 38.82 sqft

We have two medium size dogs and this tent is a little tight with the two of us and the dogs, but ok. A couple of things caused me to rate it as average. One, I can never get a taut pitch. The doors are nothing special. Their design is just not to my liking. (the REI Quarter DOME T3 Plus has doors with a mesh pouch to store them out of the way and their shape makes entry/exit easier.. nice). Last, even though this tent has a cross pole that goes all the way to the ground (which I thought would make this tent solid), I have to guy this tent out on the corners to withstand moderate winds when I'm above tree line. I own and use the Copper Spur UL tents also. I much prefer their design over the Emerald Mountain. If you need the option of a very large add-on vestibule, however, then the Emerald Mountain is for you! BA tent construction quality is always top notch.
I just bought the FootPrint for the Emerald...
I just bought the FootPrint for the Emerald Mountain SL3. How do you use the cross pole in the Fast Fly mode? Do you just stake out the vestibules and forget the cross pole? Thanks for the help!
Best Answer
As you already know, one end of the cross pole is blunt, the other fits into the grommet on the piece of webbing that's on the back side of the footprint (same deal as the shell). The blunt end goes into the webbing sleeve above the door on the fly itself. Lay the fly over the hubbed poles and the cross pole will align and stabilize once you get the whole thing pulled down and secured with the tension straps and stakes in the 4 corners. That should do it.
Thanks Phil, Forgot about the sleeve on the Fly!
Unanswered Question
Has Big AGnes made any changes/modifications...
Has Big AGnes made any changes/modifications to the design of their original Emerald Mountain SL3 in the past couple of years? A YouTube report I watched showed a Vestibule zipper (during exit) design that was a problem.
I bought it to ease my girlfriend into summer backpacking (my usual tent is a tiny GoLite Trig). We got the 3-man version of the Emerald Mountain for the extra room and weren't sorry. There is plenty of room for 2 people, bags, pads, and packs if you want them. The vestibules are big enough to cook in and easily hold packs and wet boots. The walls are steep and the headroom generous.

We use it for car camping and weekend backpacking in all climates and seasons. We've had it flyless on balmy summer nights in Moab, blasted by serious wind storms on the rim of the Grand Canyon, and pitched in a freezing autumn rainstorm at treeline in the Rockies. It was especially great in the rain as we could pitch the fly and floor and use the space to make hot drinks and change into dry clothes before pitching the body inside it.

It packs a little heavy for two, but it parts out easily and sets up quickly. Highly recommended for short, comfortable backpacking trips, and fully a three season tent.
i know this has been asked but would like...
i know this has been asked but would like clarification. how is it that the copper is lighter then the emerald mt by almost a pound. from the pics the emerald looks like it should be lighter because they used complete mesh walls, while the copper only uses mesh on the top half. thanks for your answers.
Best Answer
I understand your confusion. However i did some sleuthing and found you a definitive answer. The reason this weighs more is because the vestibule is bigger. The vestibule on the copper covers 18 sq feet. The vestibule on Emerald covers 22 sq feet.

Hope that helps you out.
this tent is decently lightweight for its size, easy to set up and has a nice vestibule space. everything is color coordinated so throwing on the fly is super easy. just match up the buckles (green or black). Its about a 3-5 min set up after doing it once. slept 2 adults and one big dog(70lbs)very comfortably. could have easily fit one more reg size person or big dog.
copper vs. emerald mt? I see there is a...
copper vs. emerald mt? I see there is a similar question already on here but I am curious why the merald mtn. is listed under big agnes' superlight category and the copper is in the ultralight? The copper 3 is about a full pound lighter. Maybe I don't know the diff between ultralight and superlight. some reviewers are saying lighter materials but both are made from silicone treated nylon ripstop w/1200mm waterproof poly coating and both use the same DAC TH72M poles. I do like the taller sides of the copper not sure that's enough to sway me to spend another $100.
Hi Josh,

Ultralight is the next step up from superlight. To shave weight, lighter (and less durable) materials are used in the CS series. I have the CS2 and haven't had any durability problems, using the Big Agnes footprint. While both will be listed with a 1200mm waterproofing, it isn't the Denier rating of the nylon (higher D rating, more durable). CS will use lower Denier rating nylons.

In addition, while BA provides specs on the footprint size of the tent, it doesn't always reflect the vertical specs (i.e. wall angles, etc) which is another way to shave weight.

Hope this helps!
Footprint doubles as nice tarp
I hike with my 3 year old and got the Emerald Mountain 3 a couple months back. I am very pleased with its size, ease of set up, and a special use of the pentagon shaped footprint. On the second trip out I found myself packing the footprint in the front pocket of my pack for use as a lunch, napping and dinner tarp. 6 stakes, 3 lines and a single hiking pole go up in less than 5 minutes, come down in the same and povide exceptional protection from wind and light rain. I stake the the vestibule point down first, then the adjacent points slightly in and forward of a normal tent strike. I stake the opposite grommets loosly with guys and then raise the center between them to about 50 inches with the foam handle of a hiking pole. A few quick adjustments and the short sides lay tight against the ground while the whole pitch is taught. My son naps back in the sheltered corner on his pad and I can sit out of the sun and rain and read or nap myself. I plan to use the same set up on our upcoming day hike. At 11 oz plus a few lines, its a pretty good set up. I appreciate multi-purpose gear.