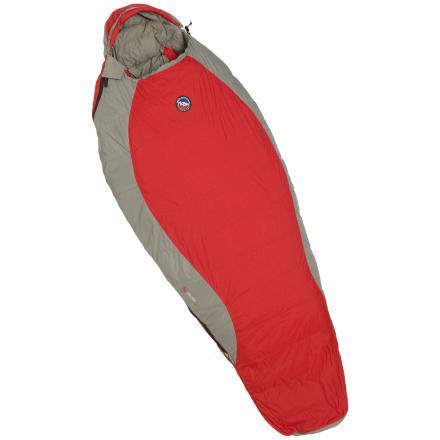 Community Images
I like the BA design, but you have to get the right pad to make the system work. I find that using a pad designed for a much lower temperature rating (thicker, heavier) than the bag helps you achieve the actual bag rating. Overall a good bag that is does what it says...
I am an even 72" would this be to...
I am an even 72" would this be to tight?
You should probably get the long. Tight bags compress insulation and create cold spots.
I've had this bag a awhile now, taken it on probably a dozen or more trips. PROS: Generally its pretty comfortable and light. Air pad integration is nice idea. CONS: I don't know if temp ratings are inflated industry-wide or just certain companies but 15 degrees is not accurate. I would pack extra layers if youre going to sleep out below 40deg. The only time I got down to 15deg, I had another smaller sleeping bag inside (double bagged it!) and 2 layers on including thick fleece. The no bottom layer makes some sense and I love the BA air core pads, but in this bag I can feel it leaks a lot of heat at the seam where the bag meets the pad sleeve - so I think its not well executed. If I were to do it again, I would just get a 0degree bag for these fall, spring, high altitude excursions.
does the sleeve for the sleeping pad go...
does the sleeve for the sleeping pad go all the way through the bag? I read that the womens bag had a couple feet of sleeve and then straps that hold the pad in place and those would probably be annoying!
There is a half sleeve and one starp to secure the pad at the bottom. Not annoying at all really easy to use.
My wife and I just used these bags for a week in Yosemite. I had read that there was a half sleeve and a strap, but unfortunately there is not. The sleeve is full length, and mummy shaped meaning that you need a mummy shaped pad to put in it. Actually this should work nicely, but we had ordered rectangular pads so we had to lash them together and put the bags on top. Not ideal, but it worked. BTW, with the insulated air core pads we were very comfortable down to ~25deg with just midweight long bottoms and short top base layers. Also we had them zipped together, which kept us from being quite as fully sealed in as you would solo. We"ll be getting mummy pads, then I suspect these will be the best deal going.
Needs better pad to get 5 stars
I would say this bag is near perfect. The design is efficient, the quality is good, but the pad that comes with it isn't the greatest. I would recommend searching for another pad, as this one is pretty basic, kinda bulky and not the most comfortable. I had a hard time sleeping on my back at first, but eventually I learned. Overall a great bag if you find it on sale.