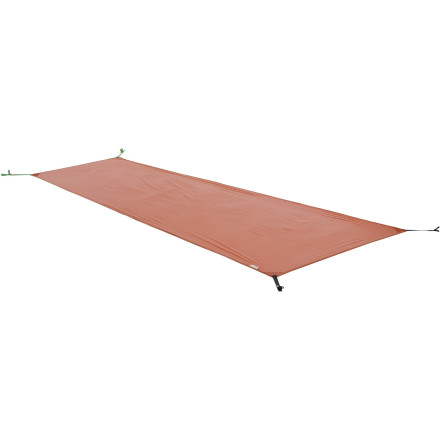 Colors

Community Images
Description
For more protection and pitching options in the backcountry.
Once you've got the Big Agnes Copper Spur Ultralight Tent, you'll need the Copper Spur UL Series Tent Footprint for extra protection against rips on your tent floor that compromise your tent's weather-proofness.
Durable nylon ripstop material withstands backpacking abuse and PU coating beads away rain showers
Works with your tent's fly and poles to create an even lighter fast-fly shelter for mild-weather camping and backpacking
Choose the size of the footprint to perfectly match your Copper Spur UL1, UL2, UL3, or UL4 tent
Pretty straightforward.
Familiarity:

I've put it through the wringer
Footprint to go with the tent, not much to it. I 100% recommend buying one if you pick up the Copper Spur. It will prolong the life of your tent, and it's a hell of a lot easier to replace footprint than a tent body. Super lightweight, just like the tent, and packs down to a tiny size.
Necessary evil
Familiarity:

I've put it through the wringer
I have both the 2-person and 3-person copper spur tents from BA and have one of these footprints for each tent. Since the Copper Spur is an ultralight tent, having some sort of footprint / ground sheet is really a necessary - the floor fabric on the tents is pretty thin and I'd rather have issues with a ground sheet than the tent floor itself.

I've found that both the 2-person and 3-person footprints fit pretty well - maybe a little on the loose side, but not so much that they extend beyond the rainfly.

You can do a simple ground sheet cheaper with clear plastic sheeting, but it's nice having the option to travel with just the ground sheet and rainfly when bugs aren't a concern.

I've had the 3-person tent for about 3 years and it's seen the most use. The footprint is holding up just fine and doesn't hold a ton of dirt. I rinse it out in the bathtub if it gets really nasty after a while, but generally a quick shake to get the big pieces of dirt & leaves off is the only "maintenance" this needs
Does the job!
Familiarity:

I've used it several times
This footprint is great! Packs down small and is very durable. Does the job of protecting the tent.
This does what it is supposed to do! It helps protect the bottom of your expensive tent. It works great with just the tent poles and rain fly. The weight is minimal for the sake of helping save the bottom of your tent.
Copper Spur Foot Print
Familiarity:

I've used it several times
this footprint works really well for using the rain fly as a shelter.

I found that I have place the foot print tabs under tent tabs to keep it from falling off the tent poles.
I bought this footprint for my Copper Spur UL2 tent and like the other reviewer said, it's kinda loose fitting and falls off if I move the tent. Also it's quite pricy so not sure if it's worth buying.
Best Answer
If you are going to use it as just a footprint under the tent, then it should be fine because people use tyvek from hardware stores for that because it is light and cheap. But, if you are looking for a fast fly setup, where it is just the poles, fly, and footprint, I wouldn't say it is compatible. They may have the same dimensions, but the pole and fly structures are probably different, leading to a bad fit. If you want to do a fast fly set up, I would find an original footprint meant specifically for this tent model. That way you don't try and McGiver it up, and end up spending the night in a poorly set up shelter. Bottom line, if just for a footprint, sure. A little pricey, because tyvek or garbage bags could do the same thing for much cheaper. If for a fast-fly set up, no.
Alex,

Thanks for the info but I ended up buying it anyway and lucky me, it fit just like the original. So I can actually use it for a fast fly set up. Glad you responded because I forgot I even posted this. Now if anyone else has the same issue, problem solved. Only reason I or anyone else with the sl3 would purchase is because the sl3 equipment is all discontinued...

Thanks again.
I purchased this in addition to the copper ul4 2011 version. I find the fly to be quite expensive and very flimsy. This, of course, is to save weight; however, the fly appears to possibly not perform under really wet conditions that I have seem yet in this dry year.



That said, the BA system requires the use of a footprint in order to lock into the rain fly. It also is part of the system that makes this tent so strong when fully assembled.



I plan to use a poly tarp under it during times of potential rain and during winter. Redundant but the floor serves a purpose beyond being simply a footprint.
I own two of these footprints; The UL1 and...
I own two of these footprints; The UL1 and the UL2. Both are so lose fitting that they fall off if I pick up these tents to repostion them. WHY do these footprints fit this way? Is there a reason for this? For the record, the UL1 footprint weighs 5.5oz, and the UL2 weighs 6.32oz.
I don't own any of the UL series but the Big Agnes, (and Eureka), tents I've owned with factory footprints always had footprints that were just glorified, expensive, cut to size, rip stop with grommets or straps at the corners. They never fit tight. That being said, you might give some plastic carabiners or S biners a try to hook the corners. Should work for 'ya and if not, they have a ton of uses and you won't regret having them around. Good Luck!
I have both the ul2 and the ul4. What I do to keep the footprint from always falling off is I put the foot print grommet on the pole end first, then the tent. That way, the footprint, even though loose, is held on by the tent. I don't know why they fit loose. Generally footprints are slightly smaller than the tent dimensions so water doesn't flow and pool underneath.
Got this along with my Copper Spur UL2
I got this along with my Copper Spur UL2. I thought it was a good idea to get this to protect the floor of my tent. I would much rather put a hole in this, rather than in the floor of my brand new tent. This only adds about 5 oz. to the tent weight still keeping it under four pounds which is still incredibly light. Its a little pricey for a footprint. But i would recommend it to anyone who has a Copper Spur and wants to protect there tent.