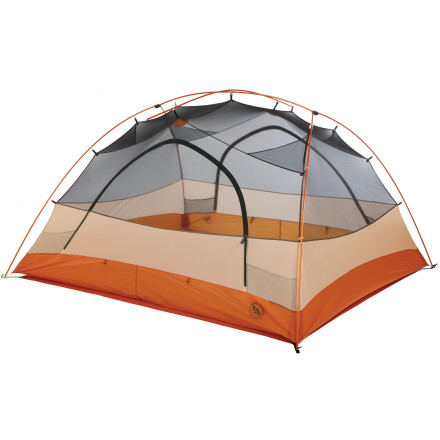 Detail Images

Community Images
Description
Get more tent space for the weight when backpacking with your crew.
Popular, well-maintained campsites just don't scratch your itch for wilderness, so you pack up the four-person, three-season Big Agnes Copper Spur UL4 Tent (UL stands for ultralight), and set up camp well away from any roads, bathhouses, or RVs. While roomy and weather-proof, this family-sized tent uses ultralight DAC aluminum poles and coated nylon ripstop fabrics to keep the weight to a minimum. That way you can split the tent's parts between your backpacking party, wander into your own woodsy paradise, and still have ample accommodations if the weather turns bad overnight.
Two vestibules provide space for gear and reduce the number of people anyone in the back has to crawl over to get out
Polyurethane-coated floor and fly help rain bead off instead of soaking you and your gear inside
Floor and fly seams are taped without using solvents (PVC or VOC) for a cleaner environment
DAC aluminum poles, press-fit connectors, hubs, and clips are easy to assemble day or night, rain or shine
All Big Agnes tents feature poles made with DAC's Green Anodizing process, which eliminates the chemical polishing stage, reduces the need for hazardous chemicals, and recycles water throughout the rinsing process
Breathable mesh and ripstop polyester walls fight condensation and reflective guy lines prevent injuries at night
Fast Fly pitching option lets you carry just the poles, fly, and footprint (sold separately) for a lighter-weight (4lb 3oz) package suitable for mild climates
Mesh storage pockets hold your headlamp and a map after you and your companion finish planning the next day's hiking route
Gear loft loops let you attach a gear loft (sold separately) for holding and drying socks out of the elements
IS this tent a 2014 or 2015?
Tropical Rainstorms - Can it withstand? Dear...
Tropical Rainstorms - Can it withstand?



Dear backpackers, as I'm searching for a 3-4 person tent which I'd be able to carry alone (2.5kg is reasonable) or divided, this one seemed to be a great option.



Problem is, I'm a Brazilian resident and over here we are used to have some heavy rain during summertime.

My last tent was a "Upper low level" tent which had 1500mm coating and it really handled some HEAVY storms but I made sure everytime it was set up, it was set the correct way (link: http://www.azteq.com.br/barracas/barraca-katmandu-3-4/).



Do you think this tent will be able to handle, even though it is Ultralight, some tropical rainstorms?(of course, considering it is set as it should)

Thank you very much,

Erich
Best Answer
Im not sure about tropical rainstorms, but I have taken my Copper spur UL3- 3 person 3 season into oregon wilderness in the late fall, where it rains practically non-stop. I have never had a problem with the tent leaking, and I have owned it for the last two years. I highly recommend it.



plus you could always get a waterproofing spray such as http://www.backcountry.com/grangers-xt-waterproofer?ti=U2VhcmNoIFJlc3VsdHM6d2F0ZXJwcm9vZmluZzoxOjE6d2F0ZXJwcm9vZmluZw
Super light tent
Familiarity:

I returned this product before using it
This tent is really light for a 4 person tent, but with kids I decided to take it back since one stick poke and I'd end up with a hole.
Thinking about this tent for myself,...
Thinking about this tent for myself, girlfriend, and our two girls ages 5 and 2. Do you think this would offer enough room? I like the fact that it is light and right now backcountry is offering 20% off....any other suggestions?
Thanks. The bemo looks great. We also came across the marmot limelite 4 person which looks good too.
Have you had the nemo in any heavy rain or wind? how did it perform?
I've had quite an experience with my Nemo Losi 3-person. On a Boundary Water trip in northern Minnesota, my friend and his daughter and friend were forced to sleep in my tent due to a huge rain storm that hit us on the 2nd night. 4 people in a 3 person tent, and I slept against the wall of the tent all night. It handled the gusts and we all woke up bone dry. No condensation, no leaking.
Best Answer
Limelight is a good tent too, however you lose a lot of interior space because the walls or more slanted vs. vertical. I just checked the interior height of the 3, and the Nemo Asashi has an extra 10" on both, at 60". That will make a huge difference when all four of you are trying to get ready in the morning! I also like the option of picking up the Asashi Garage vestibule - pricey, but lots of room for gear and wet boots/jackets on a rainy day.
This is an excellent choice for a 4 person tent especially at the weight of a 2-3 person tent! Big Agnes tents are high quality and highly recommended by the backcountry.com gear gurus. Just the right amount of room for you and your family. Another recommendation I would have is the NEMO Asashi 4P Tent. It is heavier, but has a little more room, and cheaper. I own 2 nemo tents and absolutely love them. On the Asashi, the walls are nearly vertical providing lots of head room. My Nemo Losi 3p has withstood very heavy downpours and kept us bone dry.
I bought this tent fairly cheap directly from Big Agnes due to closeout on 2011 products. I Set up the tent last night for the first time and probably took less than 10 minutes ttl. Very easy setup. Hugh space for four poeple with plenty of room to kneel in. I question whether four adults will fit but that is always the question with tents. Zips work very well and not a lot of tension preventing them from opening or closing.

The material is very, very lightweight. At this point I have not used it in realy world conditions. I trust that moisture will stay out. This tent has an innovative design so that the whole tent is quite strong if put together correctly yet the material feels flimsy. I didn't need the instructions due to its ease.

Make sure to place the single cross member pole ends into the little, hard-to-see pouches on the rain fly. They are difficult to notice under low light.

Features that I like:

1.) bright lite guide lines. I may actually NOT trip up.
2.) low weight overall
3.) ease of putting up
4.) Poles seems bomb-proof strong
5.) a total of eight pockets inside the tent. four on the webbing toward the top and four toward the bottom of the bathtub portion of the tent.
6.) the fabric used appears to be of high quality and will undoubtedly breathe well.

I can't think of anything negative other than the stakes seem pretty thin but I'm use to thick steel stakes. these stakes are a compromise with weight however.

I bought the respective fly and extra gear loft. the fly is similar material and will likely wet out but maybe not. The gear loft has multiple pockets and adds even more space to an already full set of pockets.

Overall, build is solid and quality is first-class as one expects from Big Agnes.
I'm regretting not having a bugamid. A...
I'm regretting not having a bugamid. A fair weather, 4 person, sub 3 pound answer to summer back country where the forecast says 0% rain but the mosquitoes are thick. How much do you estimate the pack weight would be without the fly?
This is not your tent for that mission.
This tent has a claimed trail weight of 5 lbs 4 oz. I would look at the Fly Creek UL4 at 4 lbs 1 oz for trail weight. I suspect that you will not find a sub 3 lb 4 person tent.
How about two adults and two adult dalmatians...
How about two adults and two adult dalmatians (60lbs each)? Thinking about using this for a Wind River Traverse, and torn whether to get this, the Fly Creek, or the same versions in a 3-person (each dog like a person, or half a person ...). Thanks.
If it is in my hend i'll take this and not the "Fly Creek UL4 Tent" for it a "dome" tent and have more space
This tent is great! Do you enjoy backpacking? Do you have a family? Don't carry multiple tents. Don't bother with trying to squeeze into a smaller (most likely heavier) tent. This tent weighs less than one pound more than my Kelty Streamside 2, which is at most a 2 person tent (it's a tight squeeze). This tent is the definition of ultralight, yet has bombproof construction. The tent has amazing floor space and headroom. The fly is ingenious in design. The fly creates two roomy vestibules for your gear and muddy boots. The fly also has an awesome ventilation system that will keep that condensation out of the tent. Who wants to wake up in a terrarium? I can't say enough good things about this tent. You have to try it to believe it. Way to go Big Agnes!