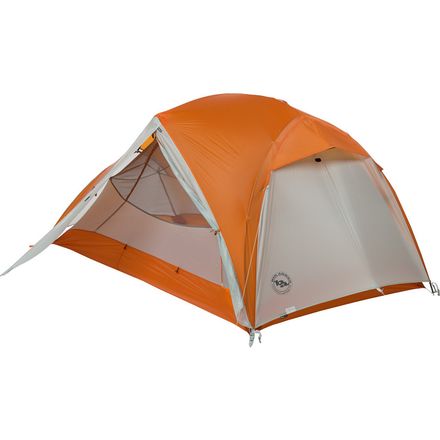 Detail Images

Videos

Community Images
If you've got a whole gang (well, a whole gang of three) heading into the backcountry and don't feel like drawing straws to decide who gets to sleep in the tent and who's bear food (it's been real, Steve!), bring along the Big Agnes Copper Spur UL3 3-Person 3-Season Tent and let Stevie survive to hike another day. Even though it sleeps three comfortably, has a full-coverage fly, and pitches using a two-pole hub system, the Copper Spur weighs in at just under four pounds, making it easy to load up and take with you. If you're looking to drop even more weight, bring just the poles, fly, and footprint (sold separately) for a waterproof setup that weights a full pound less.

The Spur pitches using a single hub-style DAC Featherlight aluminum pole, and has one cross pole that attaches overhead, combining with the steep-wall design to give you plenty of space to sit up without having to brush against the tent walls or jam your head into the roof. Even if you touch the walls occasionally (and you will, let's be real here) moisture won't be a worry, since the walls are primarily polyester mesh, allowing plenty of air to circulate, and the PU and silicone-coated fly has fully-taped seams and zipper-covering storm flaps to ensure that no water can sneak in and soak your gear in the middle of the night. The Spur has all the comforts of home, too, (fine, maybe not quite all) like four mesh storage pockets, individual media pockets with cord ports to keep things neat and organized, and reflective guylines and webbing to make circumnavigating your tent in the dark a little less hazardous.

Ultralight 2-pole hub design
Featherlight DAC aluminum poles
Two doors and vestibules
Steep wall design for extra headroom
Media pockets with cord port
8 mesh pockets
Reflective guylines and corner webbing
Gear loft and footprint sold separately
Share your thoughts
What do you think of the
Big Agnes
Copper Spur UL3 Tent 3-Person 3-Season
? Share a...
You can trust this tent
Familiarity:

I've used it several times
I've used this tent on five trips in varying conditions: two with soaking rain, one with very high winds, and two were just nice weather. Every time this tent performed superbly. It keeps the rain out. It held up in a roaring forties wind storm on the South Coast Track in Tasmania, when we really thought that the tent might fail in some way. You can trust this tent.

The tent is sufficiently roomy for 3 people that one doesn't feel crammed. With two, there's acres of room. The spreader pole makes for plenty of volume inside, which means that one doesn't have the problem of inadvertantly pushing the inner against the damp fly.

Some complaints:
- Insufficient tent pegs. The tent requires 13 to 15 pegs to pitch with the guy ropes, yet only 8 are supplied.
- Groundsheet is very thin and won't withstand any sharp objects. I use an underlay of Tyvek HomeWrap from Du Pont.
- Dust blows into the tent. Camping in a dusty area in very high winds, we got showered with dirt inside the tent.
- Difficult to pull the vestibules tight to reduce flapping in higher winds.

Overall, highly recommended.

Does the colors (orange and white) represent the new version and early version? If it does, which one is new?
Mike,

This is the current version of the copper spur tent. A few seasons ago, Big Agnes updated the Copper Spur. But in regards to new verison and early version, I'm not entirely sure I understand (feel free to email me and we can chat).


pack in elk hunt
Familiarity:

I've put it through the wringer
Bought this tent for two on our wilderness pack in elk hunt. It weighed same as my one person tent. Hunted three areas so packed it in, set it up, and took it down three times. What a breeze. easy to set up. plenty of room for the two of us we actually set our backpacks inside tent end of our pads to use as pillows. Not a lot of room in vestibules, but enough with packs in tent. great having two exits and entrances. we didn't have to bother the other to get in and out. Rained two nights we kept dry and warm. No condensation. really happy with this tent. I would recommend it strongly. As a three person it might be a little tight. But I think most are. The extra room over the two person really made it nice. For the little bit of weight it was worth it. Seems we are always tracking dirt and debris in, when we took fly off, pulled stakes, just lifted it up shook debris out open doors. then zipped them shut, took out poles and rolled it up, easy.
The Best Tent
Gender:

Male

Familiarity:

I've put it through the wringer
I have now had the Copper Spur for 3 years and have used it on many different trips from backpacking to week long river trips. This is not just a backpacking tent - it is crazy spacious and comfortable.

Structurally this tent is solid and taught through high winds and hail storms, the Copper Spur has withstood the elements with glory. The tub design keeps the rain out and the big/tight vestibules keep your boots and gear dry. The ventilation is unmatched especially with the guy lines and vents on each end of the fly.

If you know that a rain storm will not be rolling through at night and want to keep the fly off, the high walls are really nice to keep a little privacy for snuggling with your partner or getting a nice morning wakeup.

Setup and takedown is simple and fast even with only one person. After spending a few days in the tent you are bound to get some dirt and sand in the floor. When packing up I love to take the fly off, opening up both doors, pulling out the stakes, and shaking the tent out completely before taking the poles out.

Let's chat about tents!
Give me a shout directly if you are looking to get a new tent soon.

Eric Watford
Expert Gearhead
801-736-6397
ewatford@backcountry.com
Instagram: @ericwatford
3 years old and going strong
Stayed Dry during Thunderstorms
Familiarity:

I've used it once or twice and have initial impressions
Had a great backpacking trip in the Smoky Mountains with the new Big Agnes Copper Spur. It is very easy for one person to put together. Had daily thunderstorms but stayed warm and dry. Rain got between the footprint and the tent bottom but didn't seep into the tent. I think the Footprint is a must. Bottom seems a little thin without it. Air vents are great as well as I had to sleep with the rain fly on. My husband and I preferred the 3 person size vs. the 2 person-a lot of extra room for not a lot of extra weight. Look forward to backpacking again soon!
Is this particular item a 2013 or 2014 model?
Hi Greg! This is the 2015 version.
Fantastic, well balanced tent
Familiarity:

I've used it several times
We used the UL2, but the UL3 is so similar, that we feel the review is still applicable.

This is a fantastic tent. It's really the best balance between comfort, weight, and price that we've ever used. You can get a tent that's lighter, cheaper, or bigger (more comfortable), but no tent balances all those aspects like the copper spur. It's light enough that you can take it on long backpacking trips. It's big enough that 3 people will have plenty of room, and with 2 doors and vestibules you won't be crawling over each other to get in and out and will have plenty of space to store your gear. It won't break the bank either. Another great feature is that it is truly freestanding and doesn't require to be staked out unlike other ultralight tents (Big Agnes Fly Creek, NEMO Hornet, or REI Dash).

Truly one of the best tents we've ever used!

For a more in depth review, please check out our website!http://backcountrygeareview.com/2015/04/16/big-agnes-copper-spur-ul2/

To see how it compares to other backpacking tents out there:http://backcountrygeareview.com/2015/03/23/backpacking-tent-review/
Does what it needs to and then some.
Gender:

Male

Familiarity:

I've put it through the wringer
Got this tent a year or so ago. Since then kept it fairly mild, 2 and 3 day hiking trips. My initial impressions were great: it sets up extremely fast, it's lightweight (no need to split it into different people's packs), and it's functional with it's dual doors/vestibules, mesh pockets, as well as the long floor and tall ceiling which I love at my 6'2" height. Plenty of room for 2 people + all gear including packs, or enough room for 3 people with some gear like clothing COMFORTABLY, packs in vestibules (you could put them inside, but be less comfy).

All in all this tent has served every purpose and lived up to every expectation I have of it.

Then I took it up Aasgard Pass in the Enchantment Lakes area this last weekend...

We chose this route as there was a decent storm moving into Western Washington and the Cascades and hoped that with Aasgard, being on the eastern side of the Cascades, would be less of a storm. While the precipitation levels remained low, the wind did not.

At the top of Aasgard we were greeted with temperatures in the teens (F) and ~40mph winds, and 60+mph. With night approaching we decided to dig a spot out for the tent, bunker down for the night, and hope for the best. I did not have high hopes for my 3-season tent handling 60mph gusts in snowy conditions.

The speed at which this tent goes up was more valuable than ever at this point. The 60mph gusts turned into pretty constant wind. With all guylines and stake-points snow-anchored in, the 3 of us huddled inside the tent. Packs went in a vesitbule. The tent took a beating all night and morning (14 hours) while none of us could sleep due to the wind noise (not necessarily of the tent, just the wind in general). Several times you could feel the wind get under the tent and try to lift, in fact multiple times one of our heads, arms, or legs, would raise slightly for a second or two.

In the morning, our packs were buried in a snow bank in the vestibule and another snow bank about 1.5 feet high had built up on another side of the tent between the tent wall and fly. We had about 1/4" of snow inside the tent, on our sleeping bags, etc. I won't knock the tent for any of that though, after all it's only a 3-season tent and the winds were quite high with more than a pleasant amount of snowdrifts. In fact I'm surprised we didn't have more snow inside the tent.

The bottom line for me: this tent held up without a single tear or broken piece in winds and temperatures that I wouldn't expect it to. It's a phenomenal 3-season tent that handled duty as an emergency shelter in rough 4-season conditions.

To the durability, everything has held up fine. I've caught the material with the zipper several times and it's never a problem. I've found sticks pointing upwards the morning after setting up in the dark, the never punctured. The tent took a beating during the storm just due to the speed we were trying to do everything, cold hands causing rough movements, we weren't gentle with it at all.

I don't think I will be buying another tent for quite some time, this is the one for me.
What is the difference between Packaged Weight, Trail Weight and Fast Pitch Weight (Fast Fly Weight as Big Agnes calls it).

Also what does the footprint weigh?
Here is how Big Agnes defines the different weights for their tents:

Packed weight:
This is the heaviest you can expect your tent to weigh, straight out of the box or from the store. This weight refers to all packaging, hang tags, as well as the stuff sacks, fly, body, stakes, poles, and guy lines.

Trail weight:
This is the lightest you can expect your tent to weigh, stripped of everything but the essentials. This number reflects the weight of just the fly (no guy lines), body, and poles.

Fast-fly weight:
This is the weight of your fly, footprint and poleset only.

Copper Spur UL3 info:

Packed Weight - 4lb 0 oz (64 oz) or 1810grams
Trail Weight - 3lb 11 oz (59 oz) or 1670grams
Fast Fly Weight - 2lb 14 oz (46oz) or 1300grams
Footprint Weight - 9 oz or 255grams

Anytime you have a Big Agnes question, shoot me an email and I'll make sure to work with you 1-on-1!

Jared D.
Expert Gearhead
801.736.4336
jdowns@backcountry.com
Great Tent. $$$
Familiarity:

I've used it several times
I've used this tent a handful of times so far and it has worked great every time. I've used it primarily as a luxurious 2 person tent and boy is it roomy. I used it once as a three person tent and the room was adequate and the per person weight is exceptional. The 2 door feature is great and allows for easy entrance/exit from the tent. Easy and quick setup. Great gear pockets on the inside.

Complaints:
1) Loud. The thin rain fly fabric gets blown around easily and is quite noisy even with all of the guylines staked out.
2) $$$ I got it on sale but I don't know if I could justify full retail price.
Best Tent Ever
Familiarity:

I've used it several times
I love this tent. I've never been able to set up a tent with more ease. My first time setting this up was at night in the middle of a rain storm. I was able to pull it out of the bag and have it set up in under a minute. It's THAT easy! The weight is nothing to gripe at either. It's the lightest tent I've ever owned. I have nothing bad to say about this tent.
Where is the Big Agnes Copper Spur tent made?
Best Answer
it is made in China.
Copper Spur UL Tent Series
Jeff talks about the Copper Spur
hi there, I was wondering what differences...
hi there, I was wondering what differences between 2014 version and older version?
hey,
the biggest difference is that they shaved 8 ounces off of the weight. Dimensions are all the same.
Thanks for your reply, so both versions have the same fabric, right?
Roomy, Sturdy, and Easy to Pitch
Familiarity:

I've used it once or twice and have initial impressions
We took our brand new Copper Spur UL3 to the 7,000 ft. level on Rainier for a test spin over the weekend. The tent was roomy enough for the two of us plus the full mountaineering gear pile. It also goes up fast - we had the tent, with rain fly, up in less than five minutes. The vestibules are impressive, big enough for a pack, and zip up almost to the ground level. This was hugely important to block the night time wind.

The only negative was some noise issues during the night. The winds coming off the mountain were 15 - 20 mph which whipped the rain fly into a frenzy. Earplugs would have been great to have. It otherwise held up great with the use of snow anchors. We're sold.