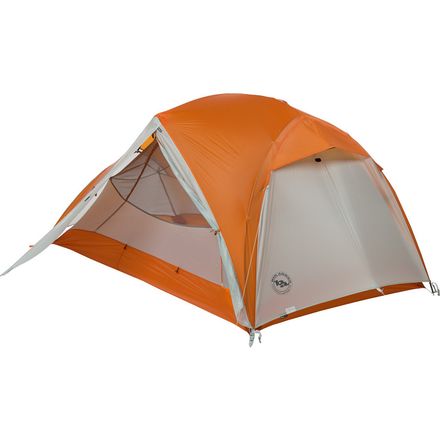 Detail Images

Videos

Community Images
Don't travel with a house on your back—instead, check out the Big Agnes Copper Spur UL2 2-Person 3-Season Tent, which has basically all the household features you're used to but weighs around three pounds. Maybe "basically all" is exaggerating, but the Copper Spur does have two large doors and vestibules, individual media pockets with cord routing, and reflective guylines, all features that your house doesn't even have. Your house also doesn't have a PU-coated, silicone-treated fly and floor, or polyester mesh walls that keep out bugs but let you enjoy cool summer breezes and crystal-clear night skies.

The Copper Spur's fully taped seams seal out water, and the two-pole hub system is easy to set up and tear down, thanks to DAC Twist Clips and quick cross-pole design that also gives you tons of headroom. This tent is made for 3-season camping, but if you're heading out for a summer trip and would prefer to go even lighter, you can grab the footprint and fly and leave the tent body behind, trimming weight down to just over two pounds. There's an optional gear loft, too—we'd like to see the house that has that.

Polyester mesh walls
Nylon ripstop fly and floor with PU and silicone coatings
Fully taped seams
2 doors with vestibules
2-pole DAC Featherlite hub pole design
Individual media pockets with cord routing
Reflective guylines and corner webbing
Footprint and gear loft sold separately
Big Agnes Copper Spur UL2 Full Review
My Wife & I carried this amazing tent on our 1500 mile Hike of the Appalachian Trail This year. Here is a Full Review, Set-up, & tour of our Big Agnes Copper Spur UL2!
Favorite tent
Familiarity:

I've put it through the wringer
There's a reason that when a student put their knife through my first Copper Spur 2, that I immediately went back to buy another. Super lightweight, easy to set up and take down, and it breathes great. Definitely a bit cozy for 2 people, so you shouldn't mind being close to your tent-mate.
It's tight for 2 - but do-able if you aren't both large in stature.

Very spacious for just me!
4 years strong.
Over 4000 miles and 250+ nights!!!
Familiarity:

I've put it through the wringer
Still going strong! My wife and I have a previous model in this tent. It is perfect. We love it so much we also own the 3 man and 1 man but those don't get used much. We usually use a very thin homemade ground cloth (tyvek kite making material) with it but not always. One of the zippers doesn't zip as well as it used to but it still works fine. I have never cleaned the zipper but might try if it gets worse. Also, we always just stuff the tent in our pack. We never fold it up nicely before packing away. This and only a couple other items we use have lasted this long.
Less Than A Year Old And It Leaks
Familiarity:

I've used it several times
Took this tent camping this weekend. Fairly moderate to heavy rains and my down bag did not appreciate the water coming in during the night. We'll see how Big Agnes responds to my warranty claim. The tent was purchased in May of 2014 and has been use on approximately 8-10 Boy Scout weekend outings.
Best, most balanced tent we've ever used
Gender:

Male

Familiarity:

I've used it several times
This is a fantastic tent. It's really the best balance between comfort, weight, and price that we've ever used. You can get a tent that's lighter, cheaper, or bigger (more comfortable), but no tent balances all those aspects like the copper spur. It's light enough that you can take it on long backpacking trips. It's big enough that 2 people will have plenty of room, and with 2 doors and vestibules you won't be crawling over each other to get in and out and will have plenty of space to store your gear. It won't break the bank either. Another great feature is that it is truly freestanding and doesn't require to be staked out unlike other ultralight tents (Big Agnes Fly Creek, NEMO Hornet, or REI Dash).

Truly one of the best tents we've ever used!

For a more in depth review, please check out our website!http://backcountrygeareview.com/2015/04/16/big-agnes-copper-spur-ul2/

To see how it compares to other backpacking tents out there:http://backcountrygeareview.com/2015/03/23/backpacking-tent-review/
What is the difference between Packaged Weight, Trail Weight and Fast Pitch Weight (Fast Fly Weight as Big Agnes calls it).



Also what does the footprint weigh?
Here is how Big Agnes defines the different weights for their tents:



Packed weight:

This is the heaviest you can expect your tent to weigh, straight out of the box or from the store. This weight refers to all packaging, hang tags, as well as the stuff sacks, fly, body, stakes, poles, and guy lines.



Trail weight:

This is the lightest you can expect your tent to weigh, stripped of everything but the essentials. This number reflects the weight of just the fly (no guy lines), body, and poles.



Fast-fly weight:

This is the weight of your fly, footprint and poleset only.



Copper Spur UL2 info:



Packed Weight - 3lb 2 oz (50 oz) or 1420grams

Trail Weight - 2lb 13 oz (45 oz) or 1270grams

Fast Fly Weight - 2lb 1 oz (33oz) or 935grams

Footprint Weight - 5 oz or 142grams



Anytime you have a Big Agnes question, shoot me an email and I'll make sure to work with you 1-on-1!



Jared D.

Expert Gearhead

801.736.4336

jdowns@backcountry.com
Hi, Jared. I am deciding between the BA Copper Spur and the Nemo Dagger . The trail weight of the the Dagger is listed as almost a pound heavier. Just wondering...is this an apples to apples comparison or are they using different criteria? Any significant differences between the two tents? I find it hard to compare fabric strength because they use different wording there. Your thoughts on durability comparison? Thanks for your time.
Hey - I shot you an email on this hope. Let me know what questions you have!



Jared D.

Expert Gearhead

801.736.4336

jdowns@backcountry.com
wheres the stats on this tent?
Hey Robert Corcoran,



Minimum trail weight: 2 lbs. 12 oz.

Fly / footprint pitch weight: 2 lbs. 1 oz.

Packaged weight: 3 lbs. 2 oz.

Packed size: 5.5 x 17.5 inches

Floor dimensions: 90 x 52 (foot width) 42 inches

Floor area: 29 square feet

Vestibule area: 9 + 9

Peak height: 42 inches

Number of doors: 2 doors

Number of poles: 1 double hubbed poleset + 1 cross pole

Pole material: Aluminum DAC Featherlite NSL

Pole diameter: 9.0 millimeters

Canopy fabric: Nylon/polyester mesh

Floor fabric: Coated ripstop nylon

Rainfly fabric: Coated ripstop nylon

Footprint included: No

Ultralight: Yes

Design type: Freestanding
Copper Spur UL Tent Series
I'm struggling to decide which tent I'm...
I'm struggling to decide which tent I'm after. Originally I wanted a light tent for 2 people and was leaning towards the BA Angel Spring UL3, as I wasn't looking for an ultra minimalist option and liked the larger area especially for extended trips. However, I'm now thinking the tent I choose is probably going to be half 2p and half solo and am thinking it seems silly to lug around a 3person tent for solo activities. So I'm torn between the BA Copper Spur UL2, and the Angle Spring UL2 or UL3 as something that could do double duty as a 1 or 2p tent. Part of my issue is, while I am wanting to cut weight (my current and only tent is a 3p and weights 5.5lbs) I'm still tantalized by the floor space in the angel spring UL3... at only 4ounces more than the copper spur UL2 you get approximately 50% more floor space and still near vertical sidewalls which would be appealing for use with 2people



I realize the Angel spring series is pretty new and there is almost no reviews on them, but I'm curious if anyone has a first had comparison between the copper spur series and the angel spring series.
Best Answer
I don't have experience with these tents specifically, but I'll comment on the big difference I see - pole configuration. I'm a big fan of the X pole design over the more complex, multisized pole configs. They are easy to setup even in the dark, easy to repair, and just plain simple! When size and weight are relatively similar I'll go X pole all day long.
The big agnes UL2 would definitely be a good choice for 1 or 2 people. I have the UL3 and I use it for solo trips too...
love it
Familiarity:

I've used it several times
i really dig this tent. it was time to retire my Kelty Vortex 2 and go for something lighter yet freestanding. i find this tent to fit that bill wonderfully. the setup is easy. all the mesh is great. it would be nice if the mesh went a little lower so i could see out at ground level without sitting up, but no big deal. the interior pockets are fantastic and there are tieout points on the interior that make a great place for a mini clothesline to hang the socks at night. the way the doors are designed it makes it a little more difficult to get all the debris out in the morning when i turn the tent upside down and shake it out. also, along with the door design, i am careful that the door always falls to the inside of the tent otherwise it might take a knee in the dirt if it fall to the outside of the tent. i find that there is enough room for me and my girlfriend (and we're not snuggling in 80 degrees with 80% humidity!). the tent does indeed weigh 3lbs 2oz with all the included stuff but the footprint weighs 7.5 oz (on my scale) bringing the total to over 3.5lbs. not a big deal to me, but may be a deal breaker to others. the tent is great and i recommend it to someone looking for a freestanding lightweight tent.