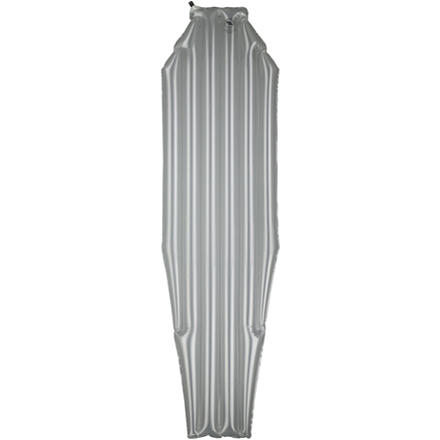 Shave weight and save space in your backpack, but don't compromise on sleeping comfort—pack the Big Agnes Clearview Mummy Air Pad. This super lightweight air pad rolls down to a mere couple of inches for easy packing. Yet you get to rest your body on 2.5 inches of airy comfort. Big Agnes made the Clearview from polyurethane for durability—it won't pop just because it grazes a twig or rock while you inflate it. Slide the Clearview into your Big Agnes mummy sleeping bag's sleeve, and enjoy a solid night of sleep under summer stars.
Still too early to tell, but...
Gender:

Male

Familiarity:

I've used it once or twice and have initial impressions
After receiving this I was pleased with the volume/weight of this pad. I was able to blow it up in less than 2 minutes (deflating another story). The material seems pretty "non-forgiving". I managed to put the pad inside of the gortex bivy cover surrounding my sleeping bag for some added protection from any protruding objects. After sleeping on it, I feel that it performed its job as intended. I am one that likes to sleep on my side, and by having the pad inside of my sleeping bag it causes for a little restriction while on my side. Overall it's not a bad pad for the money, and the size and weight of this unit really makes it a gem after a long day of hiking. The stuff sack it comes with is much bigger for a reason. Don't expect to ever get it back into it's original deflated size.



-Super lightweight

-Fairly small/compact

-Relatively inexpensive


Big Agnes Clearview Air Pad - Mummy
I first saw one of these used on an eight-day ultralight trip and was sure it was going to pop. Much to my surprise, it was actually my beefier, bulkier ThermaRest pad which got multiple holes in it as it was so bulky I had to carry it on the outside of my pack and it got dinged in the trees and rocks. One of the hidden advantages of these pads is that they are so small and compact that you can easily carry them INSIDE your pack, which protects them from getting punctured.



That said, they are pretty fragile, so you have to be careful about setting them up in sharp terrain. I like to pad mine with an empty backpack or some clothing. But, if they do puncture, they are very easy to repair.
I am thinking of purchasing this for a...
I am thinking of purchasing this for a winter (December) hike in the Smoky Mountain Nat'l Park. I understand it is not insulated and therefore a poor cold weather perfromer. However, I also plan to use a Z-rest under this pad, (my Z-rest doubles as my pack frame for my go-light race pack while also providing extra comfort). Would the Z-rest under and my sleeping back over provide the necessary insulation or would it still be a cold night of sleep?
I think the Thermarest z lite has a 2.6 R rating I would need more than these pad. I have the old version of the pad and a thermarest prolight plus. I use my thermarest and some insulation you can buy at home dopot (its like a windshield heat reflector but you buy it in rolls) together and it keeps me toasty. Just my opinion
10 days of abuse, no issues.
i used this pad on a 10 day backcountry minimalist dirt bike trip from salt lake city, ut -> jackson, wy.

i was a little worried to say the least, but it preformed great. packs down super small, weighs next to nothing, and is pretty comfy. totally sold on this pad now.
I went through 2 of these. They are amazingly small and light but once the welds give (both of mine had this issue) there's no repairing them.

They are awesome but kind of disposable.
Comfy with some drawbacks
Comfy pad. Could sleep on my side no problem. But, it is only made of thin plastic with no protection around it. I wouldn't trust it on a long trip. Also, there is no insulation. It is simply a blowup air mattress and the cold (or heat if it is the desert) comes right through. So, for a fair weather trip and if you bring something to patch it, it is a very comfortable lightweight option.
Regarding the Big Agnes Clearview Air Pad...
Regarding the Big Agnes Clearview Air Pad - Mummy--Item #BAG0129:
What's the best repair kit for this material?
thx
bob
Best Answer
Big Agnes makes a repair kit for their sleeping pads. I don't know if it is best or not for whatever type of leak you have but it should do the job pretty well.
The glue from our repair kit works. We have also found that Tear Aid Type A patches work really well for the Polyurethane material. Tear Aid is the brand and you want to be sure to get Type A patches.
The repair patches for the Platypus hydration bladders work, too.
How will this perform in the cold- is the...
How will this perform in the cold- is the lack of foam going to make this sleeping pad significantly less insulating than foam filled "self-inflating" pads?
Best Answer
Yes. Convection currents will make this a very poor-performing cold weather pad. BA makes some similar pads with thinsulate lining that are excellent in the cold.
Perfect for what i wanted it for, light weight summer pad that takes up next to no space in my pack. Clear, light and cozy. How could you ask for more?
Write your question here... Do you currently...
Write your question here...
Do you currently have in stock item number Bago 129 - Big
Agnes clearview Air Pad - Mummy - Regular size (20 x 72). I live in Salt Lake and need to find one prior to leaving on Sunday to climb Mt Whitney. Please respond today so I know if I can run out to your facility and pick one up. Much appreciated
Best Answer
In this situation, you'd be better off calling or live chatting customer service...
Great sleep for low weight
Just finished 25+ days on the Long Trail in Vermont with this pad. I have the 72" paired with the MH Phantom 45 bag. I'm a little over 6'.

This pad is different from other BA pads. It's made of a polyurethane vinyl rather than the standard nylon. I liked this because it would keep my sleeping bag in place, instead of twisting up like a telephone cord that I might otherwise get. It is actually similar to my BA sleep system, minus being tied to the pad if you want to sit up. Also, it doesn't feature BA I-beam construction. It makes the pad a bit more difficult to deflate (I found if I hold it up, roll it down till the chambers fill, fold it over and press air out, then repeating rolling, etc., is the easiest way to deflate) and less stable as far as the chambers rolling on each other, but it also means you have less to blow up. So those negate each other in my opinion.

As far as durability, this pad hasn't shown any issues. Since getting back home, I've washed it and didn't notices any signs of stress. Cleaned up really nicely, and didn't notice much prolonged moisture buildup from blowing it up on a daily basis out on the trail.

I slept really well on this pad, in comparison to others using 3/4 length thermarest pads. I could sleep comfortably on my back, side, or front without a problem. Worked well for temps creeping down into the low 40's and upper 30's at night.

The key with BA pads is to blow them up fully, lay on them, and open the valve. Deflate the pad until you're comfortable or just before you begin to touch the ground. This way you maximize the 2.5" of cushion.
I'm 5-10 & want lite. Will the short mummy...
I'm 5-10 & want lite. Will the short mummy work, or will it taper in before my hips.
The 60 will taper , I would go for the Regular 72"
Best Answer
While you can go for the 60", I found that 2.5" of cushion creates a big drop off. You'd most definitely want to put your pack underneath your feet to bring your legs up somewhat.
This thing packs down to almost nothing and could get lost in your pack! It is a little on the heavy side at 13.5oz with stow sack. I noticed some condensation from my breath after inflating. It could pop with a puncture but the comfort of an air mattress like this blows away an old foam pad!
Crazy light, still 2.5 inches of comfy air. Very thin material; probably won't last as long as others but boy is it light and a whole lot more comfortable than closed cell pads.
I'm a 6' minimalist, can i get away with...
I'm a 6' minimalist, can i get away with the regular or will i need a long?
Best Answer
You sure can! I have this pad paired with the MH Phantom 45 regular, and I'm just over 6'. They work great together.
BA ClearView Air Pad - Mummy -- WOW!
What a great product!! This pad delivers THE best night's sleep i've ever had in the back country. it is a wee bit heavier than my prior pads but it is well worth the 11 oz. for the excellent night's sleep. i really love the ClearView Air Pad!
just arrived...not tested
My BA Clearview just arrived, so I haven't field tested it yet...but I did want to comment on how thin the material is. It's THIN. Owners of this pad will need to be extra mindful about where this is used and take extra care when handling it in camp. If you use shelters, sweep the floor as best you can because I can see how any small foreign object could puncture this pad if you're not careful. It does not come with a repair kit, so I would highly recommend picking one up from your outfitter (or the pool float section of any major retailer.) I won't be going out without a patch and some cement for this.