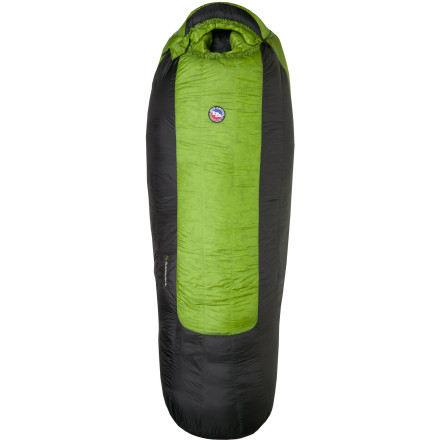 Oh, the joys of winter camping. To improve your experience and pique your interest in future chilly adventures, equip yourself with the Big Agnes Blackburn SL Sleeping Bag. This 0-degree down sleeping bag with Insotect Flow construction keeps you snug and warm when the temperatures dip into the single digits and the wind howls outside your tent.
Big Agnes Classic Series sleeping bags have no ground insulation and are meant to be used with a 20in (51cm) rectangular sleeping pad for optimum warmth
Slide your pad into the Blackburn's integrated full-pad sleeve, and don't roll onto hard, cold ground ever again
Insotect Flow construction eliminates potential cold spots, and its vertical baffles allow for a more uniform body heat distribution
The 800-fill goose down provides plenty of warmth, allowing you to get a good night's rest
Pertex Quantum ripstop nylon fabric feels silky smooth against your skin, breathes well, and has a low packing volume
A water-repellent coating helps to repel dew so you can sleep beneath the stars
No-draft collar seals around your neck to keep the cold air from sneaking in
Built-in pillow pocket stows your puffy or fleece
A 70in YKK #8 zipper allows you to mate together another left- or right-zip bag
Required Pad Size: [Reg] 20 x 72in (51 x 183cm); [Long] 20 x 78in (51 x 198cm)
Note: compatible sleeping pad not included
With the included stuff sack it is 9"x 9.5" for the regular length but you can get it smaller via an after market compression sack.
Never Going Back to Mummy Bags!
I bought this bag to take up Kilimanjaro in February. I have used traditional mummy bags in the past, and have always rolled off my pad or got tangled up in it. I tend to be a side sleeper and restless. I could lay on my side comfortably in this bag! Definitely pick up an insulated pad (if you are buying a 0 degree sleeping bag, you should get an insulated pad anyways). The water repellent finish also held up nicely with the condensation we had in the tent each night. It won't be my last BA bag!
Can a men's long and women's regular zip...
Can a men's long and women's regular zip together? ...or do they have to be identical bags?
Should be just fine providing you have right and left zippers. Won't necessarily match up perfectly at the top because of the length difference.
This bag is very nice, light and very warm...on the top half.I have slept 13 nights in it, and if you do not have an insulated pad you will literally freeze your butt off! The foot box on this bag is wider than most bags which is nice if you don't like your feet tied up and trapped. The zipper is nice, it will snag, but I haven't found a single no snag zipper sleeping bag that doesn't. As far as warmth goes, I have slept in 9 degrees in a BD Firstlight and ended up having to unzip because I was too hot. Great bag, BUY AN INSULATED PAD WITH IT!!
top shelf quality frm Big Agnes
the more I buy from Big Agnes; the more I like their construction, although I wish they made all of their products in the USA. I bought this in mid-spring thinking that I would possibly use it once prior to summer 2012. Never have used it yet until this fall 2012. I will follow up with a full review after my first use.

In examining the bag, I do notice that the loft of the down is quite high relative to the amount of down in the bag, meaning that they have stuffed it with quality down. the stiching and seams are tight. the down collar is shaped quite well at least for me anyways. The fit is roomier than other zero degree bags that I have seen, which is good for my body.

Remember of course, that Big Agnes does not place insulation material on the bottom of the bag, as you insert your sleep pad into the sleeve to act as your insulating pad. a great concept but it does require a pad that fits the sleeve. I have an older, larger Thermorest but my son has a newer Big Agnes pad so I have to use his pad to incorporation a pad into the Big Agnes System. I would not recommend using another pad if it does not fit ino the sleeve as your back would great chilled when you roll onto your side.

Overall, build quality is high with great material used in construction.
What is the difference between the Blackburn...
What is the difference between the Blackburn and BA's Pomer Hoit sleeping bag? Looking at the specs they seem virtually the same.
The difference is in the shape. The Blackburn is a semi-rectangular mummy bag. It will have more room to move around inside or stash things like water bottle and boot liners. The Pomer Hoit is a regular mummy shape which will heat up faster and keep you warmer because it has less air space inside.

Get the one that fits your needs.