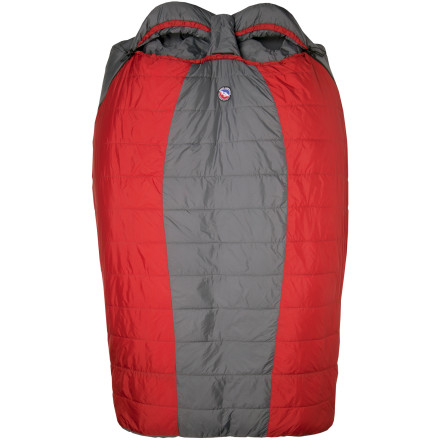 Community Images
Description
Camping's more fun with a friend.
Grab your honey and head for the woods. The doublewide Big Agnes Big Creek 30 Degree Synthetic Sleeping Bag takes care the two of you from spring to fall. A zipper on each side of the bag makes escape easy for either of you, and the extended height accommodates folks up to 6'2".
Big Agnes sleeping bags leave out the bottom insulation both to save weight and because insulation compressed by your body weight loses most of its insulating value
Note: bag requires two 20-inch-wide rectangular sleeping pads to be fully insulated (sleeping pads available separately); bag hold two pads in separate sleeves
The tough, outer nylon ripstop shell features a water-repellent treatment to keep the dew out
Soft, compressible M3 insulation insulates even when wet
Draft collar for each person seals around neck to keep cold air from sneaking in
No-draft flap in center eliminates gaps that can allow cold air in
Built-in pillow pockets keep your pillows or a fleece in place
Interior fabric loops keep your liner in place when you've added one to boost warmth
Honeymoon bag
Familiarity:

I've put it through the wringer
Bought this Bag for our September adventure to Yellowstone, Grand Tetons and Glacier National Parks. First night in Montana it was 24 deg, with winds in the 50 mph. Our tent was dry and we were very warm. We used Therm a rest pads and enjoyed a wonderful sleep. We stayed 3 to 4 days in the high country at each stop. The bag compressed really well with two people stuffing it in the bag. It is big and took every inch in our Marmot 3 person tent. Overall, this is our 3 third Big Agnes bag, love the quality and ease of using this bag
Finally can snuggle
Familiarity:

I've used it several times
Worked great for my husband and I, and we love that it has sleeves for the sleeping pads to slide into, so there isn't any crack you fall through in the middle of the night. Also love the pillow sleeve for sliding your fleece or whatever into. Was plenty warm on a chilly night.
The only thing I didn't realize is that we needed to also purchase a compression bag to minimize its packed size. It is pretty large without it.
What pad sizes work with this sleeping bag?
Pad sizes that work with each sleeping bag size:



Regular (Sleeping Bag - Users Up to 6'2''):

Two Sleeping Pads that are 20"x72" or 51cm x 183cm



Anytime you have a Big Agnes question, shoot me an email and I'll make sure to work with you 1-on-1!



Jared D.

Expert Gearhead

801.736.4336

jdowns@backcountry.com
How would this bag work with 20"x78" long...
How would this bag work with 20"x78" long pads?
Hey jjsp72421,



Thanks for your question.



According to Big Agnes they list the sleeping pad requirement at 2 - 20x72" pads. so if you got two of those 20" x 78" pads you should be good to go! reference: https://www.bigagnes.com/Products/Detail/Bag/bigcreek30 (under specifications)



I hope this helps.
Actually, 78 inch pads would be too long. They won't fit in the sleeve under the bag
Big AgnesBig Creek Sleeping Bag
Camping in the Naturalist Basin area, High Uintas! Love our Big Agnes Backcountry Bed!
Lovers perfect bag!
Familiarity:

I've put it through the wringer
This has to be one of my favorite pieces of backpacking gear! Big Agnes is known for comfort and that is what you will find in this double bag, very spacious and well constructed. This bag will last us a long time! The bag compresses great into my pack, just be sure to let the bag live in the storage sack provided when you are not using the bag. The sleeping pad sleeves are perfect, keeps your pad under you all night. I use a mummy pad while my lover uses the Big Agnes insulated air core, this set up works great together. We also have neo-air pillows that fit perfectly in the pillow sleeves! I could sleep on this set up forever, it's super comfortable!
Doublewide Sleeping Bag Series
The way to go
Gender:

Male

Familiarity:

I've used it once or twice and have initial impressions
For couples this is the way to go. Light weight and smart design. I actually prefer the no-pad back. The air core pads are plenty warm. you can be a side sleeper (like me) and still have total warmth. Pad sleeves are perfect and easily accessed, pillow sleeves are brilliant.
can you convert this bag into two separate...
can you convert this bag into two separate bags?
Great product! My husband and I bought it for our 50 mile trip. It was perfect. It kept us warm, was easy to use, just pull it out of the stuff bag and stuff it right back in when your done. I loved the pillow cases, made it easy to just stuff clothes in and use for a great pillow. I would highly recommend it.
Which compression sack is best for this...
Which compression sack is best for this bag?
Stuff size is 9x10, according to BC. Check out Granite Gear, Sea 2 Summit or ALPS Mountaineering stuff sacks here on BC. A Medium or a Large should work.
How thick of a sleeping pad can I fit into...
How thick of a sleeping pad can I fit into the sleeve? I want to spoil us and buy two 1.5" or 2" thick pads, but don't want to shell out the cash only to find it doesn't fit.
they both fit fine ou will be all good with either size.
I put the big Agnes 3.5 inch thick mattress in the sleeve with no problem.
I used the Big Agnes Q core pads with this bag. (The pad is 4 inches thick!) They fit successfully, but it just took a little more effort to get them in when they were fully inflated, compared to like the Exped, which has a thickness of 2.8 inches. Anything in the 2.5 inch range slides in super easy.
We have the larger Exped 7 deluxe pads...
We have the larger Exped 7 deluxe pads that are 25" wide instead of BA 20" wide. We lash these together with a Thermarest coupler and I wonder can this double wide bag be used just laying it on top of our 2 mattresses without putting them in the sleeves since I doubt they'd fit.
Best Answer
Yes, I just used my BA bag on top of a large air mattress in my back of my truck 2 nights ago. It worked fine.
If you're not going to put the pads inside the sleeping bag sleeve, I'd suggest looking into different sleeping bags (perhaps cheaper ones), like the North Face Dolomite double!
Should I go with the mummy style pad or...
Should I go with the mummy style pad or the basic rectangle?
Best Answer
A pair of 20" rectangular pads is what you want for this bag.
I use one mummy and one (dual core) rectangle. My lady is smaller so the mummy fits her fine, it saves on weight and gives me options when going solo.
The Big Creek sleeping bag was everything promised and more. I was impressed with the quality construction, the bonus cotton carrying sack (a bit bigger than the included stuff sack), and a few features not mentioned in the website. Plenty roomy for two, and at 6'2" I fit fine.

Don't be shy of the no-stuffing-in-back design. When used with the Big Agnes Air Core pads, it worked brilliantly. There's even a small window sewn in so the pad inflation nozzle is accessible without removing it from the pocket. No sliding around, no falling off the pad, no sleeping bag twisting around your feet.

We were toasty on our first 40-degree night, and this summer-weight bag stuffs smaller than our two previous bags combined. Nice.

One glitch: the drawstring that tightens the hood pulled out in the first five minutes of use. :-( Everything else seems fine and I love this bag too much to return it, so I stitched the drawstring back into place myself.

I recommend sticking with Big Agnes Air Core pads. They're a perfect fit and a quality product themselves. Glad I got 'em.
is this one pouch or 2? basically want...
is this one pouch or 2?

basically want to have sexy time in this, will that work?

to quote the GF - "I don't want to have sex through a hole in a sheet... like the olden times"
Best Answer
Full contact sport for this one, Chris. What you're seeing that makes it look like two separate pods is the no-draft flap with a velcro closure.
In my experience, this'll be way too warm to be inside, and if you're on top of it it doesn't make a difference. But should you choose to go for it, this will not be the limiting factor.