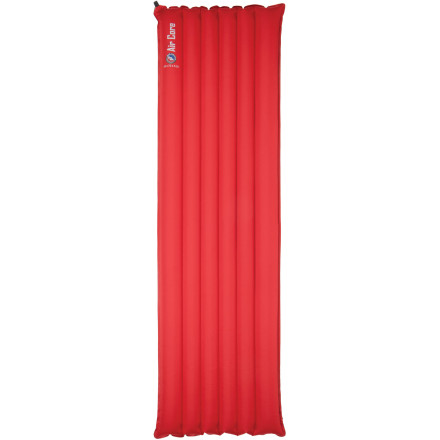 Colors

Videos

Community Images
Description
Lightweight, compact, and ideal for warm-weather camping.
Charge into the wild with the Big Agnes Air Core Sleeping Pad, save ounces in your backpack, and sleep like a baby. I-Beam baffles make this air-insulated pad easy to inflate and capable of providing the utmost support, even at rocky campsites. After a restful night of sleep, just open the air valve on this three-inch-thick pad and you'll be able to pack the Air Core down to the size of a large water bottle—more room for snacks in your bag never hurts, right?
Nylon material makes this pad highly resistant to punctures and abrasion
Rectagular shape gives you the most sleeping space available and makes it hard to roll off your pad
I-Beam design reduces cold spots and ensures that this pad will inflate and deflate quickly
Self-inflating construction uses a durable inflation valve and an internal polyurethane coating that helps air move quickly and efficiently inside
Pad easily slips into the pad-sleeve of compatible Big Agnes sleeping pads
Includes a stuff sack and a repair kit
Does the Job for the Price
Familiarity:

I've put it through the wringer
I got this pad a year ago. In hindsight I wish I would've bought the insulated version. On the first night using the pad on a cold rainy night "car camping" it decided to not keep air- no holes, no punctures- needless to say it was a cold uncomfortable night.

Called BA next day to replace it, they were awesome with customer service and ended up sending me a new one.

Since then, I've used it countless time as part of my Big Agnes sleep system. and I'm happy with it, although it takes a LOONNNGG time to inflate but once it is inflated it holds well. I do love how compact it can be and how light weight. Over all for its price, weight and comfort and packability I recommend it
We camped on these mats for 5 nights and absolutely loved them.

We never had them go flat on us or loose any air. We slept so comfy on them. They are a little noisy, but too bad. They do take about 4 minutes to inflate. At sea level, it wasn't too hard to inflate. I'm sure it could be a different story at high elevations, but it was worth all the effort, because I slept great every night. Even when we slept on ground that had bumps and rocks, I didn't feel a thing. I was very impressed. I have back and neck trouble, but I was able to sleep on my back or side like normal and my neck and back felt good the whole trip.

I love that even though we got the larger size, they are still light and compact. It was important to use because we had to pack these in a suitcase to take on an airplane. But the larger size was worth every penny. I tried out my brothers regular size and I knew that wasn't going to cut it.

The wide long mat gives you plenty of room to rest your arms at your sides, and your head and feet can both stay comfortably on the mat.

I don't think we will be doing much cool weather camping, so it didn't justify springing for the higher priced insulated mats. I did stay warm enough, though, even when the temp got down to the lower 40s on the coast. I know they will be great for warm weather camping!
fractured ribs - slept great
Familiarity:

I've used it once or twice and have initial impressions
I jumped off a 60 foot cliff and cracked some ribs, then proceeded to test out my Big Agnes sleeping pad the next night. It's the most comfortable pad ever, slept in extra late even! The only thing I don't like is it's really difficult to deflate - haven't figured out the best method yet as the chambers hold air separate from the valve chamber. Advice welcome. Also inflating is difficult (but worth it!!)
Comfy!
Familiarity:

I've used it several times
This is a great sleeping pad at a great price. Its plenty thick to provide great comfort all night. A couple small drawbacks are that its kind of noisy, it never bothered me personally but it will be your personal preference in the end. Its also not self inflating but is pretty easy to blow up quickly and deflates quickly and packs small as well.
Great sleeping pad!
Familiarity:

I've used it several times
This sleeping pad is great... super thick and easy to pack in. I use it for backpacking as well as car camping. Most of the sleeping pads I have used in the past have been the self inflating kind. This pad has to be inflated and at times when I'm at high altitudes it's not the most fun to use what little oxygen I do have to blow up the pad, but it's totally worth it. It is super comfy and is pretty well insulated. Keeps away the rocks, bumps, uneven and cold ground from my sleeping. I would recommend this pad to others and would buy it again if I'm in the market! A definite must for a comfy nights sleep in the backcountry or the back of your car :)
It's pretty good.
Familiarity:

I've used it several times
While there are certainly better quality pads and more comfortable, this pad will get the job done. It's comfy enough to get me through a few nights and the material is great. Though if you're going to be using this pad often, I would suggest moving up in the spectrum of pads and going with something a little better. Regardless, it's a great sleeping pad
perfect substitute for a bed
Familiarity:

I've put it through the wringer
I am 5-8 and 140lbs and I sleep on this every night. It is a little too short to lay flat and a little too narrow to curl up, but other than that it is lovely. Super comfortable, holds air very well. Every 2 weeks or so I put another breath of air into it. Folds up very very small. Durable material and comes with a small patch kit. Would buy again in a heartbeat, maybe just one size longer!
4 years and still going
Familiarity:

I've put it through the wringer
I bought mine about 4 years ago and it's still trucking. It does lose a bit of air throughout the night these days, but I've never had to patch a hole, and I've used it in the desert, mountains, woods, and music festivals sleeping on everything from rocks and gravel to sticks and dirt without any problems.
Failure x 2
Familiarity:

I've put it through the wringer
I've put my trust in the AirCore Insulated twice. Yes, it's a comfortable mattress & packs small - as long as it stays inflated! With both AirCores, dozens of pin-holes appeared at the one end of the mattress. Certainly too many to patch ! Both times, the matress' were approx 18 mos old & used about 12 times. Certainly NOT worth the investment!
No good, didn't even last a week.
Familiarity:

I've put it through the wringer
First week out in the Kings Canyon Wilderness and this mat goes flat during the night. New out of the box only worked for 3 nights.
Didn't Hold Up
Familiarity:

I've used it several times
I purchased this item for a cross-country-and-back motorcycle trip on which I did a lot of camping. For the purpose of traveling light, the great thing about the Big Agnes is how small it folds up; it really can fit inside a water bottle. I am a side sleeper and this pad also did a reasonable job of keeping me comfortable and keeping my hips intact on both hot, cold, rocky and sandy nights. I am 6'0", 210lbs and, while it is fairly narrow, the regular size was fine for me. As I said, I'm a side sleeper, so the narrowness wasn't a huge issue,



The downside was that, after only 7 or 8 nights, two of the baffles within the pad gave way. This caused the I-Beams to merge and create a few spots of giant air pockets, instead of a uniform surface, unbalancing the pad and rendering it more or less useless. While it stole holds air, it can't be slept on. Bottom line: this is a great pad IF it doesn't break. I would give it another shot if I am able to exchange it, but the long-term durability is questionable.
keeps your hip bones off the ground
Familiarity:

I've used it several times
I've slept on this several times on the bare desert floor, setting up in the dark, so who knows what was underneath me. No leaks yet, and it pack up nice and small.
Air Core Pad will make your butt sad
Familiarity:

I've put it through the wringer
After about 50 uses the material simply will not hold air. It is seemingly an amazing pad but is a bad choice for a long term investment.
Incredible
Familiarity:

I've used it several times
For how much this inflates and comfortable it is I can't believe how tight it rolls and packs up for storage or hike ins! I have a Big Agnes sleeping bag this pairs with this incredibly, sliding right into the sleeping bags sleeve on the bottom of the bag. Air valve even feels well built and is a breeze to inflate/deflate.



Purchased one LONG for myself and a PETITE for my 4 year old son. Both of us were happy campers!
Awesome Comfort
Familiarity:

I've used it once or twice and have initial impressions
I got the Lost Ranger Sleeping bag and this sleeping pad (long). I used it in the back yard (trial run) and then a 3 night backpacking trip. I'm almost 6'3" and thin, but I could sleep on my back or sides with this pad. It is a bit noisy as others have said. I would buy again if anything happened to this one!
Good, Small, Light
Familiarity:

I've put it through the wringer
I like this pad a lot. I've bought 3. This was my first pad, and I really loved it. It was stolen along with the rest of my pack. Then broke, I bought it again, and then I gave one as a gift. This pad has treated me well and is very nice to have in the backcountry. My one complaint is that it is terribly noisy. I roll a lot and one of my friends actually refused to share a tent with me and that pad. The long baffles tend to rub on the ground and make a bad farting noise..... all night long. I have upgraded my pad to the Nemo Astro isolated pad (which is really a great pad if you're willing to spend the cash). If you're on a budget, this pad is great and very comfortable, just not for light sleeper.
This is great how small it packs down! Its about the size of a Nalgene when packed up, which is great for saving room when every inch counts! Its very comfortable and easy to inflate. after about 2 minutes of inflating its ready to go. Great product for a great price!
Big Agnes Air Core Pad
Familiarity:

I've used it several times
This is the first sleeping pad I have owned so far and I love it! I used it for a 3 night camping trip and I was surprised at how comfortable it is, another awesome thing about it is the fact that you can easily roll it back into the size it was when it first arrived, and it doesn't take long to air it up either. It doesn't weigh much at all and I will definitely be using it for backpacking trips this summer.


Tough light and comfy
Familiarity:

I've put it through the wringer
I love how compact this pad gets. For its trail weight it is amazing how much comfort you get. I have purchased several of these pads for my friends and family and not heard of one having an issue.
Packs small and comfy for side sleepers
Gender:

Male

Familiarity:

I've used it several times
Rolls up small. Not the lightest but I am more a comfort over speed kind of guy these days. Inflates easily and stays that way. The only complaint would be it's kind of squeaky with my bag. I toss and turn a lot and it's loud. But I doubt many would even notice that. For the size, performance and weight, this is a top pick.