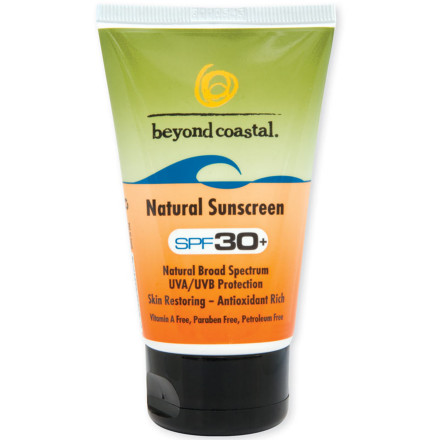 Your skin is your largest and most sensitive organ, so instead of slathering some random .99 cent grocery-store sunscreen full of who-knows-what on your face, cover it with Beyond Coastal's Natural Sunscreen SPF 30. Aside from protecting your skin from harmful UVA and UVB rays, this sunscreen is also fragrance-, oil-, and paraben-free and comes with natural ingredients to keep your skin looking and feeling well-nurtured.
Formulated for sensitive skin and often-exposed areas like the face, neck, nose, ears and around the eyes
Natural, oil-free formula won't clog pores
Helps rejuvenate skin after a day in the sun with natural ingredients like aloe, shea butter, and rose-hip extract
Antioxidant-rich formula restores the skin with anti-aging ingredients like cocoa butter, while grape seed and algae extracts combat free radicals
Vitamin A and pro vitamin B help restore skin elasticity
What do you think about this product?
Have questions about this product?
I love this sunblock. It is hard to find an effective all natural sunblock like this one. I have tried many other brands, and this is the stuff for me. You do need to reapply many times to keep it effective, and it does make your face stubble look funny, but who cares right? I'd rather have a little ghost face going on than be putting toxic chemicals on my face. Yay for Beyond Coastal!

I have used this snowboarding for the most part. Haven't tested it swimming, but I bet with the right amount of reapplication, it will rock.

Oh yeah, it smells good too. Makes my nose tingle.
Excellent screen that does not burn the eyes when sweating on the bike. Good long lasting protection for long exposure in the sun. I wear this everyday during the summer and when on snow in the winter.
Ride On.