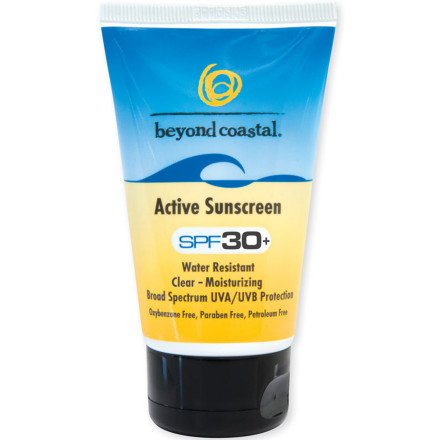 Whether you're snorkeling the Great Barrier Reef or shredding champagne powder, the Beyond Coastal Active SPF 30 Sunscreen protects your skin from the sun's wrath. This sunblock cream blocks harmful UVA and UVB rays with a wide spectrum of UV absorbers. The Active Daily SPF 30 Sunscreen is oil-free, hypoallergenic, and nourishes your skin with vitamins A, C, and E, so it's great of everyday use.
Never thought I'd write a review on a sunscreen. Recently ran a 100Km race in major sun and heat. Was in beating sun and high humidity all day. I put this on in the morning. It absorbs easily and is not greasy at all. No scent to it and it doesn't really feel like you have anything on. Late in the morning I reached in my pocket to reapply and was distressed that I had forgot it. So I was sweating like crazy, dunking myself with water whenever possible to keep cool, all the time with the sun blaring down. Race took me all day and I had no trace of a burn anywhere! Pretty incredible - specially since I was coming from winter in a cold climate.
Incredible sunscreen for athletes. Easy to apply, great protection, good size, completely dependable. Just brought a small tube of the 30 on the Grand Traverse in WY and use it for ski tours most days of the winter and it does the job. Minimizes the impacts of the sun and allows you to do what you love all day long outside.
I've been using this stuff on and off for the last year now and it goes on easy, doesn't smell, minimal residue on my hands, and no visible traces of it after I've rubbed it in. Great product and keeps me from getting torched in the hot Utah sun, month after month.
I use this sunscreen everyday that I go skiing, snow or shine. It does not sting my eyes when I start sweating on the skintrack up and does not feel like gross and oily going on. Also it costs much less than any comparable product I have found. Could not be happier with this product.
no chemicals, no watery eyes, no brainer
good organic sunscreen for cheap. it goes on easy and it's not sticky. this is a no brainer.
Finally a sun care product that doesn't feel oily and nasty. I ski every day and this is by far the best product I've tried in the sun. and to make it even better, it doesn't smell like crap, it has no parabens and it is filled with ingredients to actually treat my skin with care. I couldn't be more happy with the amazing feel and quality ingredients in this awesome product!