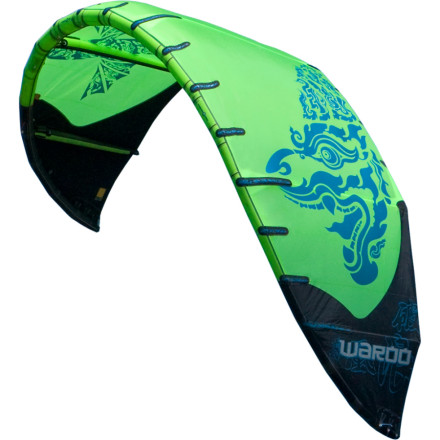 Community Images
Best Kiteboarding redesigned the new Waroo Kite to be even more versatile and perform better than its extremely popular, best-selling inflatable predecessor. The 2010 version now features the Delta wingtip design, Twister Tech, Flat Pack LE barrel seams, ABC Auto-tune, and canopy framing technology.
Delta wingtips (new for 2010) provide high level of performance with easy control; very versatile design for many styles and abilities (from advanced to newbies)
VP3 bridle system uses a dual pulley set-up to quicken depower as well as wingtip bridle lines to enhance control of the kite during power-up and depower
ABC Auto Tune uses new line attachment points to let you dial-in the ideal setting according to riding style and conditions to get the most control and stability
Twister Tech equipped leading edge delivers faster turn initiation and holds tighter turns thanks to more kite canopy surface
Canopy Framing Technology (CFT) uses stronger cloth reinforcement where the struts and canopy meet to add strength but not weight
Laser-cut 3D KEVLAR® airframe on all leading edge strut joints and reinforced KEVLAR tape on joints over entire frame for maximum strength and durability
Flat Pack LE barrel seam construction uses overlap-free construction between the fabric segments to create stronger, stiffer seams and higher load capacity canopy for more durability and responsiveness
Surf Tough build quality means you get a durable kite for use on land and in the water
I have a quiver of these (7m,9m and 11m) and have to say that the hang time and the speed are great!

They take getting used to coming form the older Waroo.
The feeling is different but much better low end and faster in the window and up wind too.
Bar throw is super short and kite has good wind range.
needs some wind to work!
probably not a great beginner kite
when its says it needs 11 kts to fly it needs at least that if not more 13 in teh water. the kite does have a good adjustable setup and i have never had a problem with the pulleys fowling. could use a little more depower especially since im quite worthless on it. speaking of which, anyone know of a good place to get a lesson in lakes country Mn, Detroit lakes FM area? im thinking probably snowkiteing this winter... im a bit tired of getting dragged around the lake and im told snow is easier