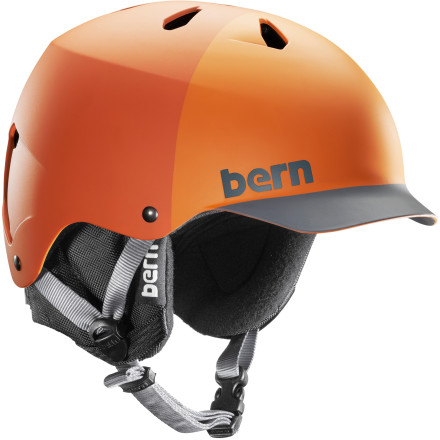 Detail Images

Videos

Community Images
The Bern Watts Hard Hat Helmet has you covered all year. The removable liner allows you to adapt the Watts to changing weather conditions, so you'll be rockin' it in the skatepark in the summer and the terrain park in the winter.

The Watts starts with Bern's Hard Hat ABS hard shell. Bern then adds a liner of soft, moisture-wicking Brock foam. It's designed for multiple lower-impact injuries, making it ideal for mastering new moves in the park. Bern's Signature Shape allows the Watts to be up to 35% lower profile than standard snow helmets, and the ergonomic fit means it fits around your head instead of perching on top of it. Of course, you also get the inimitable style that this original visored helmet dishes up without looking like it's trying too hard.

The Watts isn't just about style, though. All told, the Watts weighs just 17.2 ounces and fits like a glove, so you won't be thinking about your helmet while you shred.
Hard Hat construction
Brock Foam low-impact liner
Classic skate styling
Up to 35% thinner than traditional winter helmets
Up to 14% smaller front to back than traditional winter helmets
Brain Bucket For the Win!
Familiarity:

I've put it through the wringer
long story short, i would be dead today if i wasn't wearing this helmet. This helmet will do exactly what its supposed to, no more no less. The only things i would change about this product is its kind of bulky (probably just because i have a fat head) and my helmet doesnt fit my head properly (Also might have to do with my large cranium or the many falls that I've taken, i don't blame the manufacturer) other than that its an awesome helmet, would recommend for any skier/boarder in between beginner and advanced range!
Round Two
Familiarity:

I've put it through the wringer
I've moved onto my 2nd Bern Helmet and I don't think Ill ever wear another kind. I love the hat in the helmet. Keeps my ears warm and its not stiff and bulky like other helmets.



I wear a Medium in this helmet. I didn't realize how packed out my old one was until I purchased the new one.



My favorite thing about this brand is the fact that it doesn't feel like its just sitting on top of my head. It fits around mt head and just feels like part of me instead of a foreign object plopped on the top of my head. I really like how far it comes down on the back of my head too.



Love the brim. It keeps snow off the top of my goggles and allows them to continue to vent and keep my lens clear.



Two thumbs up!



Let me know if you have any questions!
Does the standard knit that comes with this helmet have slots for me to add my own speakers to it? Or will i have to buy one the speaker knits for this helmet?
This helmet runs small if you have a bigger size head. It also looks funny if you have a wide neck or bigger ears.
Good Helmet, Get the right size!
Familiarity:

I returned this product before using it
This helmet was good; I liked the quality and look of the helmet. I did return it before full use though. This is more my fault, make sure you get your size right mine was just a tiny bit to big causing it to sit too low on my goggles and was not comfortable for me. Also after buying an Anon Helo, I realized how much heavier this helmet is. Over all still a great helmet just gets the right size.
How does the sizing work for these Bern...
How does the sizing work for these Bern Watts line of helmets? I currently have a snowboard RED helmet and it says 57/59 M that fits perfect but I don't know what size that would translate to the Bern helmets.
Hello Collin Kadlec,



Thanks for your question.



The 57/59 for your RED helmet in a medium represents the centimeter measurement for the circumference. I have cross matched RED with Bern to confirm that and the Bern size you will want to look for is a Large (57cm - 59cm)



I hope this helps you out with choosing a size in the Bern helmets.
DIG IT!
Familiarity:

I've used it several times
Very pleased with this piece so far. Tried it out with the winter liner + goggles underneath and the look and feel is solid. Put it through some MTB the other day too w/o the winter liner and loved it.



Very lightweight feeling helmet to me (at least moreso than my POC), love the brim (to hide gaper gap + a bit of sun protection when summer styling it) and the fit for MTB was also perfect. Fit true to size, light, no pressure points or irritation spots. System for removing liner was a plus (another complaint with last helmet was over continuous back and forth, lost its seal on the edges and no longer worked for winter time).



Definitely the best if you are looking to avoid the "big head" mode look or have issues with your gaper gap. Also just a great helmet with a tight look.



Note, the Hard Hat isn't rated for HIGH LEVEL impact so go to the EPS if you need/want that. This is my everyday helmet. will use riding my roadbike around town as well.



Pic/Vid to follow (once it has some love).
Bern Watts Hard Hat Helmet
Bern Fit Video
Familiarity:

I've put it through the wringer
Fit is Key