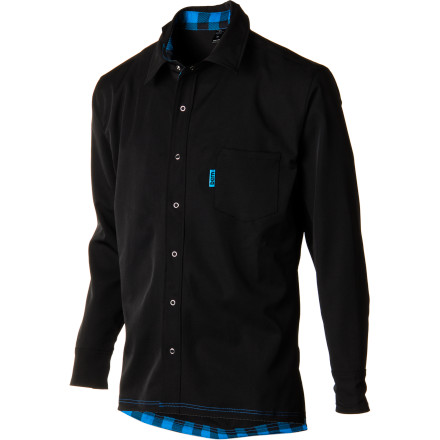 Detail Images
Not every mountain ride requires body armor reminiscent of football, limiting your mobility. Before you start crashing, throw on the Bern Spine Protector and Jersey for comfortable protection from trail hazards. Although looking good isn't on the list of requirements for body armor, the jersey and spine protection system give you the coverage you need and style that will keep you looking good when you bounce back up.
The spine protection piece is made from lightweight Brock foam padding and is designed to move with the contours of your body. The padding is integrated into a comfortable PVC microshell vest for better moisture transfer and ventilation. A dual strap lumbar support belt brings the padding close against your body and adds more support to your lower back, and a removable tailbone piece gives you the option of more protection. Silicone grippers on the vest hem keeps it from riding up, and the discreet Outer Jersey makes you look less like a transformer when you have body armor on under it. A six point snap system brings the vest and the jersey together.
Since your outdoor activities don't end when muddy trails turn to groomed tracks, Bern has made the entire three-in-one protection system line multi-seasonal. The Spine protector and Jersey will still protect you during the ski season as you blow through sidecountry powder stashes.
The Bern Spine Protector Jersey Combo comes in two color options, Black Plaid and Army Green. Sizes run Small/Medium, Medium/Large, Large/X-large.