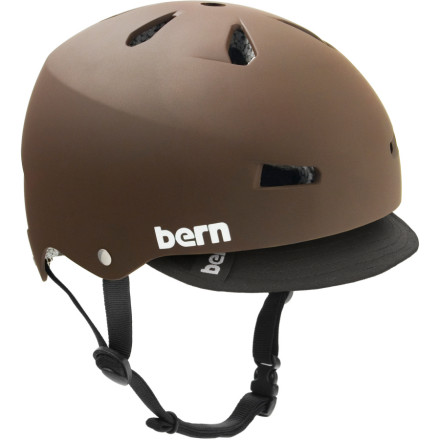 Detail Images
Description
More comfort with less fuss
Riders who get after it in every season, on any surface, need the tough-as-nails Bern Macon Helmet. The Macon's clean lines and durable construction are enhanced by a removable visor that provides shelter from the sun and precipitation.
High-impact ABS shell wraps over the EPS foam liner for extra protection

Sink Fit features a low-profile configuration so the helmet fits around your head, not on top
Accepts Bern snap-in liners to convert to a cold-weather helmet
Share your thoughts
What do you think of the
Bern
Macon Helmet w/Visor
? Share a...
A few weeks ago I ordered a Bern Brentwood Helmet with the visor and it's awesome. First I ordered the helmet in red and size L it arrived quickly but was too small. It was returned at no cost to me, another helmet was ordered in matte black in size XL and it fits perfectly. I've biked with it several times (thank goodness for great CA weather)and found it very comfortable, secure and cool looking. It's great to feel safe on the road.
Killer Skull Bucket
Familiarity:

I've put it through the wringer
I almost went with a medium because i wanted it to fit snug and my head measured 22 even. I went with the large because i wanted to fit a beanie under it for colder riding and it turned out perfect. I use it to snowboard and bike to and from work and for both its perfect. It is super light weight and easy to adjust. It has a little velcro pull tab in the back to adjust how tight the liner is and that works super well. I will have this helmet for a really long time.
The Macon is a the best helmet I have ever owned (also the only)
I bought the Macon for commuting on my bicycle. Most things make me look like a doofus, but the Macon does not. Mine is gray. I like it. In two months I have gotten two and a half compliments about it. The half-compliment was a woman telling me that she didn't like traditional road-style helmets. She didn't say that my Macon looked better or anything, so I counted it as half of a compliment. The other two were real compliments, also from women, about how good I looked in the Macon. I am a man (despite what my girlfriend yells at me through the bathroom door), so other men who buy the Macon can also expect flattery from the fairer sex. Good-looking women who wear the Macon will remain good-looking, but I can not speak to the Macon's effect on plain girls. I have a hunch they will remain of a homely persuasion. I forgot to mention that the Macon is comfortable, so here goes. The Macon is comfortable. Also, I got hit by a car the other day, but the car did not hit my head nor did my head hit the ground (I have excellent reflexes), so I can not yet report on the Macon's life-saving abilities. If I never update this review with more information regarding said life-saving abilities, you can assume that (1) I have become an even more attentive cyclist or (2) that the Macon gets zero stars in the life saving department. To recapitulate:
The Macon has sex appeal but will not correct unsexiness; the Macon feels good when I wear it; the Macon will theoretically protect your head in a crash.
Hannds down the Bern Macon is the most versatile helmet out there. Biking, Snow, Skate... your covered. The Macon complies with all those fun industrty safety standards so you know you can rock n roll with this lid on your dome. The Sink Fit feature from Bern always provides a great fit and the visor on the Macon keeps your vision true and style in check.
It is a very comfortable and stylish helmet. I use it for both commuting on my bike and skateboarding and it is perfect for either activity. in addition you can purchase a winter lining and use it for skiing and or snowboarding as well which i plan to do once i start riding this season. I would also like to point out that hucknrolls sizing guide was spot on, shipping was free and the helmet was at my door within 3 days of ordering. The price is also the lowest i was able to find as two local bike shops wanted 75. so in summary, buy this helmet and buy it from hucknroll
read the fine print.
this helmet is advertised here as coming with the Brock Foam.
Unfortunately, it shipped with the standard EPS foam. So if you are after EPS, great.
If you are after Brock Foam, look elsewhere.
Can the Berm helments be used for water...
Can the Berm helments be used for water sports, i.e. wakeboarding and kayaking?

Thanks.
Yes, Bern's helmets with the Brock foam are multi-sport/multi-season. You can take this thing in the water, biking, skatepark, snowboarding etc... I wear mine on short walks, you never know right?