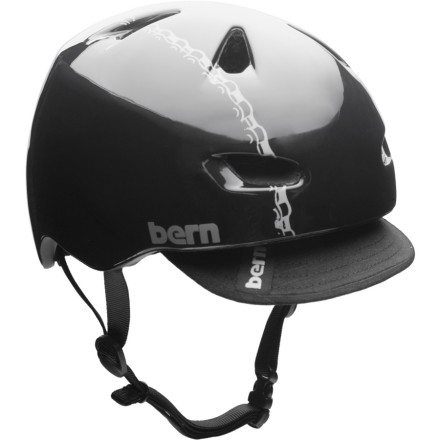 Detail Images
Envision a helmet that doesn't make you look like you have a gargantuan melon on your head riding. That helmet is the low-profile Bern Brentwood Helmet with Graphics, and you'll be taken back by its super-light weight and multi-sport usage.

Zip-mold technology uses a liquid injection method that fuses high-impact foam and a tough polycarbonate shell to protect your noggin
Sink Fit features a low-profile configuration so the helmet fits around your head, not on top
Two custom-fit goggle clip locations let you decide
Air channel design provides ventilation and expels heat for maximum comfort
Molded eyewear channel ensures a comfortable and unobstructed fit with goggles or sunglasses
I had to get the XXXL. Good stuff.
Familiarity:

I've used it once or twice and have initial impressions
I have a large noggin... 7 5/8 if I recall correctly but the XXXL is what my head fit best. The XXL was just a bit too tight on my head. I like the depth of these. It doesn't look like a mushroom cap on my head. It came with a visor on the padded headband. I know I could order a headband without the visor but instead used a knife to start the removal of the row of stitches holding the visor on. A good solid pull took it the rest of the way off. The removal didn't damage the headband.
Unanswered Question
I was wondering if wearing goggles interferes...
I was wondering if wearing goggles interferes with the sun visor. Or would I have to buy the other non visor liner in order to use googles?
I had no idea a helmet could be this comfortable...Feels true to size..I wear 7 3/8 and 7 1/4 fitted hats, and size Large fits perfect plus the helmet is adjustable.. Great Peripheral Vision, Doesn't feel like a mushroom on your head, Well Ventilated, Comfortable, Lightweight, Full Head Protection...BIG THUMBS UP!
Is the graphic a sticker or is it part of...
Is the graphic a sticker or is it part of the finish? Thanx!
Hey Dee,

Part of the finish.
Best helmet I have owned!
I love this helmet! All these years of bicycling I have worn helmet's that sit on top of your head and you always know they are there, plus they don't really offer protection for the back of your head. This helmet fits so good you will think you are wearing your favorite hat. I liked the Bern Brentwood so well, I also bought a Bern G2. You won't go wrong with this helmet.
Needed some modifications
I got this helmet for riding in the city during the winter and so far it has proven to be warmer than my road helmet. Very comfortable fit and you easily forget you're wearing it.

I ride a rode bike and in the forward riding position the pad on the back makes the helmet tilt forward over your eyes. I took that off and ended up taking the adjustable support as well. It still doesn't move at even if it is unlatched.

Awesome helmet, just know that if you are not in an upright position while riding the padding in the back effect the way it sits on your head
Bern Brentwood Helmet - Mostly Awesome
The helmet is really comfortable and looks awesome! The visor keeps some sun off my face, it stays cool, doesn't shake around on my head and and most importantly it doesnt feel like I'm wearing a giant stryofoam box. I would give it 5 stars but for some reason the top of the helmet has a bunch of dimples...like someone thumped it over and over with a mini-hammer - which isn't cool.
These are great helmets. There light, look good and fit low on your head rather than on top of your head. Mine looked just slightly crooked on my head though. I only noticed it when I first got it and was checkin my self out in the mirror. Could be my head too! I like that you can change liners for winter and it is made for more than one sport. I bmx, mtn bike, snowboard and skate a little. It seems like it is hard to find the liners though. I will need the winter one soon, and the goggle clip also. Sick helmet though!