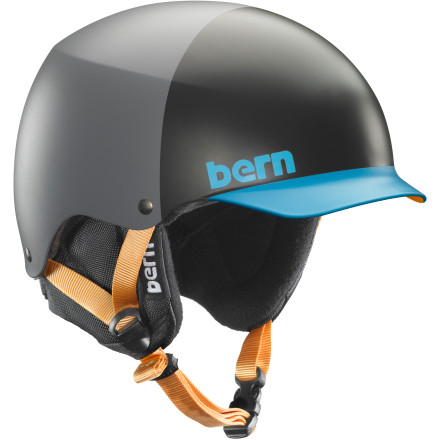 Videos
The Bern Baker is something of an icon in the ski and snowboard industry. it was one of the first helmets to use classic skateboard style, and has survived a laundry list of imitators. This is the one that Seth Wescott was wearing when he won not one, but two gold medals. As far as qualifications go, we'd say that's a pretty convincing one.

The Baker starts with Bern's Hard Hat ABS hard shell to make the Baker a true multi-impact helmet. Bern then adds a Brock foam liner, which allows the Baker to be up to 35% lower profile than standard ski helmets. You won't ever be mistaken for an old-timey deep sea diver in the Baker.
The Baker isn't just about style, though. All told, the Baker weighs just 17.9 ounces and fits like a glove, so you won't be thinking about your helmet while you shred. Except, of course, when an admiring rider tosses you a compliment. And, unlike other helmets, you can take the liner out when it warms up for spring-ski comfort.
Hard Hat construction
Brock Foam liner
Classic skate styling
Up to 35% thinner than traditional winter helmets
Up to 14% smaller front to back than traditional winter helmets