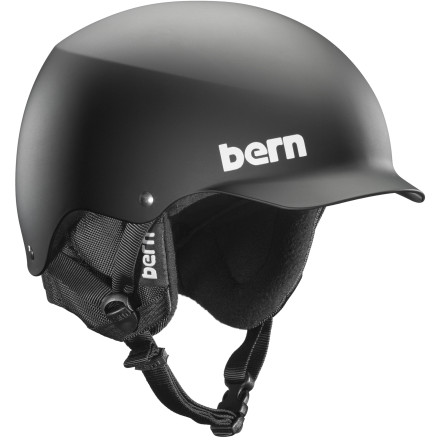 The Bern Baker EPS Visor 8Tracks Audio Helmet comes with Bern's 8Tracks audio system, which makes it easier than ever to listen to music from your phone or MP3 player while you shred. The Baker 8Tracks Helmet is shred-ready and currently taking calls.

The Baker starts with Bern's Thin ABS hard shell and then adds EPS, a lightweight, one-time-use foam that evenly distributes force and gives its life to save yours in the event of a high-impact crash. Bern's Signature Shape allows the Baker to be up to 35% lower profile than standard snow helmets, and the ergonomic fit means it fits around your head instead of perching on top of it. And, unlike other helmets, you can take the liner out when it warms up for spring-ski comfort.

The liner of the Baker EPS 8Tracks Audio Helmet has the Bern 8tracks audio system built right in, so you can just plug your iPod, MP3 player, or phone directly into port at the back of the liner and listen to music through the speakers integrated in the earflaps.
Thin Shell construction with EPS foam liner
Up to 35% thinner than traditional winter helmets
Up to 14% smaller front to back than traditional winter helmets
Micro-adjustable custom fit
Integrated 8tracks audio system