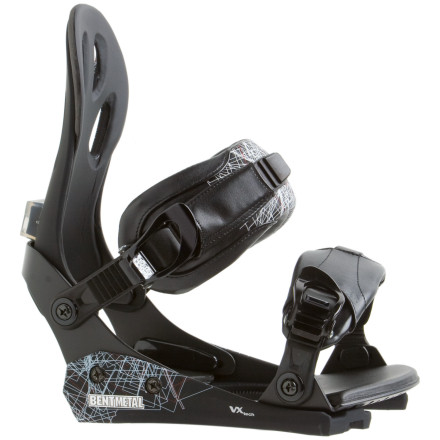 The Bent Metal Biscuit Snowboard Bindings give you plenty of flex for shralping the gravy and buttering those boxes. That's right—we said shralping the gravy. The Biscuits' plastique polymer VX baseplates' high fiber reinforcements offer return and response during edge-to-edge transitions. Their Ricardo leather footbeds and highback pads cushion with every stomp—and they look pretty damn smooth, too. The rollover toe straps can slide down to function as cap straps.
the little pocket for the excess strap when you crank them down sometimes catches on the strap while cranking and now its starting to get pulled apart. it's fine if you pay attention when youre strapping in, but if not it gets jacked pretty quick. other than that the biscuits are pretty damn sick. the forward lean adjustment is awesome, the toe "over-or-cap" strap is rad, and the padded footbed softens the impact when you overshoot and land in the flats (but still allows really good board feel). They're light, too. Buy these!
I got these to put on my Spark R and D base plates to use on my split-board. Going from Burton Cartels to these bindings was like adding power steering to my board. I do like the toe strap on the Burtons better though, but these a completely adequate.
initially the binding was a good fit for me; felt solid for me, but and was very responsive. adjusting the toe strap is a bit of a pain, but not too big-a-deal. the straps themselves are great, very comfortable, simple, and felt durable while still feeling low profile and lightweight. the base materials seemed good, but my problem, and absolute dislike of this binder was the shotty hardware used to fasten pieces together. specifically, the toe ramp is connected to the rest of the baseplate by two connecting screws underneath the toe pad, and holding these screws in place is a small and weak screw head which on both screws shore off at the weld. think about it: all of the pressure put on any heelside turns and maneuvers goes directly into the toe and ankle strap, especially in the toe area pulling upward, and we are meant to rely on too measly screws. poor style, and in the end cost my bindings their life, and no longer will i ever ride bent metal.
These are very solid bindings. Tons of padding and very strong hardware. The highback lean is also extremely simple and pretty genius in my opinion.

You will need 3 hole plates if you want to mount these on burton boards, but dont let that deter you. Those are a couple bucks at any boardshop.

Bottom line: Very solid bindings
Be prepared: no three hole baseplates included
Tried out the bindings over the New Year. I had some initial problems because the bindings don't ship with any three hole base plates, but I found some Burton unidiscs that seem to work ok over a few days. Don't know if that's recommended, but it worked. Sure wish Bent Metal would ship 3 holes, and Burton would stop doing things differently.

Bindings are a bit heavy, so if you are doing tricks maybe you won't be happy. I'm an old man freerider, so they work for me.