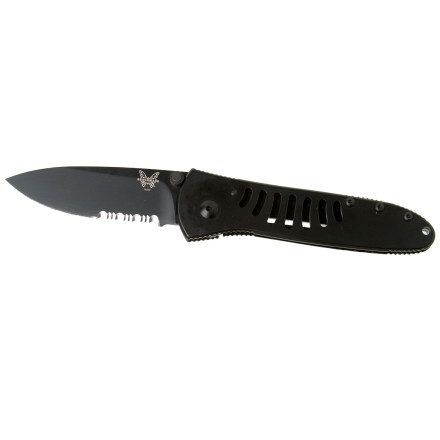 Detail Images
What do you think about this product?
Have questions about this product?
great knife for the money
i bought this knife at bass pro shops it great it holds a very good edge
Benchmade monoChrome is OK
Having used a variety of knives over the years, there are a number of companies that make very good knives. One of my favorites is Benchmade. Benchmade divides its knives into 4 classes in descending order; gold, blue, black, and red. I believe all but the red class are made in the U.S. The monoChrome is at a lower price point because it is in the red class and made off shore. It is a fair knife for the money but not of the quality of the other levels of Benchmades. I found it very stiff to open and its action is not near as smooth as my other Benchmades which are of the higher classes. If you want a knife that doesn't cost too much and you don't have to fret over if you lose it, the monChrome is probably not a bad way to go. It's design is such that you can use it both on outdoor trips or for casual use. On the other hand, if you are used to the higher level of quality from knives such as the other Benchmades, you may want to consider paying more and purchasing one in the black or blue classes.
Sleek, clean design. Blade was tight when received but loosened up as I used it more often. A bit annoying to open with 1 hand.