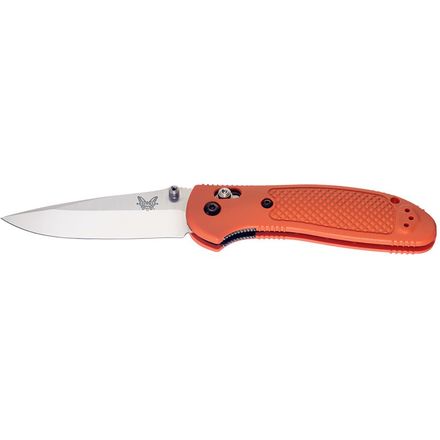 Detail Images

Community Images
The Benchmade Griptilian Modified Drop-Point Knife combines the unmatched function of the AXIS locking mechanism with the simplicity of a molded handle design—it's a new species of knife. Safe, reliable, smooth, and affordable, the Griptilian is available in plain and combo edge versions, as well as with a BT2 blade coating. Unleash the Griptilian's performance with a simple thumb rotation. The hand settles naturally over the palm-swelled shape and its textured skin.
No guts no glory?
Gender:

Male

Familiarity:

I've put it through the wringer
I must warn you out right before we go too far, there is no real useful information below. Here's the deal, I totally wanted to do a legit review of this knife cuz I straight up LOVE IT. It cuts stuff and stays sharp, it hasn't broken yet when doing non-knife things, and I have had it for a while, so it's kind of like a thing for me. With that said, I felt the need to do the knife justice while also providing the good people of backcountry.com with a helpful review. As such, I googled other reviews to get the feel of what should go into a good knife review. It turns out, that like real knife review people (internet is amazing for finding subcultures) are CRAZY detailed about properties, facets, nuances, etc.. that I didn't even know a knife possessed. Like I said - I thought saying it's sharp and cuts things for a long time would be enough - nope, not even close. So since I am not really qualified to write about the knife like properties of my knife, I will instead just tell the story of how this knife found its way into my pocket/life.

I work in Mongolia. Along with conducting my own research I guide research expeditions to remote reaches of the northern part of the country. In the taiga environment where I mostly work, the only source of protein is fresh sheep purchased from the local herders. How fresh - still baaaaah'ing fresh. Inevitable, after the first sheep or two, our camp cook grows tired of field dressing with his dull blade and thus begins to prowl around the camp for a shaper instrument. Usually picking on the apparent newbies first, he just casually ask to borrow their knife - like as if he needs to quickly cut a piece of string. Politely, the newbie will acquiesce, not knowing that their knife is about to find itself knee deep in some poor sheep's chest cavity. When finally returned, it is sticky, stinky, and not quite working the same. I know because I have been there - I've fallen victim to it and then later watched the process. I've also watched the cook eventually work his way through newbies and then start on the veterans. During which time he employs a more delicate tactic; "hey you like eating - well then help me help you. Let me borrow your knife". How can one avoid this, how can one avoid dealing with awful and dried blood permanently stuck in the knife casing? GO PINK.

Unlike Stateside fashion, Mongols have yet to embrace pink as a color. It's more of a watered down blood stain to be avoided. As such I thought that if I could find a reasonable knife that was pink, then I just might avoid being bothered. To be honest, when I started my quest for a pink knife I didn't really think I would have much success, but thankfully pink is also the adopted color of breast cancer awareness. A very serious topic not to be taken lightly, even though I jest a lot this is a serious subject - I care about boobs. So when I googled PINK KNIFE one of the first things that popped up was the Benchmade Griptilian. Needless to say I was pretty stoked. Although (as before mentioned) I don't know much about knives - I did know that Benchmade is pretty well accepted as a manufacturer of good blades. More importantly they are MADE IN THE U.S. and they had a pink handle in support of breast cancer research. In total, it seemed like a win, win, win; me and my Mongolia problem, supporting workers of America, and the health of women.

So come the next field season I was pretty animate in showing off the knife: ostentatiously cutting things, making a big show of it as a I pulled it out of my pocket, secretly cleaning the heck out of the handle at night so that the pinkness stood out bright and clean. All said and done - IT WORKED. Despite my fanfare, no one even raised and eye. More importantly, as the cook started making his rounds through camp, my little hovel was treated like a quarantine zone. So while I may not have much objective knowledge to share, subjectively I can say that the knife rocks.
Great EDC
Familiarity:

I've used it several times
Picked up a 551 plain edge and it is now my every day carry, replacing a SOG I've had for years. Easy one-hand open and a very secure locking mechanism. Haven't had to test the warranty yet, but good to know it's there.
Great Folder
Familiarity:

I've put it through the wringer
Ever since purchasing this knife it has become my daily carry. The blade itself is well machined and has a nice weight to it. The handle as other reviewers have stated does feel a bit cheap but in my opinion makes up for it in terms of durability and grip. The Axis speed lock makes one handed opening of the knife quick and easy, and I have no concerns about the mechanism failing. I originally purchased one of these as a gift and ended up purchasing one for myself.
My Everyday Carry
Familiarity:

I've put it through the wringer
I love this knife, I carry it with me nearly everyday - I switch between this and the Benchmade 300sn (http://goo.gl/4cfbFC)



I definitely prefer the Griptillian, it's light and indestructible!

Bought a new one after 4 years only because I lost my other one.
Simple, sharp, reliable
Familiarity:

I've put it through the wringer
I mean what else can you ask for in a knife? I used this all of last summer as a mountain guide for Team Ascend Trek in Colorado, and it was easy to operate in terms of folding and unfolding, it stayed sharp enough to cut rope and parachord with ease, as well as cleaning these trout I caught on a rest day in Brown's Creek up above 12,000 ft between Mt Antero and the Tabeguache Peak/Mt Shavano ridgeline. Sadly I lost it on a ski trip over spring break...so I'm buying another one for this summer. That's how much I liked it.
Finest folder I've ever used.
Familiarity:

I've put it through the wringer
*Disclaimer* - I was issued this knife while serving in the Armed Forces.



After 2 years of faithful service I had broken the tip off of my Griptilian's blade while conducting military operations in Iraq. Still fully functional it remained my go-to folder. I quite literally put this thing through hell..



Upon returning home, one of the first things I did was send my knife back to Benchmade to have them install a replacement blade. I had requested to have the knife converted to the modified sheepsfoot blade of the 550HG. I supplied my billing information on the RMA form, as the reason for failure was not a failure on Benchmade. Needless to say within a week, the knife was returned to me free of charge! They didn't even charge me return shipping!! Benchmade cleaned and lubed the knife and replaced the blade with the one requested. This level of customer service and dedication to customer satisfaction has made me a customer for life.



Top tier product and service (should you need it)!
Griptilian and Mini Griptilian
Here is the size difference between the two knives. I prefer the mini for everyday use.
Lock sticks, blade bounces
Gender:

Male

Familiarity:

I've used it once or twice and have initial impressions
I'm VERY picky when it comes to shopping for a knife. I ended up buying 8 different knives to test them all out and find out which one I want. The Griptilian and Griptilian Mini knives were in my top favorites for ease of use. They both were SUPER easy to open and close with a wrist flick, but I noticed that if you open them to hard the AXIS lock will stick and will make it hard to close. When you flick it closed the blade will bounce and most of the time won't close all the way after it bounces. That was the deal breaker for me on not choosing the Griptilian knife. I did like the Griptilian Mini slightly more than the Griptilian just because of the size of the knife for everyday use.



Pros:

- Well made.

- AXIS Lock is awesome.

- Fun and quick to open and close.

- Great size.

- Black clip.



Cons:

- AXIS lock sticks if you open blade to hard.

- Blade bounces and won't close all the way if you flick it closed to hard.

- Doesn't feel as quality/solid as the SOG Spec Elite 1 knife.

- Handle feels a little cheap and plasticy, not to much, but just a little...



I would recommend this knife to anyone who is looking for a non assisted opening knife who loves to and wants to easily and quickly open and close the knife one handed and with extremely minimal effort.



In the end I kept the SOG Spec Elite 1 knife since it had everything I liked about this knife but without the Cons.
Very nice knife, only wish the handle didnt feel kinda cheap plasticy.
Excellent edc blade
Familiarity:

I've used it several times
I've carried and used mine nearly every day since I bought it. It's an excellent knife - extremely well-made, sturdy, and shipped with a very sharp blade.



I have not needed to resharpen it yet, but I have no reason to expect that it won't take just as fine an edge as the factory put on it.



It's very light-weight, but still feels substantial, the opening mechanism is smooth and sturdy, and the lack of an opening-assist makes it a safer bet for my daily travels, where assisted-opening knives are of dubious legality.



I bought one for a friend, and he loves his too.
It's a benchmade. Nothing more to say. They are the best.
Awesome Knife
Gender:

Male

Familiarity:

I've used it several times
Unbelievably sharp. Great quality and durable. Probably have this knife forever but if I don't I'd definitely buy another one.
got this for my brother and he loved it. Here is what he has to say: This knife super sharp right out of the box. Very handy, fits comfortably in my pocket, easy to open with one hand, and is a great weight. This is the best knife I have owned.
perfect larger size knife
just used it on my hiking trip to costa rica. best quality. a bit more expensive as the average knife but really good blade. i use it for everything from cooking to cutting rope and preparing game. i recommend the orange version (easier to find when drop it).
I have been a Benchmade guy for years, having gone the Spyderco and Cold Steel route in the past and finding that I preferred the Benchmade knives.

This is my daily carry knife, at work, on days off, and for hiking and backpacking. I have a 722 as well as this 551, as I normally like a Tanto blade. I may even get a 553 in another color.

When compared to basic pocketknives, these may seem pricey, but they really aren't in the big picture of knives.